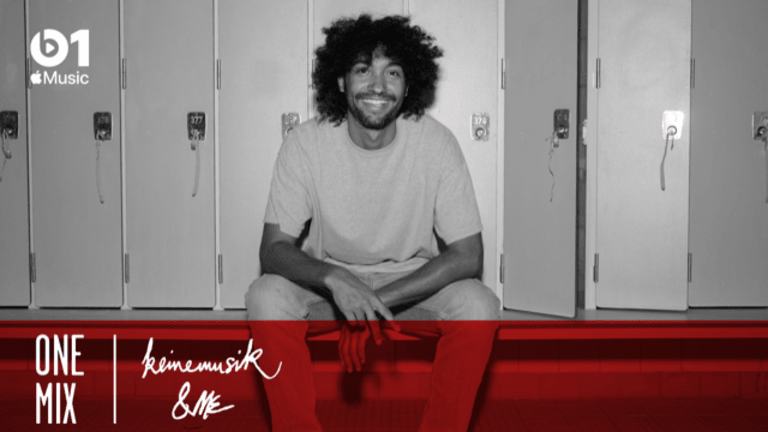 Keinemuzik's &ME On Beats 1 One Mix [INTERVIEW]
Hip-hop turntablist turned electronic music producer, &ME is best known for his slow-burning, hauntingly melodic style of house music.
&ME (real name André Boadu) has come a long way from his days producing hip-hop in the early 2000s. Now, Boadu is best known for his slow-burning, hauntingly melodic style of house music.
This weekend, Boadu takes the decks on Beats 1's weekly radio show One Mix. Expect an eclectic mix spanning beyond house music with tunes from the likes of Strawberry Switchblade, Gökcen Kaynatan, and Solid Space.
Stream &ME's Beats 1 One Mix here, exclusively on Apple Music.
Back when all he knew was hip-hop, Boadu would spend his nights diving into turntablism, breaking into production upon hearing DJ Qbert and Mix Master Mike's first collaborative album. The freeform attitude and endless possibility of sound inspired Boadu. But, as he delved into rap, Boadu felt constrained by the genre's exclusion of "techno" sounds and pressure to squeeze the most out of every track.
Moving to Berlin, a city famous for its burgeoning electronic music culture, Boadu frequented the city's major clubs. The stark difference between the aggressive atmosphere of hip-hop parties and the family feeling of electronic music parties stuck out like a sore thumb to him.
Inspired by 113, Fonky Family, and DJ Mehdi, Boadu began incorporating electronic styles into his music. But, suddenly, he was in the same creative hole as before. While making music, Boadu found himself often constrained by how people in the club would react to certain elements of his tracks, crushing his creativity. Eventually, Boadu internalized that he can do whatever he wants as long as he doesn't compromise on the quality of his music, becoming unafraid to break the unwritten rules that genres tend to uphold.
Teaming up with Fetisch, Boadu often performed at Berlin's Cookies nightclub and helped Fetisch run a small label called tnt. Learning how to press vinyl and distribute records, Boadu was inspired to start his own label.
So, partnering with Rampa, Reznik, Adam Port, and David Mayer, Keinemuzik (which oddly translates to "no music" in German) was born, primarily because the striving producers didn't know anyone who would release their music. The group struggled with distribution at first but stood out because of their heavy social media promotion, something that few labels and DJs were doing at the time.
Keinemuzik took off, growing beyond just a record label to a real collective. Encompassing streetwear and club culture, Keinemuzik did nights in Ibiza at the famous DC10 and collaborated with global brands like Nike and Converse on exclusive footwear. But no matter how influential Keinemuzik grew, the carefree attitude stuck: music-loving friends doing what they love.
Learn more about Boadu as he shared plenty with us ahead of his One Mix, including how nerve-wracking his first show experience was, his love for Gerd Janson's remixes, and the unrivaled time of being backstage at CircoLoco. Read on for EDM.com's conversation with &ME.
EDM.com: First show experience?
&ME: Super nervous and barely could handle the monitoring as everything is totally different compared to playing some tunes in your living room. But never wanted anything else after that.
First time you brought your mom to one of your shows?
Guess that is almost 14 years ago when I was the sound guy dropping instrumentals in a band. She has never been to a DJ gig so far.
The artist who inspired you to become a musician?
Mixmaster Mike.
Go-to places for new music?
Apple Music and your friends' record collection.
Guilty pleasure record?
"Finally" by CeCe Peniston.
Dream B2B partner? 
Adam Port, Rampa, Reznik.
Favorite BPM?
121.
Piece of gear you always need on the road?
Teil 1 Delay.
All-time favorite festival?
Fusion Festival.
Biggest misconception about dance music?
It's not all about the kick drum.
How often do you get out and have fun, and where do you go?
Having fun all the time so no need to get out.
City with the most underrated dance scene?
Still looking for it.
Industry prediction for the next year?
More more more.
Best piece of advice for new producers?
Come up with something new.
Dead or alive, who would be your dream collaborator?
Isaac Hayes.
What is one of the unique experiences you've had backstage?
CircoLoco backstage is probably the only spot where you can spend 8 hours without even see the dancefloor and still have the feeling you had a proper night out.
A unique travel experience you've had?
Food poisoning is always pretty unique.
What's your favorite throwback track?
"Meet Her at the Love Parade" by Ha Hool.
What's one track that fans always lose their mind to?
Plenty of tracks but you have to pick the right moment.
What was the first album you ever bought?
Bravo Break Dance Sensation 1984.
Name one remix that you think is better than the original.
Every Gerd Janson remix.
What song would you want (god forbid) played at your funeral?
Silence for once would be nice as well. 
What's the perfect sunset track?
"Time" by Pachanga Boys.
What song do you listen to cheer yourself up?
"Hafi Deo" by Tabu Ley Rochereau.
Follow &ME
Facebook: facebook.com/andmekeinemusik
Instagram: instagram.com/andmeandyou
Twitter: twitter.com/andmeandyou
SoundCloud: soundcloud.com/andmeandyou