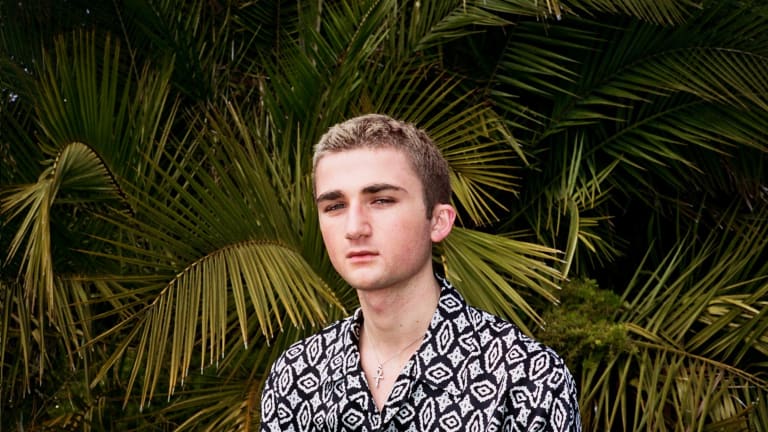 Andrew Luce Talks Lanterns EP, Artistic Progression and More [INTERVIEW]​
Things are just now setting off for the talented producer.​
There's no chance you haven't listened to an Andrew Luce track before, whether it's his viral remixes of classics such as Jeremih's "Birthday Sex" and Kid Cudi's "Day 'N' Nite" among others, or collaborative bangers with producers such as Dr. Fresch, Vincent, MYRNE and more. Having co-founded tastemaking record label and artist collective Daruma, the young producer's catalog and influence are much bigger than it seems at first sight. All the above, along with performances at Coachella, EDC and Ultra Miami have led to the release of his latest EP Lanterns via A-Trak's Fool's Gold; arguably his best collective work yet.
In LANTERNS, Andrew Luce decides to explore songwriting and songmanship over big drops, all with huge attention to detail. "LANTERNS" featuring Someother does a great job of introducing the vibe of the EP, and "AH AH", featuring autotuned vocals from star Smokepurpp and Soundcloud rapper Teddy, is a bright and uplifting RnB jam that steps away from contemporary Hip-Hop. The journey continues with standout track "GET AWAY", where Indica's and Sophie Meiers' beautiful duet shines over a radio-ready instrumental. "UNDERWATER" is an epic emotional jam, that is taken to the next level by Bri Tolani's vocals and Andrew's highly textured production while low-tempo "DIAMOND GIRL" closes out the EP, with Andrew Luce showcasing his own singing.
We had the pleasure of chatting with Andrew Luce about his thoughts on the EP, live performances, his creative process and more. 
EDM.com: LANTERNS is a real step-up compared to your releases so far. What does this EP mean to you and your progression as an artist?
Andrew Luce: Thank you! With LANTERNS, I wasn't really focused on chasing a particular sound, it was more about finally making music that I would listen to again. I was blessed and cursed with releasing music at age 15 – it helped kickstart my career, but at a certain point, I found that my career was going in a direction that I really didn't want as I got older. Something also happened to my ears around halfway through 2017 too, and I got very turned off to really electronic and computer sounds.
At the end of the day, I'm more of a producer than an artist. I have artist moments for sure – I go through phases where I desperately need to create just for myself, and that's exactly what this record is. For the year or so before that, I was creating because I felt like I needed to put another song out, or else I'd become "irrelevant." But I came to realize that at some point, everyone becomes irrelevant, and someone else pops up and becomes the next big thing. There's no telling when that'll happen, but when it does, all that's left is the music that you made. So why put out something that you know you can't stand behind?
So did you decide to approach the production differently? What was the idea behind the EP's aesthetic and the general soundscape you wanted it to be in?
Yeah, completely different. I used a lot more analog/acoustic instruments, and a lot less computer-produced sounds. I focused way more on the engineering of the sounds and the actual songwriting than stuffing each song with as many noises as I could. My creative process is so different that I actually have no idea how or why I was making the music that I was before.
When I was working on the music, I felt like I was in my own little world in my apartment. I used to play a lot of video games and really liked the world of the game Bioshock, which was underwater (which plays with the themes of some of the songs and sounds of the record). I think the visuals were kind of indirectly inspired by that, even though I didn't recognize that at the time. I'm also obsessed with those lights that change color with an app, so I laced my apartment with them.
So somewhere in my creative process, I guess I envisioned myself in this alternate universe that was totally secluded from everything I knew, and that electric, saturated, trippy world is where Lanterns came from. I have to give a MASSIVE shoutout to Allen Chiu who worked with me on all the artwork and helped bring it to life - he's so so talented!
And how did the collaboration with Smokepurpp come about?
I emailed whoever was managing him at the time around the end of 2016. We spoke back and forth for months, but nothing ever came of it. I sent one last email, and just as I was about to give up, I saw that his DMs were randomly open on Twitter. I hit him up and he replied right away- so fast that I didn't even have a beat ready for him, so he recorded over another beat and sent me the acapella. I sat on the song with just him for a few months until I linked up with Teddy through an old homie of mine.
You are one of the youngest producers dominating the game right now. What are the advantages, but also some of the disadvantages of being a young artist in this industry?
Thank you, I appreciate that. I don't think of myself as young, although that's mostly because of how drastically different my day-to-day life is from my friends that are my age. I think that you are subject to a little bit more negativity when you're younger, as some people hate to feel that they're getting outworked by someone half their age. When I was really young, like 15 and 16, I used to have a lot of trouble getting into clubs to play which was pretty frustrating. But at the same time, I understand the liability of having a 15-year-old around alcohol, and the clubs have to do what they have to do to stay in business and out of trouble.
I think the biggest challenge is just the fact that you're building a career when you're still developing as a person. The best part is that you get to skip school to travel and play music.
Playing shows is a big part of any artist's career. What are the biggest things about the show you take into consideration before building your set?
I think very much like a DJ when I play a set, not like an artist. I don't like the focus to be on me, because I think that the sweaty guy behind a set of digital turntables is the least interesting thing going on at a dance music event. Instead, I ask myself what I think the crowd would want to hear- I think about the time of day I'm playing, the stage, who's playing before and after me, and try and create the best time that I can for the people in the crowd. Or when I'm playing at a college party, I'll usually hit up whoever booked me and ask if there's any favorite songs or particular things I should know. I just want people to have fun. The entire thrill of performing to me is in making a group of strangers dance - as long as I can do that, I'm happy.
Who are some Soundcloud friends that are massively talented but don't get the recognition they deserve? Shout them out also stating why.
I'll always shoutout Indica - he's got like 7 songs coming out that I produced and engineered that I'm really excited about. I love working with him because, like me, he's always open to experimentation and doing weird stuff. I think Dylan Brady is really slept on, but I know that he's got his cult following that has been growing a lot lately. Even though he's not a small name, I've been listening to a lot of Ross From Friends recently. He just put out an EP called Aphelion that I cannot stop listening to, front to back.
Tell us about your favorite ever club show, as well as your favorite festival performance.
This is always a tough question because I think that "favorite" is really relative when it comes to shows. It's so tough. I have a lot of love for Snowglobe because that was my first real performance, and I've recognized a few people that have come to all three of the sets that I've played over the years. It's a big LA/Bay Area festival, and I think that's where the majority of my following is, so I always feel so much love playing there. EDC was also incredible, in a totally different way. It was just so many people. I remember talking on the mic for a bit at the end and looking out into the crowd and just really not believing where I was.
I've played a bunch of smaller rooms under the radar and those are always my favorite sets. Like I said, when I'm performing, I really want everyone to be paying attention to themselves, not me. I find that when no one is there to see a particular artist, it's a lot more about the music and the energy of the room, over the hype of hearing a big song or anything like that. So I love those kinds of sets. For me, it's hard to play the big shows, because I don't make music for big electronic events. So I can honestly feel like a little bit of a fraud when I get up on stage and play a bunch of music that isn't mine, even though it might be a really fun set for everyone. Those stages should be reserved for people that are showcasing their artistry - I treat it much differently than that.
What's the biggest thing your career in music has taught you so far; as an industry person/musician, as well as a person in general?
I think I've come to realize recently that, as I said before, I'm a lot more of a producer than an artist. I am only interested in making the best music that I can, and I don't want to limit that in any way. So I have some really good new music that I'm really excited about that I want to release as an artist, including some more vocal stuff. But I'm also focusing a lot more on producing for other people, because I think that's ultimately where I belong. I am just too indecisive and too curious to stick to one kind of sound or one brand. And as an artist, that's really difficult to market. But as a producer, you can do whatever you want!
I really do owe all of my personal growth to music, because my experiences in music sort of took up my entire youth. Everything I know about how to act as a 20-year-old comes from playing at colleges, because that's really the only kind of experience like that that I get. I learn a lot about myself when I go play shows or go to music meetings, or especially when I make music and really battle with a song. I love it. 
Follow Andrew Luce
Facebook: https://www.facebook.com/andrewlucemusic/
Instagram: https://www.instagram.com/andrewluce/
Twitter: https://twitter.com/AndrewLuceMusic
Soundcloud: https://soundcloud.com/andrewlucemusic