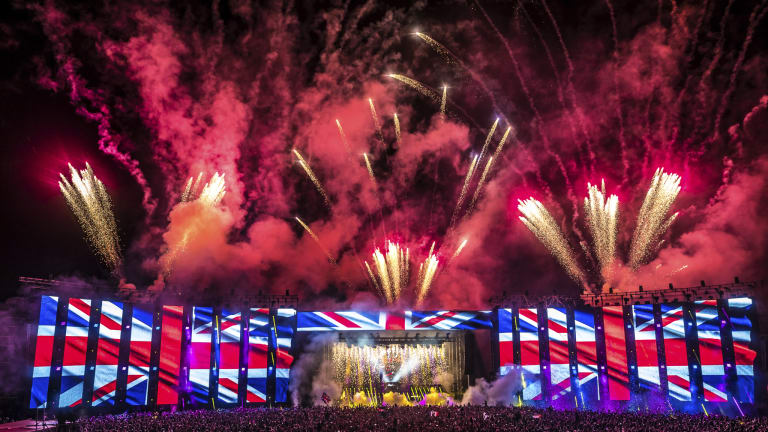 Anton Powers: "I am so blessed to live just down the road from Creamfields." [Interview]
The Liverpool-born producer recalls how the festival has transformed from a small event to a global behemoth.
When Anton Powers isn't behind the decks or camped out in the studio he is busy keeping an ear out for the next monster dance music hit as the A & R for 3Beat Records.
We sat down with Powers to talk his best memories of Creamfields, the benefits of seeing the industry from multiple standpoints and remixing one of Australia's finest pop stars.
What was it like to remix Kylie Minogue?
That was a real highlight. She is a legend and an icon, someone we all grew up with and it was an honour to remix for her.
How did that come about?
Kylie's management & record label reached out and asked me to remix her new comeback record. I was thrilled to see her performing it on a French radio station video.
Which other artists would you like to remix and why?
I love great vocals where I can really put my own stamp on them so someone like Foxes, Rihanna or Zara Larsson.
What new music are you working on at the minute?
I have a new single out now called 'Heart For Sale' which is getting a great response. I also have another release to drop in the next few weeks which is a banger!
How much does being the A & R for 3 Beat help with your own productions?
It's great because I hear so much music and I help collaborate with other artists on their records so I get a wide angled view of the scene and can see how music & the sound is moving and know what works and when. It's a formula that has served me well so far.
What is it like seeing the industry from that perspective?
The music industry is constantly evolving and is cyclical so you always need to have your fingers on the pulse and move with the times or you are left behind. Being in a position where you are fully across the industry from behind the scenes and on the front line helps me for sure.
What would you say is the most influential record you have signed in the job?
In the early days, I signed a record called Exceeder by Mason which was an instrumental record that started to bubble up and a cross section of DJs started to support it. I then went about looking for a vocal to place over it and came across a vocal from Princess Superstar. We combined them together and released it commercially as Mason vs Princess Superstar – Perfect Exceeder and it went top five in the charts. That was a nice moment and recently I picked up on a record from France by Kungs (This Girl). I quickly signed that and its now sold over 1 million copies in the UK alone. Crazy!
What future shows are you most looking forward to?
Summer is around the corner and I always look forward to playing the summer festivals and Ibiza. I just love DJing and enjoy every gig that comes.
Being from Liverpool how special is Creamfields for you?
I've been going to Creamfields since it first launched and have performed there for the past 10 years or so. Every year it gets bigger & better and it's a real joy to see just how international it has become. In the early days it was definitely just a local crowd but now it's a massive international event. I see that with all the flags from around the world in the crowd. I'm very lucky to have one of the best dance music festivals in the world on my doorstep. I'm just as happy for the Cream team who put the show together, it's a huge job and those guys work so hard. Can't wait for it to return this year!
What are some of your craziest memories from playing the festival?
There's been many, the first time I DJed in the Subliminal Arena for Erick Morillo, I was so nervous and then DJing for the Swedish House Mafia in their arena was immense. All these guys are my inspirations. In 2016 I had the craziest memory that will stay with me forever. I just finished my set in one of the arenas & was on a high from a brilliant reaction and a capacity crowd. I then went back to the artist area to conduct some interviews. When Scott Barton who is the main man at Creamfields came over & said "Martin Garrix can't make his set time and we are shuffling the lineup around. Can you cover his slot on the Main Stage for 90 mins which will be broadcast live on our Facebook channel and you're on in 15 minutes?!" Naturally I said yes & although I had no time to prepare I winged it as best I could and it turned out to be one of the best sets I've ever had and the energy from the 25-30,000 in the crowd was off the scale. If I could bottle the feeling it gave me, I would be a very rich man!
What is the most ridiculous request you've put on your rider that has been fulfilled?
Never ever put ridiculous things on my rider. That's not me at all. I'm just happy with whatever, I just want to DJ and have a good time although maybe I should try it.