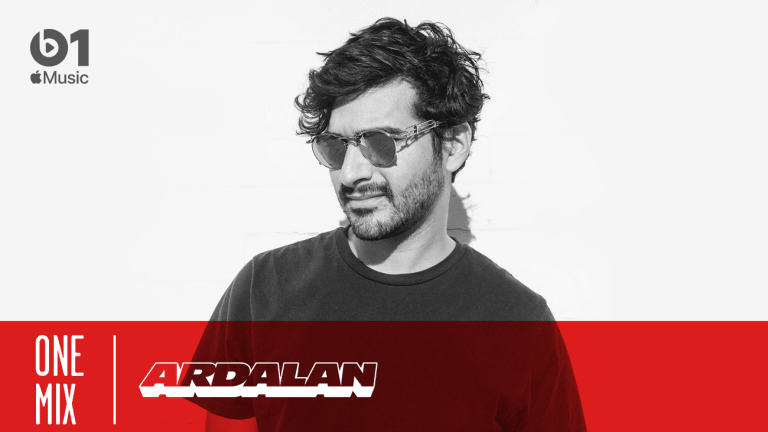 Dirtybird's Ardalan On Beats 1 One Mix [Interview]
Today, the Iranian DJ/producer drops his debut album and spins on One Mix.
This week on Beats 1's weekly radio show One Mix, Ardalan (real name Ardalan Noghre-Kar) takes the decks. With his debut album out as of today, expect plenty of tunes from the LP, plus tracks from Ivy Lab, Cuhead, and Ross From Friends.
Tune into Ardalan's One Mix here, exclusively on Apple Music.
Growing up in Iran, Ardalan wasn't exposed to dance music culture outright. Alcohol and clubbing are illegal in Iran, but under the surface, an underground electronic music culture thrives. Consequently, he uncovered his passion for dance music through friends, underground parties, and the internet.
Moving to San Jose, he began DJing when his friend bought two Technics and a Vestax mixer. After school, Ardalan would head over to his friend's garage where they would spend hours playing records. Later, after acquiring popular DAW Fruity Loops, he dipped into production.
Ardalan discovered the Dirtybird record label when a friend from Iran turned him on to "Who's Afraid Of Detroit" by Claude VonStroke. Upon realizing that the Dirtybird crew threw barbecue parties with no ID checks in Golden Gate Park, San Francisco, Ardalan knew he had to check them out. Attending his first Dirtybird BBQ, he was immediately hooked on the Dirtybird sound and aspired to join the label. "It was its tripped out house music vibes with a dose of hyphy that was so fun to dance to," Ardalan explained in a past interview.
Eventually, he collaborated with Justin Martin on "Mr. Spock," which blew up and made it onto Dirtybird. Cheekily sampling The Avalanches and Snoop Dogg, the tech house track was a game-changer for Ardalan, inaugurating him into the Dirtybird family for countless shows and releases to come.
Today, Ardalan released his debut album on Dirtybird, Mr. Good. On the album, he stated:
"This album is basically about how everyone always expects you to be perfect, and you're not perfect. For me, I was trying to find the idea that it's OK to not be perfect and not have people expect you to be. You can't be perfect. You have to be a little bit of the Mr. Bad to be Mr. Good. This album is a self-reflection of who I am and who the person or human is. It's basically about being free to make mistakes and being a human being."
The LP has the dirty bass and funky sounds one would associate with a Dirtybird release, on tracks like the leading "Mr. Good" and "Orange Dreams." Ardalan complements the driving tech house tunes with spacey, wistful sounds on tunes like "I Can't Wait" and "Osci." Not only that, but he rounds the album off with moody drum 'n' bass tune, "Lifted."
Learn more about Ardalan as Beats 1 spoke with him about his first show experience, dream collaborator, guilty pleasure record, and more.
EDM.com: First show experience?
Ardalan: DJing a rave outside a farmhouse. Set up turntables on top of an old BMW and DJed until the cops shut us down - 20 minutes into the party!
First time you brought your mom to one of your shows?
Believe it or not, this year at the Dirtybird BBQ in San Francisco Bay Area!
The artist who inspired you to become a musician?
Boards of Canada.
Go-to places for new music?
Bandcamp, record store.
Guilty pleasure record?
"Be My Lover" by La Bouche.
Desert-island dance record?
"The Beach" by Miss Kittin & The Hacker.
Dream B2B partner?
Derrick Carter.
Favorite BPM?
130.
Piece of gear you always need on the road?
Laptop.
All-time favorite festival?
Bass Coast.
Biggest misconception about dance music?
It's only meant for dance floors.
How often do you get out and have fun, and where do you go?
Not as often as I'm touring, but I like going to see my friends' shows in San Francisco. Underground SF, The Great Northern, and my favorite pub, Madrone.
City with the most underrated dance scene?
San Francisco.
Industry prediction for the next year?
Business techno.
Best piece of advice for new producers?
Break the cycle and find your sound.
Dead or alive, who would be your dream collaborator?
Zdar from Cassius.
A unique travel experience you've had?
Traveling to a private party in the mountains of Kauai.
What is one of the unique experiences you've had backstage?
They had an oxygen tank due to the high altitude.
What's your favorite throwback track?
"Some Polyphony" by Petter.
What was the first album you ever bought?
Music Has The Right To Children by Boards of Canada.
Name one remix that you think is better than the original
Royksopp's "Return To The Sun Mix" of "What Does It Feel Like?" by Felix Da Housecat.
What song would you want (god forbid) played at your funeral?
"White Room" by Cream.
What's the perfect sunset track?
The "Vintage Dub" mix of "The Holy Grail" by Tigerskin.
What song do you listen to cheer yourself up?
"Rotation" by Herb Albert.
Follow Ardalan
Facebook: facebook.com/ardalanmusicpage
Instagram: instagram.com/ardalander
Twitter: twitter.com/Ardalander
SoundCloud: soundcloud.com/ardalann