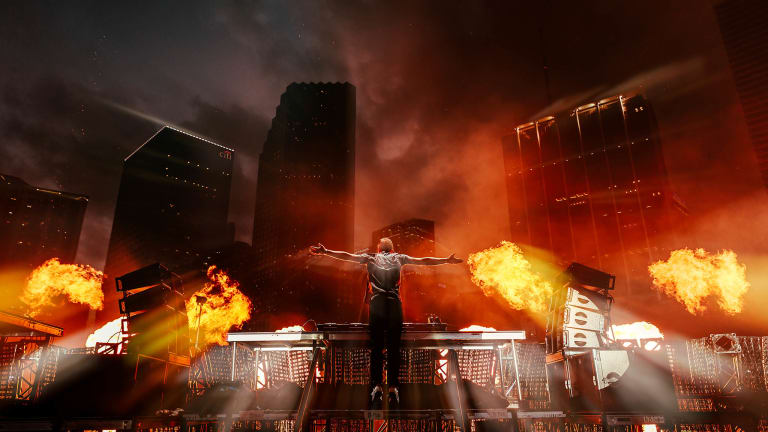 Armin van Buuren - Trance Legend [Interview]
Who knew his latest track inspiration came from his daughter?
Armin van Buuren is a legend in the dance music industry. As one of the most influential musicians in electronic music, he has topped the Dj Mag Top 100 DJs poll a record of 5 times. His weekly radio show, "A State of Trance", boasts over 38 million listeners in more than 80 countries, and he has performed at the biggest and best shows and festivals around the world. We caught up with him right before his show in New York, just in time to see him play The Brooklyn Mirage with Alpha 9.
"Blah Blah Blah" - what was your inspiration for the track?
Armin: Well, actually I understood a lot of people thought it was something to say to all the haters, but it wasn't. The story started with Bullysongs, who was a good friend of mine and I did a couple of tracks with him; "Freefall" and "Caught in the Slipstream". He was on tour with me on the Embrace Tour and we became close friends. He's a super cool guy. He's a father too. He has written a lot of really big tracks and I know that he's been working with his son on the Galantis track. And I said to him, "What if we have vocal like that but on a psy-trance inspired triple-drop," and he says, "So what are you thinking lyrically?". I was I was at home sitting next to my daughter and she was telling me how she learned all these naughty rhymes in school, like with swear words and stuff that parents aren't supposed to know. I started to see how important that is actually for the education of kids - learning nursery rhymes school. So the idea of inspiration actually comes from my kids.
You just played EDC, what's your favorite part about EDC?
It's a unique festival, it's a night festival. You can't compare it to any other festival. I think a lot of people try to compare it Tomorrowland or Ultra, but I say these are three completely different festivals. It's a unique experience.
It's more than just a bunch of DJs and great stages together It's a vibe. It's the L.A. vibe mixed with the atmosphere - really hard to describe actually.
What is your favorite festival?
Well, you have the big three, I just named them. I just know it's really hard to pick my favorite because they're all really important moments on the dance music calendar. Ultra is the start of the season. EDC is the biggest one in North America for electronic dance music. Tomorrowland, if you really put a gun to my head, I'd say Tomorrowland because it's so close to my home. I know the guys from Tomorrowland really as I do the guys from Ultra and EDC.
So you're on the 850th A State of Trance, did you ever think you'd get to 850?
No, I thought 500 would be good after 10 years. I still see a lot of good things happening in a trance music world. A lot of new talent coming off, the psy-trance inspired trance music is so huge right now. Last year I made a big bold move to do a weekly broadcast video which a lot of people actually like. I find it really scary because I felt like I sort of jumped into the deep. No, it's fun. I actually enjoy it now more than I ever did because I used to stare at an Ableton screen and mix all the tracks together barely hearing all the songs, to be honest. Now, I have to mix live living one take which sometimes I make little mistakes and stuff the people actually appreciate that.
How has the music scene changed since you started?
It's big. Well, mostly it's become bigger. People take it seriously. I remember a lot of the interviews that I did in the early days was like, "When is the dance music bubble going to be over?". Everybody was expecting that it would be gone. But I don't think that you can really say that there's a difference between dance and for example commercial pop. A part of dance music has become radio stuff. I think 99 percent of all the top 40 music right now is dance music inspired, it's sequence based music. I mean obviously there are still analog instruments used but dance music has spread like an oil stain through every other genre.
When you're writing a track, how do you decide when you're done and when it's finished?
It's never finished. As soon as I finish a track, I start remixing it and you make mashups and you export acapella so you can put it on top of other tracks. It's never done you know. There are so many albums of mine and tracks that I think I should have done that or even with "Blah Blah Blah". Now I hear the master back, I'm like, "Oh I should have done this or that should have been louder or...", it's never perfect.
What's your favorite fan encounter?
Oh well, I have to mention the white BMW again. I think that was in Vancouver. Somebody just bought a brand new extremely expensive BMW with all white leather seats and they asked me to write with a big marker on top. Oh yeah.
What is the most ridiculous thing you put on your rider they've fulfilled?
The most ridiculous thing I have on my rider? I don't know even know my rider. Well for some reason I've been trying to get the bottle of red wine off of the rider because I don't really drink red wine anymore, especially not after a gig. But for some reason, there's always a bottle of wine in the dressing room. So I think my managers just keeps it on just for the sake of it.
What do you eat most on the road?
Healthy stuff, usually vegetarian or pasta. Right before this gig I just forced myself to eat because I wasn't hungry at all, but I'm doing a three-hour set. Food and sleep and gym are essentials for life.
How do you relax when you get home from tour?
Work out a lot. Mostly, I'm actually pretty boring at home. I love watching Netflix.
What's your favorite Netflix show?
I'm watching Casa de Papel (Money Heist) right now. I think it's amazing. I'm marching. Currently, I like documentaries on Netflix a lot. I've been watching Robert Robert Kennedy assassination. That was quite shocking actually. I actually enjoy reading biographies and watching documentaries. This is strange habit that I have.
What is your most memorable tour stop or show?
It's got to be last year when I did the Amsterdam Arena stadium called The Best of Armin Only, which was showcasing 20 years of my music with all my fans, all my tours, All the artists that I ever worked with. Two nights, sold out, live on national TV. It was the biggest thing I've ever done. I can't really do anything bigger because there's no bigger; it's the biggest stadium in Holland.
How did you choose the tracks to play when you have to do the best of?
Well actually, believe it or not, there was a little bit of space to experiment. I played two shows, Friday & Saturday, and the tracklists were different on both nights. If you play four hours, and I've made so much music over two years. Five albums and a lot of best of's, singles, and compilations. To put everything into four hours wasn't doing it justice. We were thinking about the show, which artists could really bring it, and which artists were special on the tour. Also, the attention span in a stadium – to try to keep the attention of a crowd for that long and keep a show inspiring - there's a lot of hard work. But, the good thing was is that we've done five tours. I was here at MSG (Madison Square Gardens) in 2014 to do the Intense show, and at the forum in L.A. we did the Embrace show, we had the Imagine show, we had the Mirage show. From these shows, we took the best live moments.
It was cherry-picking because if you have four hours and you have all these shows to cherry pick from - that was easy. Then, the best thing to do was that we rehearsed. We did a try out in front of an audience and in a smaller location without all the production. There was really a lot of effort that went into that show.
Window or aisle seat?
Window, to sleep. I sleep on planes all the time. I don't think there's ever been a flight in the last three years that I haven't closed my eyes. Even if it's a 20-minute flight, from a Greek island to another Greek island, I always close my eyes.
Is there anything else you want your fans to know?
So many things. There's a lot of music coming. Working on the Gaia album which is what a lot of people are asking. Ever since I became a father of two I don't think I've ever been more productive. It's strange because you would think having kids you would have less time and I actually do have less time, but I guess I'm more efficient. I don't play. I love playing PlayStation and I haven't touched it for 3 months. Dedication.
Anything cool we can expect for like the new shows coming up? Anything ridiculous?
We're testing out some new elements. I'm working on a new artist album. We're also thinking about the Armin Only brand - do I want to continue with it or not. I haven't made a decision yet because it's very expensive to tour a show like that. You have to do at least 20 to 25 shows to recoup the investment that you do on a show like that. And then you need to have venues with a minimum 5000 capacity just to bring all the artists, hotels, flights in, and everything. For that, we're always designing new stuff. I recently made a whole new visual package, so all the visuals that you see on my shows are brand new. So there's always stuff going on.

You can check out Armin's next tour dates here, and make sure to follow him to stay up to date on new releases!