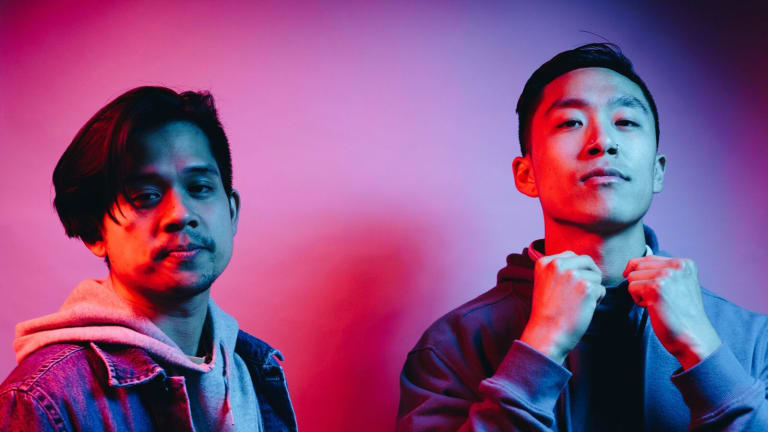 ARMNHMR's "Leave It All" is Melodic & Powerful [Interview]
We got a chance to talk to ARMNHMR about their partnership (and how it almost didn't happen!), their debut album, and window seats.
ARMNHMR, a DJ duo hailing from Los Angeles, is back with a new track this week! If you haven't been paying attention for the last few years, ARMNHMR made a name for themselves with some stellar remixes of The Chainsmokers tracks and dropped a heavy hitting track, "Won't Come Back", with Convex earlier this summer. With the release of "Leave It All", ARMNHMR will be embarking on an end of the year tour run branded by the single, so be sure to keep an eye out for an announcement coming next week!
"Leave It All" opens with an ethereal melody, accompanied by vocals from Luma. The drop hits hard and heavy, driving home the emotional lyrics. Don't take our word, check it out below and read about their partnership (and how it almost didn't happen!), their debut album, and paying extra for a window seat. 
EDM: How did you meet?
Joseph Chung: I moved to Southern California for college. Fast forward to senior year, I was looking into producing music. I had a friend of mine that I used to party with and he introduced me to Joe because Joe was already pretty well equipped with Ableton and he was more like my mentor in the beginning. As I got better at producing, we agreed to become partners but it didn't work out. That's what people don't know. It didn't work out initially. And then about almost half a year later I sent him another demo and he was like "Yo let's try this out." And from then on we just kept going. And here we are.
EDM: So this is the second time around for you.
Joseph Abella: Even our name. We didn't know how serious it would get. Whatever we make together will go under ARMNHMR.
EDM: You've gotten to remix a number of artists, who's been your favorite artist so far?
Joseph Abella: The Chainsmokers because the music they write is so catchy. We tried to do as best we could. Writing remixes to their songs, it's easy because the songs they write are just great already.
Joseph Chung: Looking back there the other reasons why we got recognition and that's how we got our first step into the EDM space because they supported us. So they play a huge role in our success.
EDM: You have some collabs in the works right now with the Adventure Club and Kayzo. How did this collaboration come about? Did you reach out to them. Did they reach out to you.
Joseph Chung: Our agency connected us with Kayzo. One of our first shows was with Kayzo in Baltimore at Soundstage and from there we built that relationship. With Adventure Club it was more of like a cold cold contact. We just kept hitting them up because they're one of our biggest inspirations. We built this relationship with them and it's actually growing every single day.
EDM: Do you ever get starstruck by other artists?
Joseph Chung: I don't necessarily get starstruck but I would say I definitely get very inspired by Seven Lions, Mat Zo, even artists like Lane8 which is more in the deep house spectrum because the melodies are so amazing, it just snaps together in my ear.
Joseph Abella: Nowadays, I think a lot of the producers in our generation inspire us to because a lot of good music is coming out. A lot of our friends like really inspire us to make better music.
EDM: Your debut album is in the works what can we expect?
Joseph Chung: Right now we have about 8 finished. We want to do at least two to three more. Those final tracks are currently works-in-progress. So it's not like we weren't thinking about it. We might do 12, we might do 14 tracks. We originally planned to release it in 2018 but, it seems like the best option would be to push it out to 2019 and make sure it is the best because an album is an embodiment of who we are. If it's not great, it's unfair for our fans.
Joseph Abella: We don't want to give a product that's half-assed.
EDM: What have you found most rewarding about making an album as opposed to a single?
Joseph Abella: An album is a snapshot of where we are in our lives. It's an opportunity for us to let out a lot of what's been going on in our own lives and music's been a very therapeutic thing for us. We got through a lot of hard times through music so a lot of it is putting what we're going through into a record and hoping that other people can resonate and vibe with the same feeling. A lot of people are going through a lot of things. We write music for people need a voice for them.
EDM: What is the most unique place you've played?
Joseph Abella: We played at this venue called The Rave in Wisconsin and the green room was a total man cave. There was psychedelic art, black lights, disco balls. It was the coolest green room we've been in. It was probably the wildest place because of the vibe and aesthetics.
Joseph Chung: We played at Red Rocks, one of the greatest venues in the world. But as far as most unique place, definitely The Rave.
EDM: Favorite non-electronic song right now?
Joseph Chung: Wish by Trippie Redd and Diplo.
Joseph Abella: I like pop punk. There's a song called From The Outside by Real Friends. We try to get inspiration from outside of our realm because we feel that's where the art comes from just dabbling into little things and incorporating that into our sound.
EDM: Window seat, aisle seat, or middle seat?
Joseph and Joseph: Always window.
Joseph Chung: I will pay extra just to sit on window, you got to be comfortable haha.
Joseph Abella: If you've got to be on a metal little vehicle for five hours you need to be comfortable.
EDM: Final Words?
Joseph Chung: It's been a great ride so far. I think we're just on the cusp of getting to the next level. A lot of fun in store for both us and our fans!
Joseph Abella: We really appreciate the fans coming out to all of our shows. We write the music for them. So the fact that they resonate with what we're writing means the world to us.
ARMNHMR also has some massive collabs on the horizon with Adventure Club and Kayzo, so keep an eye out! We also heard a few rumors about an upcoming tour, to be announced in the following weeks. For now, we'll be jamming to "Leave It All". 
You can follow ARMNHMR here: