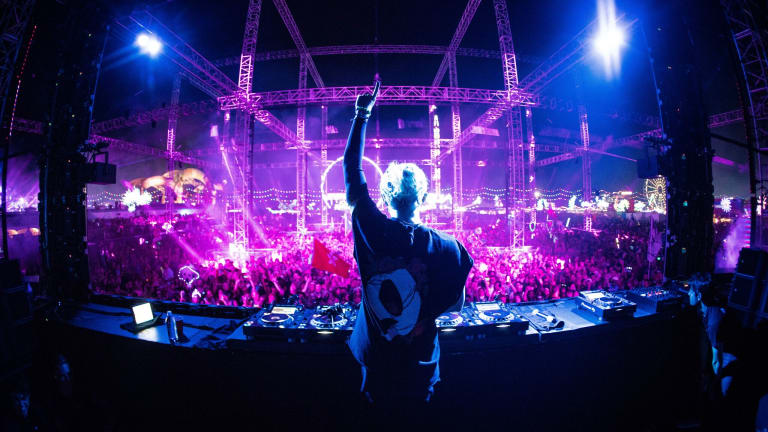 ARTY, aka ALPHA 9, is Taking Over in 2018 [Interview]
Find out how this Russian-born DJ's dual projects plan to dominate electronic music this year.
Right after his set at Electric Daisy Carnival (EDC), we got a chance to speak with Artem Stoliarov, better known as ARTY or ALPHA 9. With a career spanning 9 years, his recent expansion into dual projects with equally impressive release schedules and touring dates is admirable. Not only does he tour the world with DJs such as Armin VanBuuren and Martin Garrix, he also hosts a weekly Sirius FM radio show, Together FM, with over 5 million listeners. 
EDM.com: Do you think you're going to push more towards your ALPHA 9 project?
No, I think since last year when we launched the entire ALPHA 9, it's going to shift toward ALPHA 9. I want to make sure that I'm sending the right message to the fans that it is really serious. It's not just the kind of one-off thing that I'm doing because we're playing festivals here and there. I'm taking it personally and the ALPHA 9 project is really intimate and important. And it's like this is another way to communicate with my fans who have been missing trance music a lot. So it's been definitely shifting towards ALPHA 9 a bit more because we did the first tour and released a bunch of the records but I think this year is balancing out. So, next year is going to be in terms of the shows, more ARTY. We want to make the ALPHA 9 shows a little bit more exclusive. Both projects are equally important to me. 
What's your favorite part about having that side project?
It's funny you call it a side project, I was calling it a side project too full time but now it doesn't feel like that because I think, as I said earlier, both projects are so equal. It's just a different type of music. With ARTY music and ARTY performances, it's still a bit more mainstream but ALPHA 9 is super cinematic. I mean personally for me when I play ALPHA 9 shows it's one hell of an experience. Playing 3-minute breakdowns and the trance old school things that I grew up with is why I started to listen to trance music in the first place.
So yeah, there's definitely a difference in terms of like delivery of the music and the way it looks together as the music itself, the shows, and live performances but these two projects are still equally important.
Okay, so we'll call it the new project and not the side project.
Yeah, I do, I do like that. I should say the same thing.
So you've already had ten tracks come out. What's your favorite one this year?
Yeah, 10 tracks between ARTY and ALPHA 9. Damn, that's pretty insane when you're thinking about it. This year is going to be one hell of a year that's for sure. So far, my favorite I think is still "Sunrise", because "Sunrise" has a really strong message. The track itself is the message to my fans again, that I'm kind of stopping messing around with the styles. Throughout the last couple of years I've tried pretty much everything to do with ARTY from indie dance music to pop music and some more heavier music to more experimental music but now ARTY definitely does – I mean I definitely do - progressive house music. "Sunrise" was one of the tracks that I want to show to fans the music that I want to do, that's the music that I miss doing and that's music I missed playing in my shows. At some point, it takes a lot of time and it's you know it's an experience when you're playing live shows. At some point, I figured that I want to do music again that I can play in my live sets. I want to do music again that people can enjoy listening to on Spotify, it has to be on both sides for me.
So what more can we expect music-wise for releases?
There's gonna be another at least 10 records coming out, as I said before it's gonna be a big year. We just released "Couldn't Be Better" last Friday. I also have the remix because "Couldn't Be Better" is a definition within ARTY and ALPHA 9. It's a little bit more mainstream record. It is the most mainstream record that I have in my catalog right now that I plan to release before the end of the year. All the music that is on the schedule is done. So now, I'm working on the music that is going to come out next year pretty much. So for ALPHA 9, we have the remix for Armin coming out, I think it's going to be the end of June, one of his classics and my favorite personal track from Armin called "Shivers". It came out in 2004 and was the first record that I listened to and that's how I fell in love with trance. We have a new single for ARTY and I can't tell you the name because people keep asking about it. There are another 4-5 tracks releasing for ALPHA 9. Also for ALPHA 9, there's a lot of remixes and edits that I'm playing in my live sets that have never come out for release.
How was your secret set at EDC? 
It was really fun. As I want to know and be a better producer in the studio because I'm working in the studio every day. It's quite an experience as you're learning and teaching yourself new things, pushing yourself and trying to make yourself a better producer. That's the same thing I want to do with my DJ sets. At some point last year I started playing completely different sets and doing techno and house sets. I personally really love techno music and house music. I do love to play it a lot. It's just a completely new experience and new vibe. You need to figure out totally different ways and it's so much fun to play. You can imagine playing like between 60-100 shows a year, almost every week. Not exactly the same set but you have the core of the set for ARTY and ALPHA 9 and the new experience when you're playing different types music will freshen up things a lot and again, make you a better DJ. So I played house music in my set and it was pretty incredible.
What stage were you at? 
I was at the campground stage.
What's the craziest thing you put on your rider that they've fulfilled for you?
I wish I could be as fun as Dillon Francis and put some obnoxious thing on my rider. I think the craziest thing we did was the Russian vodka that you can only get in Ohio and Florida because it's produced in Ohio. I love it but people don't like it that much. It's pretty expensive, it's called Spirit of the Tsars, it's a caramel taste. It's so easy to drink it because it's a little bit of a sweet taste.
So if we brought out a bottle right now, would you drink it? 
I wouldn't drink it right now. I mean I'm going to have a bunch of drinks but not this early, man. I have two and a half hours before the show starts and that's really dangerous. I mean, promoters sometimes put some funniest stuff, some gifts or birthday cake. They put my face on a huge cake.
What is the weirdest tour stop or show you've ever played
Weirdest show? Let me think about it.
I mean, I've played many, many shows and a bunch were weird. Sometimes the crowd is totally not into the music that you're playing and sometimes the set up is really bad, sometimes everything is falling apart. But I think the weirdest was definitely when I first started DJing in my hometown, it was pretty sad and weird, but it was a really long time ago.
What's your favorite non-electronic song?
Clocks by Coldplay. 100%, I really like Coldplay. It's probably my favorite rock band or pop band, whatever you want to call it. But lately, it's kind of half electronic but this new artist I think he's from Dublin. His name is EDEN. His music is just outstanding and incredible and I'm a huge fan of this. So you definitely should check it out.
Also, have you have always had bleached hair?
No, I think I bleached it in 2016. I was going through a lot of shit on my own. Personally, I was in a really weird spot in my life with a lot of things that I had to think through. I was not feeling myself hundred percent personally, so I said, "F*** it, I'm gonna do that," and I loved it. I posted something on Instagram, a picture when I first bleached it, and I was thinking my mom is going to be mad at me. I was actually thinking, my mom and my dad are going to be like, "Are you okay?" I was like,"Yeah I'm okay." My mom was actually super stoked about it.
Anything else you'd like to say? 
Positive vibes, keep it going!