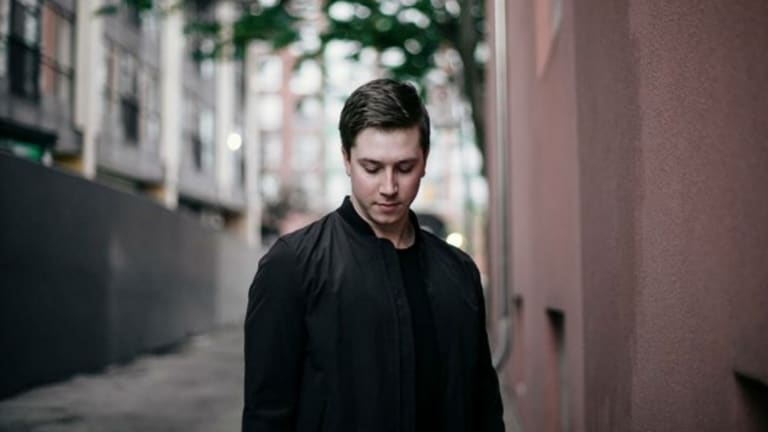 MAU5TRAP'S ATTLAS JUST RELEASED A DREAMY NEW SINGLE & WE'VE GOT THE DETAILS [INTERVIEW]
Recruited by deadmau5 himself, there's no denying ATTLAS has talent.
New music from one of mau5trap's finest.
ATTLAS is an extremely talented producer, one with steadfast dedication to the art of music. He uses sound to carefully weave stories, in a distinctly sincere and heartfelt manner, rather than putting out songs to cater to people's likes. He takes his ideas and his feelings, and finds a unique and invigorating way to incorporate them into sounds. With producers conforming to trends so often these days, it is refreshing to see some stay true to their art, like ATTLAS.
Creativity and originality aren't the only stand-out aspects of his artistry. His execution is also remarkable. Listening to his music, it is easy to judge his technical ability and fine-tuned production.
"What You To Do Me" is ATTLAS' latest offering--a gentle, melodic track. Emotionally charged without being overbearing, it's subtle and smooth. ATTLAS shines in being raw and evocative, steering towards a melodic style, with expansive cinematic soundscapes characterised by glitchy, machine-like elements. Oscillating between dark tones and light ones, this song falls on the bright side.
Also, the artwork for the track captures the sensation of the song perfectly. A stirring sunset on the horizon of a vast body of water. Natural, calm and striking yet simple, just like the track.
Jeff Hartford, AKA ATTLAS, popped up out of seemingly nowhere in 2015. At first, since he remained anonymous, many thought he was Deadmau5 under another alias! Completely unintentional on both ends though--Jeff is a reserved person, with minimal social media presence at the time, and Deadmau5 even publically announced that he is not ATTLAATTLA
Having played classical piano since a young age, learning the guitar later, and studying composition for film, he has a diverse musical background. His musical tastes are similarly manifold. Techno, ambient, orchestral, jazz, and even pop, he truly appreciates music regardless of form. His passion for it translates well into his musical capabilities. Attracting support from the likes of Deadmau5, he has been sharpening his artistry, and developing a unique style in electronic music.
We caught up with Jeff to see what it's like in the mind of ATTLAS.
EDM.com: It's been over 10 months since your Bloom EP. Do you have another EP in the works, or maybe an album on your mind?
ATTLAS: I was really fortunate to be able to put a number of EPs on mau5trap that encapsulated a lot of who I was at the time. This past winter was professionally and personally a chance to do some reflecting on where I had come from and where I want to be next year at this point. There is so much music on hard drives and in ableton sessions that the output and the creating isn't what I'm being patient with, but rather the form it all takes when it's out in the wild. I guess in a way it's like trying to figure yourself out through your own music. I'm about halfway through a piano album I've been writing, though the temptation to take those melodies and chord progressions and develop them into full productions is a big one! I'm collaborating on some pretty unique projects right now as well that let me indulge in more narrative and atmospheric writing. Then, there's the issue of all these heavy darker tunes that seem to go together well...
To build on the last question, what does the future hold for ATTLAS? Where do you see yourself moving forward as an artist?
As an artist, outside the obvious and neverending pursuit of better production and smarter writing, I'm really looking forward to finishing up these more collaborative projects I'm working on. I think 'ATTLAS' is starting to have a bit of a sound and identity, but writing with someone else on a project lets us each tiptoe slightly outside our more familiar boundaries and find some alchemy in those areas. I'm learning to be a bit less self-conscious in my work, and it's beginning to lead me to more meaningful projects. I've struck a more emotionally healthy balance between the anxious energy of obsessing about your own perceived weaknesses, and enjoying the absolute thrill of sharing my music, playing shows, and connecting with so many people I otherwise wouldn't have. The music's starting to come from a place where I understand myself a bit better. I would say the music comes from a happier place, and that even applies to the dark and heavy music I love writing and playing out in those 3, 4, 5, 6am slots (because there's always a way for dark and heavy to be fun right?).
Who are some of your musical influences?
All over the place these days. I'm still a sucker for melody and performance, so I've been listening to a lot of solo-instrumentalists that can achieve such breadth and depth with a single instrument. Lots of piano and guitar from all sorts of time periods and all over the world. It's crazy how such universal emotions can be articulated and presented in such different ways when you change the instrument, culture, time period. In the electronic space, I pay really close attention to anything Djrum, Indian Wells, and Rival Consolesare doing. Lane 8's 'Little Voices' is definitely my song of the summer so far, but I've also been going deep into the fun world of field recordings and experimental. There's so much good music out there now that it's pretty overwhelming. I'm still finding records from decades ago that sound brand new to my ears and going through a bit of a renaissance in my punk listening.
As a boss, artist, and person, deadmau5 is such an asset. I don't think there's a work ethic or drive to self-improve like his that I've come across.
Apart from influences, do you have any artists in mind you really want to work with--dream collaborations?
Oh man, this is my chance to be selfish, let's think....'Smile Sessions' era Brian Wilson (if I'm allowed time travel)

Rufus Wainwright (one of my favourite writers and arrangers, not to mention probably the greatest live vocalist out there right now)

Four Tet (rhythm, texture, groove like no one else. Such a sense of what risks to take and when to know when something's good enough to not need changing)

Jon Hopkins (I think his is the career balance I aspire towards the most, and there's so much I feel I could learn from the guy that writes with Coldplay, scores films, reinvents live performance, takes time to do a folk guitar record, and hangs with David Lynch)

NASA (for the obvious reasons)

Denis Villeneuve (I know Johann Johannsson scores his work and he's flawless at it, but if I could dream about working with any director right now it'd probably be him. such gorgeous storytelling with real gravity)

GoGo Penguin (one of my favourite live acts right now, I think our styles would blend together so well. I've wanted to get in and record some live projects, and I can't think of anyone getting more out of their instruments in a trio right now)
Björk
What is it like working with Deadmau5, and the mau5trap label in general?
It's been a fantastic experience. As a label, mau5trap gave an unsigned artist with no following a chance to release everything from heavy progressive to ambient piano. They're disciplined curators of mood and music, and it's been so good to be on a roster of artists that are never satisfied with what they've done so far. It's a place to be yourself, be creative, and get pushed to be better.As a boss, artist, and person, deadmau5 is such an asset. I don't think there's a work ethic or drive to self-improve like his that I've come across. He brings the label on tour, plays our tracks on the radio, collabs with us, and is the captain of pretty damn talented ship.
You're a private person but it'd be nice to get a glimpse of the man behind the music! Any interesting or funny pet peeves you'd like to share?
I'm sure if you asked my roommates you'd get a different answer to the 'pet peeves'! I guess if I'm being really brutal, I'll say that our building's elevator service could be improved, and I keep getting this weird headache the morning after a lot of wine. Actually, I need to move my bed or something. I redid the room the other day trying to fit this keyboard in, but it resulted in this sharp piece of metal from the bed frame living happily and exposed at shin level. I hate changing my room around so much that I've gashed my shin to a bleeding mess five times now and haven't so much as thought about where else my bed could fit. Also, when people don't keep their knives sharp and/or know how to use them properly. And if the front door is unlocked. And when I forget what I named a project so I gotta sit through loading the hundreds of channels of project after project before I find the right one, only to find out the track sucks or I already released it. Actually I'm realizing now that in general I should probably find a new way of organizing projects...
On that note, do you have any interesting pre-show rituals?
Shows where I'm by myself in a city usually involve trying to get a walk in and to eat something light. I'm usually a bundle of nervous energy if it's my first time in a new city, and getting fresh air with my feet moving really helps mitigate the thought-spiral. If I'm playing with the mau5trap family or another artist I know it's a lot different. We'll sound check together, eat together, chill, hang out... the road can be invigorating and isolating all at once. The biggest thing is to find a way to feel like yourself when you're outside of your familiar environment. I like having a drink on Skype with a family member before the shows too (time-zone and set-time permitting of course) and it's a nice reminder of the grounding nature of family before I let the lights and sounds of the night take over.Don't try to be cool. By the time you get there, what's cool will have moved on. Being yourself isn't easy. Being someone else is horrible.
Back to music! Take us through your creative process. How do you start a song and move through it to the end?
The process tends to change from track to track, but usually I'll start on a piano and record for about half an hour, then listen through again playing a synth lead on top of it. If there's a good idea in there, I'll save everything to be able to come back to it, then start a new session with the bits I like. I lay down a few more ideas and textures until I can start to imagine the track as a completed whole. I'll try to avoid over-listening to anything similar when I get to this stage, just to avoid falling into patterns of familiarity. I'm constantly printing to audio as soon as possible. I find it's a ton easier to work with, and it forces you to move on from what can sometimes be a black hole of tiny tweaks and adjustments. I'll work on parts in a few different ways, and have become less 'precious' with what I delete and how quickly I can identify if something will work or not. It's all about putting in the hours though, there's no shortcut to involving yourself in the process. I'll mute entire sections of the track and it'll often force me to listen a bit more objectively to the parts I'm working on. It can be tempting to crowd an 8 bar section because you've listened to it a billion times and are so bored with it. But most listeners aren't stopping the track and restarting a section for hours in a row, they're getting the whole track all at once.
To end, what has been the biggest lesson that you've learned so far in your music journey? Do you have any advice for aspiring producers?
Don't try to be cool. By the time you get there, what's cool will have moved on. Being yourself isn't easy. Being someone else is horrible. Try to think about your happiest time producing, writing, or playing an instrument. Figure out what about the process keeps you happy, because you're going to need that lighthouse in the distance when your project crashes, your master sounds muddy, you realize your melody sounds like that thing you heard two years ago and you have to delete it, or a stranger doesn't like your track. You're not gonna get through the mud unless you really love it. Ask advice when you know you'll get the truth, and get better and knowing how to tell the difference between sincere and lying smiles