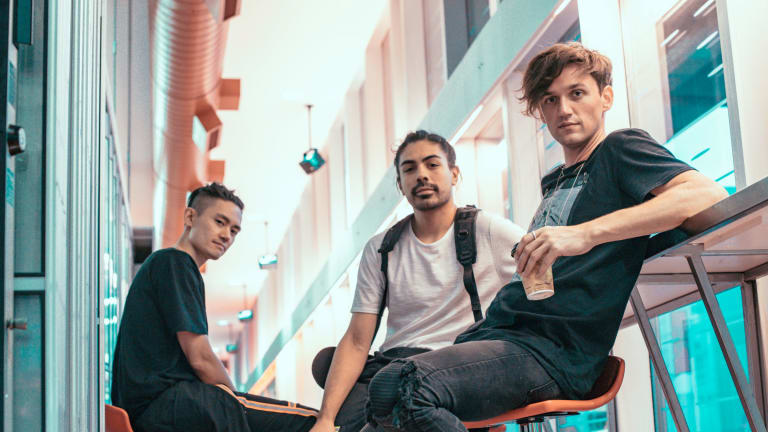 Autograf Continues To Inspire Us With Their Strength, Passion, & Tenacity [Interview + Giveaway]
Autograf chatted with us before their big show in LA tomorrow.
This trio is a force to reckon with. For the past 4 years, Autograf has been pushing the envelope for electronic music, melting genres and making us feel damn good. Jake Carpenter, Louis Kha, and Mikul Wing are continuously perfecting their craft and openly showing their weaknesses along the way. Jake Carpenter recently shared with fans he was on a 5-month hiatus from touring in order to focus on his well being. This touched fans and other artists around the world, inspiring us to never feel ashamed of our personal struggles.  
Tomorrow, Autograf will be playing an epic set at Skybar in Los Angeles, California and we got to sit down and chat with them before the big event. 
EDM: Who were the first artists who drew you guys into dance music?
A: Chemical Brothers, Daft Punk, The Faint, Felix Da Housecat, lots of the early electroclash and indie dance stuff.
EDM: I have watched you guys develop in the past 4 years and it's amazing to watch. How has your creative process evolved from making remixes like "Cool" to new remixes like "Hold Me Down"? And also your evolution with original tracks like "Dream" to "Gravity"?
A: It's still all about trying to make music that we love and experiment with all of the new sounds we hear daily. As time has passed, we have made new sounds with new synths. Our projects continue to grow daily.
EDM: You guys have played all over the place. How many shows did it take for you guys to get comfortable with crowds or did it come naturally?
A: We were all playing music before, the Autograf project came later on. Starting with rowdy - probably illegal, but definitely fun, loft parties. It was far from the bedroom to Coachella overnight. There were a lot of building blocks along the way to make us who we are today. There was never really a point where we were uncomfortable with our performance. Rather, a steady growth along with just being in the moment. Sometimes we just get lost in the music itself.

EDM: I think it is so awesome of Jake to share his personal struggles with your fans, a lot of artists don't have that type of courage. What aspects of tour life can you share with us that fans wouldn't understand from the outside?
A: Jake taking time off has really helped him appreciate everything. It's tough to really understand the struggles of touring, and the toll it can take on us musicians, both physically and mentally - without actually living through it. It can be tough. 
EDM: What piece of advice would you give fans/artists who are struggling with life right now?
A: There are always people out there that have it worse than you and it is important to be thankful for just being alive.
EDM: You're playing in LA this weekend at Skybar, what's your craziest LA story?
A: LA is a crazy place. Looking forward to another sleepless night, from playing a show to partying right up until our flight is about to board. Tomorrow maybe being another one of those haha
EDM: Lastly, would you rather miss a drop or have a cough attack on the mic?
A: Not really sure what either would consist of (lol) but probably a cough attack since it's easy to turn the mic off and let the music take people on a journey
Check them out at Skybar Saturday afternoon for a chance to win this hoodie! Grab your tickets here!