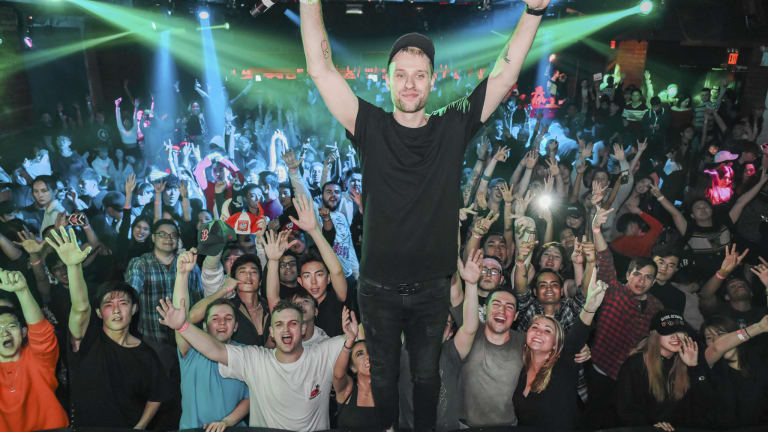 Sikdope Discusses New Single, Collaborations, His Future, and More!
Sikdope is taking over in 2018 - and the EDM.com Active Anthems playlist!
Sikdope has been a force in the dance music scene since his hit "Snakes" took over stages across the world in 2016. This year is looking to be huge for him as well, as he's released a slew of bangers such as the dancefloor anthem "My House", "Back Again", and his remix of "FRIENDS" by Marshmello. With his latest track, he's set the bar even higher.
"Badder" is another tune we'll be hearing rinsed across stages worldwide. Teaming up with Atrip and UK-based Virus Syndicate, this blend of bass house and UK grime will surely get crowds moving. Take a look below:
Sikdope is slated to take over our Instagram tomorrow, June 8th. You don't wanna miss out on the action. To prep all of you guys, we sat down with the Polish producer to see what he's got coming up. Check out our exclusive interview:
EDM.com: It looks like you've got some huge shows coming up. Are you stoked to play in Guangzhou? 
Sikdope: I'm about to start my next China tour which is really exciting partially because I'll have a chance to eat a great food, but also I have a huge amount of supporters in Asia who are always stoked about my music and performances. It's crazy to see how fast the scene is growing there. They put a massive amount of effort into production for the club shows and festivals and that makes them really special and unique.
EDM.com: This year has been huge for you so far with the release of "My House" and "Back Again". "Badder" is an absolute heater as well! What was it like working with Atrip and Virus Syndicate? 
Sikdope: I've been working really hard last year to make my songs in 2018 really unique. I feel like I'm finally in a point where people can define my style and straight away say, "Yeah that song sounds like Sikdope." The collab with Atrip & Virus Syndicate is just like that. You can defo hear influences there from my bass house songs BUT it's in 150 BPM which makes it really special and gives it much more energy. This is the direction I wanna follow musically in the future and you won't have to wait long cause my remix for Jauz and Zeds Dead is coming out next. 
EDM.com: Is there any other artist out there that you're itching to collaborate with right now? 
Flume, Kaytranada, The Chemical Brothers, More to Play Goldenvoice's New San Francisco Festival, Portola
The two-day festival will also feature sets from James Blake, Arca, Peggy Gou, M.I.A, Four Tet, PinkPantheress, DJ Shadow, and more.
Sikdope: I'd love to make a song with Tiësto, e was always a big supporter of my music. He was one of the first DJ's to drop my single "Snakes" during his festival performances which is one of the main reason why this song, later on, was supported by so many DJ's and got so big.
EDM.com: At the moment, which artists are your biggest inspirations? 
Sikdope: I'm trying to get my inspiration from music in general. Outside of the studio, I don't listen so much to EDM as I'm trying to give my mind a break, so my Spotify playlist includes genres like hip-hop, metal, rock, pop, jazz which is pretty much a little bit of everything. I think that as an artist you got to stay open-minded towards new things, that's why I like to stay "good music is good music" no matter what genre it is. 
EDM.com: You've played some huge festivals and toured all over the world. What's the strangest thing you've seen at one of your shows? 
Sikdope: During my first ever Asia show back in 2015 I was playing this huge festival in the country called Myanmar. I didn't know what to expect I assumed that I would have some supporters there but what I experienced blew my mind. I came on stage saw around 30 thousand people and after dropping my biggest song that time called Unicorn Zombie Apocalypse the whole crowd been literally yelling the drop melody while jumping. The whole stage had been shaking as if it was an earthquake. It's still unreal to me.   
EDM.com: It's always interesting to find out what inspired an artist's moniker. How did you come up with the name "Sikdope"? 
Sikdope: Creating a DJ name is the hardest thing ever. Once I was brainstorming ideas with my friends and I came to the conclusion that words SICK and DOPE are pretty much the perfect definitions of what I wanna do as a producer.
EDM.com: What's next for Sikdope?
Sikdope: More music more bass and bigger shows! I have a lot of great unreleased stuff on the way including some big collabs so stay tuned!
Don't forget to check out our Active Anthems playlist, curated by Sikdope himself: