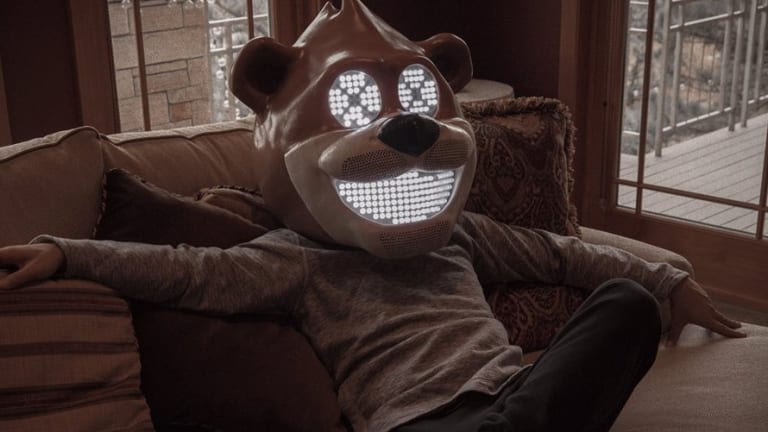 Bear Grillz Talks About His First Time With  Dubstep, Creating a Cult Following and More [Interview]
Bear Grillz is dominating the EDM world, one bear paw at a time.
Meet Bear Grillz. He is not your average bear, I mean artist. The EDM rockstar has been playing sold out shows across North America and releasing banger after banger. With his latest release with Monstercat, "Wicked", the dubstep king proves to have mastered an ear for high energy greatness. We chatted with the Bear Grillz, discussing his inspirations, production process and how he gained a cult following.
EDM: When was the first time you heard dubstep and how did it make you feel?
Bear Grillz: It had to be in 2013 when Skrillex released Scary Monsters & Nice Sprites. I remember thinking how the hell does this guy have every song on his album in the top charts. I listened to the album and I quickly understood. I remember hearing all of those sounds for the first time, I thought it was so cool. After that, I started paying attention.
Did you always know you wanted to be a masked artist?
Bear Grillz: I don't know if anyone wants to be a masked artist LOL but I think when the time came to build the brand it just made sense. It is very identifiable and as much as people made fun of it when I first started, people now get angry with me if I don't have the helmet with me at all times. Also, look at some of the acts who wear helmets these days: Marshmello, Deadmau5, Barely Alive, BTSM, Daft Punk, Rezz, Funtcase, UZ, & Malaa.
You've released 3 tracks this year, which one was the most challenging to make?
Bear Grillz: I think every track is challenging. How about this… I'll flip the script. The least challenging was "Wicked". Whenever I have an idea that needs vocals and/or guitar, I call up Keaton (Sullivan King) and he literally has a sick guitar riff and vocals laid down in like 5 minutes. I don't know how he does it.
How long does it take to make the perfect drop in the studio?
Bear Grillz: It honestly just depends on the song. I always make the drop last. Start with the skeleton, the intro, the breakdown, etc and then feel my way into the drop.
You have traveled all over the place, what has been the craziest city you have toured at?
Bear Grillz: I get this question a lot… and it's really hard to pick just 1 place. How about this… top 5 craziest cities I play?
1. Denver
1A. Montreal
2. Paris
3. Portland
4. Brisbane
5. Chicago
Sorry, that's 6 :)
Who are you listening to on Spotify or Soundcloud at the moment? Are there any new artists you are excited about?
Bear Grillz: I always listen to reggae and chill music outside of what I do. Some of my favs: Iration, Dirty Heads, Sublime (I'm a local Long Beach kid). Also, I love listening to the 60s station on Spotify. Artists like Sam Cooke, the band Chicago, Billy Joel, & Dave Matthews Band. I have a very eclectic listening taste.
What collaborations can we potentially look forward to in the coming months?
Bear Grillz: TBH I only have 1 collab in the works and its a pretty big one but I can't say right now :) I do have plans for a lot of big features on some records that I have plans for though.
How did you decide to cultivate your fan culture? Did you have a strategy or did you wing it?
Bear Grillz: I just winged it at first. I tried to be something that I wasn't but eventually, the person who I was came out and I'm very grateful for that. I always tell everyone that I was meant to do what I do because I am about love & equality. The fact that I get to spread that around the world and hopefully show people that those 2 exist is the greatest feeling for me.