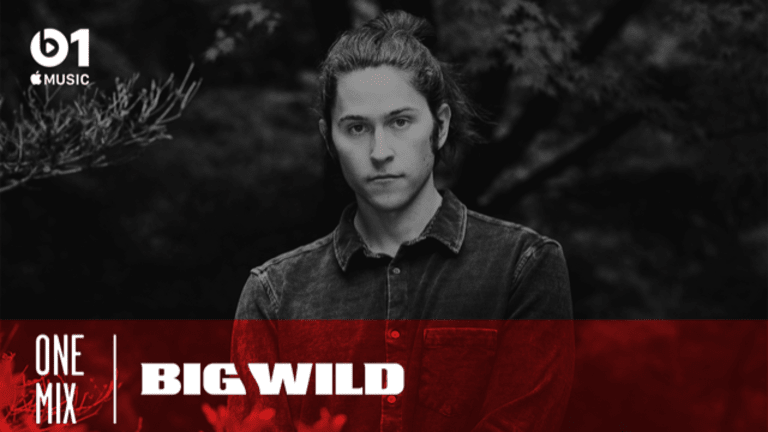 Big Wild Releases Debut Album, Superdream, Celebrates On Beats 1 One Mix [INTERVIEW]
From his dream collaborator to his favorite throwback, the hip-hop beatmaker turned singer-songwriter had lots to share.
Fresh off releasing his debut album Superdream, Big Wild makes his debut on Beats 1's weekly radio show, One Mix. Expect plenty of tunes from the album, plus tracks from artists like Pond, Tourist, Blood Orange, Justice, and Daphni.
Tune in here, exclusively on Apple Music.
Air Date: Friday 22nd March 2019 - 21:00 LA / 00:00 NY / 04:00 UK
Though Big Wild (real name Jackson Stell) is known for his spirited fusion of acoustic, indie, and electronic sounds, things weren't always so. Stell got his start in middle school under the moniker JBeatz. Inspired by producers like Dr. Dre, The Neptunes, and Timbaland, he made instrumentals and produced hip-hop beats for local artists.
Come college, studying music business at Northeastern University, he swapped beatmaking for composing for ad agencies. It didn't stick.
On a whim, and his girlfriend's encouragement, he moved to California to pursue music wholeheartedly. He worked at Whole Foods to pay the bills, focused on music at night, and often hiked to explore the natural beauty of California.
One time, he visited Big Sur. Inspired by the beauty of the landscape, Stell coined the "Big Wild" moniker. It made sense to him. He wanted his music to be lush, bold, and distinct, like the features of the California terrain around him.
Airy, atmospheric tracks with bright, buzzing melodies followed. Things really started to pick up when he caught the attention of ODESZA in 2015, however. The duo, impressed with his SoundCloud tracks, messaged Stell out of the blue on Twitter and asked him to officially remix their track "Say My Name."
Not long after, ODESZA's opener, Hayden James, had visa issues and couldn't make it to their tour, so they invited Stell to take his place. The ball kept rolling, as ODESZA's agent soon took Big Wild under his wing. Stell recalled, "[ODESZA's] support early on was really helpful in getting exposure, understanding the music industry better and putting together a live show. Their role in my career was invaluable."
The next rung on the ladder was Stell's immensely popular song "Aftergold," one of the first tracks to be released on ODESZA's Foreign Family Collective label. The summertime pop anthem made it to an official Apple Watch commercial as well.
Stell continued to hone his craft, winning fans with emotive tunes empowered by themes of relatable life changes. He endeared audiences with his live performances, playing festivals like CRSSD, and Splash House, even co-headlining the renowned Red Rocks Amphitheatre with Louis The Child. Whistling melodies into the mic, bouncing from keyboard to drum pad to cajon (a wooden box-shaped percussion instrument), scenes from the California wilderness spread across the LED screens behind him, Stell had a distinct stage presence.
Last month, Stell released his debut album Superdream. The collection of tracks are grounded in personal expression and identity and carried by buoyant, groovy melodies. It's a true amalgamation of the ever-evolving Big Wild sound - and a new chapter as well, since for the first time, Stell lends his own vocals to many of the tracks.
The opener, a disco-funk-inspired tune titled "City of Sound," embraces the change. Stell explained the song is about "being confident in yourself, your voice, and your individuality." He explained:
"I wrote it early on in the album writing process as a way to remind myself to stay confident in the new direction I was going with my music, particularly with my singing and songwriting. I felt more vulnerable but at the same time had a strong urge to express myself in a different way beyond producing. That's why I decided to really pursue singing in my music and 'City of Sound' was cathartic for me and the creative struggles I was enduring. It's a relatable feeling and writing a song about it was my way of telling the listener you're not alone."
The sultry, buttery ballad "Alley-Oop" explores the sublime feeling of falling love. "Purple Sand," introspective and dynamic, captures Stell's big move to California. "Maker" takes listeners into Stell's existential crisis when he was diagnosed with thyroid cancer before moving to California. He described that he "was really fortunate in the grand scheme of things but, at the time, it put my own mortality and faith into perspective. The song is about realizing you're not on this Earth forever, so really love and enjoy the life you have now. It's a celebration of life and puts a positive spin on a relatively dark period in my life. I wanted to write it in a way that is relatable and open for people to interpret. I think the theme can work its way into people's lives in many different ways."
Now, with the album out, Stell is on a well-deserved, celebratory tour, ending the North American leg in New York next week before heading to Europe for the first time.
Stell also took some time out to answer a few questions for us. He confessed his guilty pleasure record, talked about how he treasured sharing the stage with his dad, and lamented entering a mosh pit when he was 14 years old at his first show.
EDM.com: First show experience?
Big Wild: Going to a metal show when I was 14, getting sucked into the mosh pit, and fearing for my life. I'm thankful my friends were there to pull me out.
First time you brought your dad to one of your shows?
First time I brought my dad to a show he played guitar on "Venice Venture" live during the show. It was a career highlight!
The artist who inspired you to become a musician?
Dr. Dre. His 2001 (Instrumental) album was my favorite album for years when I was first learning production.
Go-to places for new music?
I find a lot of cool artists from Instagram or from my friends. Randomly playing stuff on streaming services tends to work too.
Guilty pleasure record?
"Make it Big" by Wham! It's so cheesy and so good.
Desert-island dance record?
"Hi Viz" by The Presets. Music for sunny days.
Dream B2B partner?
Damon Albarn or Kevin Parker [of Tame Impala].
Favorite BPM?
110 BPM. It's like house but with more room for groove.
Piece of gear you always need on the road?
Besides the laptop, my USB mic is crucial.
All-time favorite festival?
So many good ones, I really like Capitol Hill Block Party in Seattle.
Biggest misconception about dance music?
Biggest misconception is that it's easy to produce it. To make original dance music is just as difficult as any other genre.
How often do you get out and have fun, and where do you go?
Not as often as I should but I like to spend time outside or eating somewhere nice when I have free time. Roller skating is fun too.
City with the most underrated dance scene?
Phoenix, Arizona.
Industry prediction for the next year?
Singer-songwriter will start to transform into producer-songwriter as people who write music on the computer take on vocals and lyricism.
Best piece of advice for new producers?
Learn the craft by copying other sounds you hear but always focus on adding your own unique touch to everything. Learn to separate yourself from everyone else by learning more about who you are and what you enjoy.
Dead or alive, who would be your dream collaborator?
I want to do a weird electronic track with Robert Plant. I hear something rad coming out of that.
What is one of the unique experiences you've had backstage?
The day that Prince died I was playing a show in Minneapolis. Before the show began I was in the green room and got an impromptu history lesson about Prince and his music from someone who had lived in Minneapolis their whole life. The connection between Prince and the city was interesting and hearing how much pride this person had about the musician was really cool to witness.
A unique travel experience you've had?
Riding on a tour bus and having the roof get ripped off because we drove under a bridge that didn't have enough clearance.
What's your favorite throwback track?
"Return of the Mack" by Mark Morrison.
What's one track that fans always lose their mind to?
My track "Venice Venture." That one always brings a ton of energy with it.
What was the first album you ever bought?
Pure Funk. It was this sold-on-TV funk music compilation. I used to love it.
Name one remix that you think is better than the original.
Flume's remix of "Hyperparadise" by Hermitude.
What song would you want (god forbid) played at your funeral?
"Let it Happen" by Tame Impala.
What's the perfect sunset track?
"Hours" by Tycho.
What song do you listen to cheer yourself up?
"Electric Feel" by MGMT.
What's your touring schedule like right now?
I've got one more week left for the North American leg of my Superdream Tour, finishing at Terminal 5 in New York, and then I'll be taking the tour overseas to the U.K. and Europe for the first time, which is really exciting.
Follow Big Wild
Facebook: facebook.com/bigwildmusic
Instagram: @bigwildmusic
Twitter: @bigwildmusic
SoundCloud: soundcloud.com/bigwild