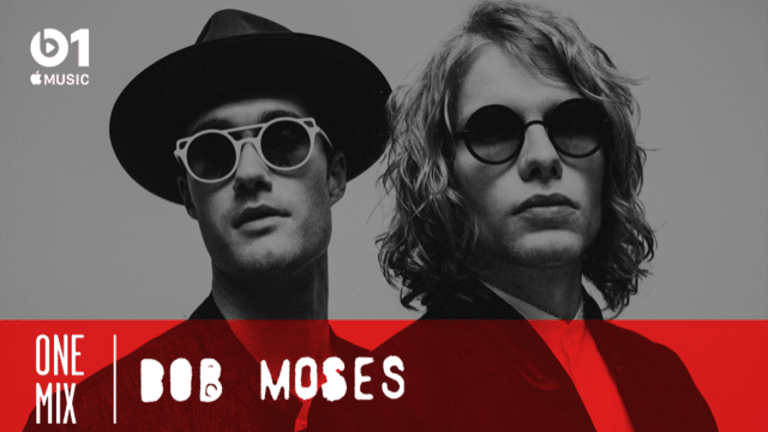 Indie-Electronic Canadian Duo Bob Moses on Beats 1 One Mix [INTERVIEW]
The self-dubbed "rock band with an identity crisis" spoke about the art of DJing, explained why Burning Man trumps all other festivals, and narrated a chance encounter with the Foo Fighters.
It's indie-pop meets brooding deep house this week on Beats 1's weekly radio show, One Mix. Canadian duo Bob Moses is in the mix with tunes from all over the spectrum - Radiohead, Tourist, and Dusky included. Plus, a first listen of their demo track "Skippy."
Tune in here, exclusively on Apple Music.
Air Date: Friday 15th March 2019 - 21:00 LA / 00:00 NY / 04:00 UK
With a backstory as fortuitous as their name - a tribute to Robert Moses, a renowned Depression-era New York city planner - Tom Howie and Jimmy Vallance actually knew each other long before diving into music together.
Growing up in Vancouver, they went to the same high school and had art class together. Separately, they were involved with music, and their bands would play the same high school talent shows. Tom eventually moved on from his punk band to a singer-songwriter endeavor, while Jimmy abandoned metal for trance, and later techno.
Years later, unbeknownst to each other, Tom and Jimmy both ended up living in New York, working on their respective music careers. Turns out, they had rehearsal spaces a block away from each other for over a year before crossing paths in a Lowe's parking lot nearby - of all places!
On that chance encounter, with no expectations but to have a good time, they gave music a go together. In the studio, their chemistry was instant. "Once that happened," Tom recounted in a past interview, "we both had the thought that we should join forces and postpone whatever other plans or ideas we had for our future and work together on something. Since that day we've basically had our heads down just making the best music we can."
Tom and Jimmy began working with Brooklyn label Scissor and Thread, mostly vocal features at first. In 2012, the label head signed them on for an EP, and suggested the no-name duo call themselves Bob Moses, upholding the label's tradition of naming acts after New York icons.
That first EP, Hands To Hold, was just the start. A kick-off for their infectiously creative, organic-electronic, indie-house sound. Like their SoundCloud bio states, "occupying the fertile ground between organic band land and an all-electronic production project, Bob Moses draw on the two poles to vividly resonate across both."
Much of their sonic prowess took hold in experimentations with recording and sampling. They'd often leave mics quietly recording in the back of the studio and layer them in. One time they even recorded a chain rattling on their friend's purse in an empty New York subway station and put it on their track "Val."
In 2015, they released their debut album Days Gone By on Domino Records, home to varied artists like Four Tet, Jon Hopkins, Arctic Monkeys, and Blood Orange. As fans of "super abstract music and really straightforward pop," Bob Moses' LP hit home as a delectable blend of both. From the brooding, full-bodied bass lines of "Talk" to the sultry grooves of "Tearing Me Up," it was chock full of club-ready beats, warm instrumentation, and smokey, emotive vocals. A collection of records with powerful sounds and an equally powerful theme tackling personal struggles and inner battles. 
Moving forward, their songwriting sensibilities emerged ever-more. As Jimmy told the Ableton crew once, "I think the human voice gives you something to relate to, the narrator of the story. It puts the lyrics into perspective and can set the mood of the song. It lets you know there is a person behind all of the noise, no matter how digital sounding the production can get."
Released last year, Bob Moses' sophomore album Battle Lines embodied the change, with songs like the melancholic rock ballad "Eye for an Eye" and the beautifully somber title track "Battle Lines." Electrifying guitar riffs and sultry vocals permeate the album, though driving techno beats ebb and flow, particularly on tracks like "Enough To Believe" and "Listen To Me."
The album is as emotionally charged, if not more, than its predecessor. Though it looks out beyond internal struggles to relationships and universal feelings. As they explained to Stoney Roads, "the main difference is we've gotten to travel the world several times over and be inspired by people and our experiences. 'Days Gone By' was written by two guys, in a windowless basement in Brooklyn, pouring our frustrations into music in an effort to connect with ourselves and other people. 'Battle Lines' was written by two guys (with a lil' help on one song), in a windowless basement in L.A. as a reaction to connecting with people and being inspired by the struggles we all share."
Over the years, Bob Moses have played popular festivals like Glastonbury, Coachella, EDC Las Vegas and Lollapalooza, performed on The Ellen Show, been nominated for Junos and Grammys (with RAC winning one for their remix of Bob Moses' "Tearing Me Up"), and evolved their live show to include an all-out band.
Before their upcoming One Mix, we spoke with them about their musical inspirations, dream collaborator, and more. The successful duo also candidly shared their thoughts on the art of DJing, explained why Burning Man trumps all other festivals, and narrated a chance encounter with the Foo Fighters.
EDM.com: First show experience?
Tom: My parents used to take me to the Vancouver Folk Festival when I was a kid, but the first show experience I truly remember was seeing Van Morrison play when I was eight years old. It was pretty breathtaking. I remember the musicianship, how good everyone was and how good it sounded in the theater they were playing in.
Jimmy: I saw Alice Cooper when I was eight; my parents took me. It was an awesome gig!
First time you brought your mom to one of your shows?
Tom: My Mom came to see us as Bob Moses for the first time I think when we played in Vancouver for the second time at this place called the Electric Owl. Both our moms were there at that time actually. My mom still lived in Vancouver then and Jimmy's mom flew out from Toronto. It was really nice, we had a big group dinner together first and then all went next door to the show. My mom was quite ill then, and it was late for her to be out, but she stayed for the whole thing. We cleared a spot for her to sit in the wheelchair she was using at the time as it was hard for her to have enough energy to move around well, but it was really nice for her to be there and really special for her to make the effort to stay out so late.
The artist who inspired you to become a musician?
Tom: My memory of wanting to become a musician comes before my memory of wanting to be someone who was a musician. I then started thinking all the pop punk bands were cool and wanting to be like them. It was skateboarding and music that went together for me. The first person who truly inspired me and I wished I could be them was probably Chris Cornell. I had discovered Kurt Cobain first when I was slightly younger, but something about the pain in his music scared me and although I loved it and was completely obsessed with the music, I didn't want to be Kurt. Also I guess because I knew he had committed suicide at that time, and that scared me too as a young kid. But I remember thinking I would love to be Chris. His voice is powerful, mysterious, smooth, and dark all at the same time, and it just sounds like he's the coolest person ever to walk earth when he sings. I remember feeling that way when I first heard him and wanting to be that way.
Jimmy: Nine Inch Nails, Soundgarden, The Beatles, The Chemical Brothers, and Oasis all inspired me to make music and get into sound design.
Go-to places for new music?
Tom & Jimmy: For new music we check the Apple Music playlists regularly, and then just go down rabbit holes searching for tunes and clicking through like artists. Also, Halcyon in NYC is a great record shop we like to dig in.
Guilty pleasure record?
Tom & Jimmy: "Get Rich or Die Tryin'" by 50 Cent.
Desert-island dance record?
Tom & Jimmy: "Revolver" by The Beatles.
Dream B2B partner?
Tom & Jimmy: We actually lived out our B2B dream late last year. He's a good friend now, but we have been big Lee Burridge fans for a long time. Lee is a real DJ's DJ. We ended up doing an after party together and going back to back for the first time ever. He's so good at mixing records, it was like going to pro DJ school for a few hours. We had a lot of fun and learned a ton.
Favorite BPM?
Tom & Jimmy: 115.
Piece of gear you always need on the road?
Tom & Jimmy: Show computers, sound cards and redundancy rig. We have two show computers which run the back end of our whole show. It's totally essential to what we do, so much so that we have two exact copies running simultaneously beside each other with a switcher so that if one fails, the backup immediately kicks in and continues operating seamlessly.
All-time favorite festival?
Tom & Jimmy: Burning Man. It's more of an art festival than a music festival, but the level of creativity is just insane. That's the best part about festivals, is being a part of something bigger than just your act and getting to take in and be witness to all the other creativity and expressions of it that others bring. There is really no festival that comes close to touching Burning Man in that respect.
Biggest misconception about dance music?
Tom & Jimmy: That DJs "don't do anything." The art of being a DJ is in the music selection, the blending of tracks and the special combinations which create original tracks and grooves of their own, reading a crowd and the ability to take people on a journey. It's just as much of a performance as any other kind of musical performance, and in many cases requires one to be more on their toes than merely performing a rehearsed and pre-scheduled selection of music.
How often do you get out and have fun, and where do you go?
Tom & Jimmy: Man, what we do is so fun it's hard to think of anything more fun than playing shows. But generally, to have fun on tour we'll go to an after party or a cool bar or restaurant in whatever city we're in. That happens every week or so when on tour, so long as we're not traveling too crazily. At home, we like to go out to shows at The Greek Theater in L.A. or whatever other venues. Seeing Nils Frahm pretty soon, that's gonna be epic.
City with the most underrated dance scene?
Tom & Jimmy: We don't think dance music is the first thing people think of when you hear the city "Istanbul," but you would be mistaken! There are a ton of great parties and up and coming producers coming from there at the moment. We've built a good following there over the last few years and it's an amazing city to go back to.
Industry prediction for the next year?
Tom & Jimmy: We think more people are gonna start DJing with reel-to-reel tape machines. They used to do it back in the day, it's just about the only DJ trend that hasn't come back yet. Maybe we should start it off?
Best piece of advice for new producers?
Tom & Jimmy: Work hard. Spend every second you can producing, listening to records, learning techniques, and comparing how your records sound to others. Try to have patience, not in the sense of taking it easy or not working hard, but in the sense of trusting that if you put in the time and hard work, you will get better and eventually you will be where you want to be. Solicit critical feedback as often as possible and from as wide a range of people as possible. Collaborate and try and meet people who challenge you and who you can learn from.
Dead or alive, who would be your dream collaborator?
Tom & Jimmy: Trent Reznor, Thom Yorke, Max Martin, Paul Epworth, Moby, Nigel Godrich.
What is one of the unique experiences you've had backstage?
Tom & Jimmy: We played a festival called Bottle Rock and as part of it we played a little side show at a club nearby. The club was in a complex with two venues on two floors with a shared green room floor in the middle. We were playing the bigger club upstairs which was about 800 people, and the bar downstairs was about 150 people. We didn't know who was playing downstairs, hadn't really thought about it to be honest. We were sitting in our green room and all of a sudden two women come in and start pouring themselves a drink from our rider. We were sort of surprised but before we could say anything, Pat Smear (guitarist in the Foo Fighters and Nirvana) sticks his head around the corner and goes, "No baby that's not ours!" We basically shat our pants and were like, "Yes, you can have whatever you want!" It turns out that the Foo Fighters were playing the bar downstairs as they were headlining the festival the next day and hadn't played together in a year or two and were doing this side show as a secret warm up show for family and friends. So us and our whole crew got to watch the Foo Fighters play to like 50 people in a bar, and we hung out with them all after. They were all super cool. Their tour manager is still the same guy who tour managed Nirvana for their whole career, so he had tons of gems of advice. Talking and hanging with them all, doing shots with them, was just an awesome and totally unexpected experience.
A unique travel experience you've had?
Tom & Jimmy: We played this private birthday party once on this small remote island off the coast of Bali. We flew into the airport which was literally just a landing strip in a field. Then we were greeted with fresh coconuts and put into a van and driven for a couple hours through the jungle, passing all these little villages that were literally just shacks. Extreme poverty and it looked like we had gone back in time. But people were happy it seemed. It was really beautiful. We then arrived to this resort which was literally the nicest resort we've ever seen or been to. The person who's birthday it was had rented out the entire place for his party and his friends, and we stayed in our own luxurious villa with it's own pool. We played on a tiny shack on the beach with about 100 people dancing in the sand under the stars, and at one point it started absolutely pouring rain and we had to keep playing even though we were worried about getting electrocuted. We went to sleep in our villa and woke up the next day with enough time to have a swim in our pool, eat some breakfast and then hop back in the car to drive back to the airport and fly out. It was sort of like a dream.
What's your favorite throwback track?
Tom & Jimmy: "Breathe" by The Prodigy. We were gutted to hear the news of Keith Flint's death. He was a legend and The Prodigy got so many people into electronic music. We actually saw Nick Murphy do an after party DJ set at Laneway in Australia last year and he dropped "Breathe." Man, few tracks will tear up a dance floor like that one.
What's one track that fans always lose their mind to?
Tom & Jimmy: "Tearing Me Up." That's been the song most people to lose their mind to for the longest.
What was the first album you ever bought?
Tom: Nimrod by Green Day.
Jimmy: James Brown's Greatest Hits.
Name one remix that you think is better than the original?
Tom & Jimmy: James Holden's remix of "The Sky Was Pink" by Nathan Fake. This is probably one of the best remixes every. Don't get us wrong, Nathan Fake is amazing in his own right, but James Holden killed it with this remix.
What song would you want (god forbid) played at your funeral?
Tom & Jimmy: "In My Life" by The Beatles.
What's the perfect sunset track?
Jimmy: "Cafe Del Mar" by Energy 52.
Tom: "OAR003 SIDE B" by Oni Ayhun.
What song do you listen to cheer yourself up?2
Tom & Jimmy: "We Are The Champions" by Queen.
FOLLOW BOB MOSES
Facebook: facebook.com/bobmosesmusic
Twitter: @Bobmosesmusic
Instagram: @bobmosesmusic
SoundCloud: soundcloud.com/the-bob-moses