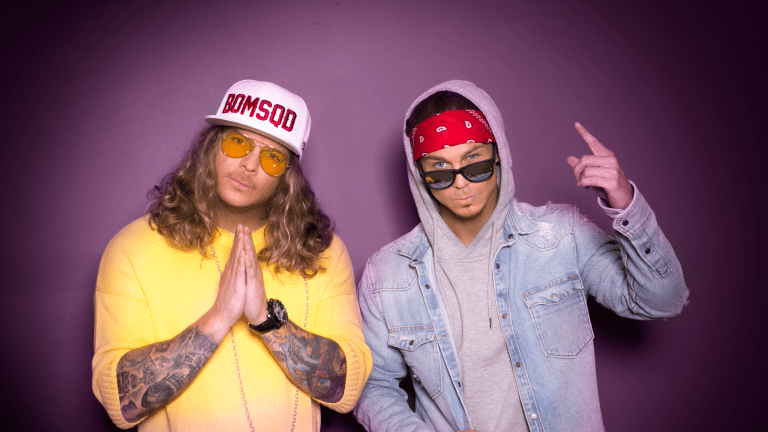 Pop Culture & Meme Remix Kings Bombs Away Release Debut Album 'Fragments' on Central Station Records [Interview]
The album features collaborations with artists like Elle Vee, Sunset City, Shadow Aspect, and more.
You may have not heard their name, but you've certainly heard one of their viral remixes. Bombs Away is a brotherly electronic duo consisting of Tommy Shades and Sketch. They hail from Australia and can be instantly recognized for their viral pop culture and meme remixes. Additionally, they've garnered two platinum certifications for their tracks "Super Soaker" and "Party Bass" and a gold certification for "Big Booty Bitches." The duo has just released their long-time coming debut album, Fragments, on Central Station Records. 
Their peppy originals with infectious melodies and danceable rhythms continue to define the duo. However, with a newly discovered sound and direction, Bombs Away are taking a new approach to electronic music to further diversify their sound. We sat down with them and Elle Vee to learn more about Fragments and their new sound. 
First of all, thanks for taking the time to answer some questions for me. I've been a big fan of yours for years now. Bombs Away has been around for nearly 10 years. This debut album has been a long time coming. Were you saving it for a special occasion? Why did you wait so long?
No worries! Thanks for having us and thanks for the kind words! Yep. We have release around 20 singles in that time, but combining them into a cohesive body of work is a little different. We didn't want to have just a group of random tracks. Fragments is really a collection of little pieces that make one whole.
Bombs Away is known for the upbeat, fun, and peppy Melbourne Bounce rhythms, but Fragments features more than just Melbourne Bounce. Where did you get the ideas and inspiration from for these tracks?

Good question! Some of the songs on Fragments actually have been ideas or partly written since our first party songs came out, but the timing just wasn't quite right or we weren't in a position to do them. It's been great having the album as a vehicle to really put everything together like this.
Like all of your music, you always have a unique element in each piece. If my ear is correct you love to utilize vocoders. What's your favorite/must-have musical element or feature that you use in each (or nearly every) piece? 
Yep, that's correct. We actually have an analogue talkbox as well, which is similar but you actually put the tube in your mouth then play the melody on the synth! We use FL Studio 20 and a lot of the Cymatics' stuff on the Razer laptop for literally every track. So, we couldn't live without them!
How did you come up with the name of the album Fragments? Is there a story behind that?
It was actually a pretty natural process. We had most of the album done as individual songs, but it felt like they were just fragments. So, as we got closer we tried to join their stories together to create a cohesive flow. There're a few interludes and intermissions in there as well to gel it all together, but life is always made of fragments.
Bombs Away has seen a lot of success with trending topic remixes/memes, such as "Damn Daniel," "Walmart Yodeling Kid," and Donald Trump's "China All The Time" among others. How do you come up with the ideas for these tracks? Do you have a favorite? Tell us about how these masterpieces come to life. 

When you mentioned before that this is our first album since we started the group, it's interesting because one of the reasons it took so long was delays in releasing other music to fit label schedules, etc. We found a creative outlet for our production in the pop culture remixes. We could get in there and create something and have it up online the same week for people to listen to, compared to sometimes years with a label release schedule.

Do you prefer to write completely original music or take trending topics like "Damn Daniel" and remix those? 
Everything's better together. Haha. Sometimes we combine them. "Like You" with Elle Vee actually started life as a pop culture remix! 
On Fragments, you worked with artists like Elle Vee, Sunset City, Shadow Aspect, and more. How did working with each of them affect their respective track(s') sound? Or did it not have any effect?

We have been blessed to be able to work with so many great artists on the album. We worked together in quite a few ways, from writing instrumentals for vocalists to write and sing over from around the world, collaborating in person in writing sessions, writing ourselves and having them feature as session musicians. It's been such a journey, and we couldn't have done it without them!
My personal favorite on the album is "Haunt the Sky." However, most artists don't have a favorite track, and cite the tracks as "being their own kids." Do you have a favorite track on the album? If so, what is it and why? 

Awesome! You're right, though. It's almost impossible, especially because with an album as big as this one, the songs all sit in their own space too. We can't go past "Before we had a Label" with Elle Vee though!
How did you guys meet? Do you ever get sick of each other? If so, what do you do to get un-sick of each other? 
Haha. We met when my mum brought home a little baby and said, "This is your new brother." I've known Tommy ever since! A couple of years ago we bought a property and built a recording studio, extra bedrooms, etc to make it a bit of a retreat from touring. So, we also live together. When we aren't on tour, we each have our own areas of the brand to look after and different hobbies. Apart from the usual brotherly arguments, we do it pretty well. Lol.
What can fans expect from Bombs Away in the future? Is there anything super exciting you're working on?
For now, we're touring the album non-stop. There're some amazing remixes from quite a few artists, and we can't wait to announce those in the next few weeks. That's what's coming up next!
Elle Vee: 
Thanks, Elle, for taking the time out of your busy schedule to answer a few questions. We really appreciate it. How did you get into contact with Bombs Away and what was it like working with them? 
Thanks for the interview! :) I'm super stoked about this album. I originally connected with Bombs Away via Vocalizr, which is a platform for producers and writers to collaborate and hire each other for specific gigs. Me and the guys immediately hit it off creatively, so we kept going with more songs. I feel so honored that they chose both of our songs for the first and second single. It sucks they live so far away because I feel like we'd be hanging out in the studio IRL all the freaking time. <3 
I see you taught yourself how to play piano and wrote more than 100 songs by the age of 13. How did you get into music? Who were/are some of your biggest inspirations?
Fortunately, I had a father and mother who absolutely loved a vast selection of singers, songwriters, genres, etc. So, I grew up listening to a wide range of inspirations which definitely contributed to the singer/songwriter I am today. I love so many genres so I genuinely enjoy being a bit of a chameleon when it comes to my vocal tones or writing styles. I try to switch it up quite frequently and sing about concepts that are relevant beyond only love and heartbreaks. I'd get bored if I couldn't express myself musically the way that I feel in the moment which changes all the time haha. Some of my biggest inspirations growing up were Queen, U2, Keane, Ne-Yo, Alanis Morissette, and JoJo. Now I listen to everything from Top 100 Pop, to Halsey, to one of my absolute favorite artists, LP. I also love listening and gathering inspiration from my music friends in the industry such as Haliene, Drew Ryn, and Kim Viera. Yeah, so, there're honestly just too many to name. Lol .
You've already collaborated with artists like Benny Bennasi, Dzeko & Torres, and Paris Blohm among others. Who're some artists you'd love to work with in the future and why? 
Oh boy, that's a great question. I seriously want to work with so many people still, to be honest. My number one being Chris Martin. :) He's my all time biggest inspiration on Earth. I also want to work with Drake, The Chainsmokers, Illenium, Alan Walker, and Tom Odelle. These are the first ones at the top of my head but like there're hella more. 
What's your favorite part about collaborating with other artists?
My all time favorite part about collaborating with other artists is the opportunity to meet, observe, and pick from another creative minds. Creative brains all function differently. It's so unique. The real artists all have minds of their own when it comes to creating. I love the challenge of expanding the way I think, learning new things, and teaching others what I know. This special kind of inspiration usually occurs and manifests from awesome collaborations. 
You've had an impressive and inspiring run over the last 10 years. In your opinion, what was the most pivotal moment in that run? I'm a firm believer in failures being part of successes. So, what was something you failed at and then learned from? What was it that you learned from that failure?
Something I failed at, well, at least failed to make a priority and realize until the last few years is how important it is as an artist/singer-songwriter to have the ability to record your own vocals properly. I used to rely solely on whatever engineer or producer was in the room I was working in at the time to record my vocals. Not only do a lot of them not know what they're doing, but you then run the risk of not having possession of your own vocal files. Being able to control and possess your own creative ideas gives you power in your career and gets you paid more. It honestly changed my entire world once I got good at mixing and vocal engineering. :)
I've worked on all of my releases to date, not just writing the melodies and the lyrics, but also recording my own vocals on my own equipment and helping with the mixing portion as well many times. It makes it easier to work remotely with producers as well. I have a home studio and barely have to leave besides when I travel for specific sessions. I'd love to see more empowered women in the music industry taking on the technological side of their creativity as well. There really seems to be a shortage of women who know how. 
What can fans expect from Elle Vee in the future?
My fans can expect some more bangin' tunes from me in the future as well as a deeper involvement of my social media access. I'm planning to increase the attention to my social media and I encourage anyone who'd like to speak to me personally or collaborate to slide into my DMs. :) I also plan on doing more vocal packs and making some appearances. I have new music in the works as we speak and I'm excited to share with my Ellephans. :) 
Follow Bombs Away: SoundCloud | Spotify | Facebook | Twitter | YouTube
Follow Elle Vee: SoundCloud | Spotify | YouTube | Facebook | Twitter | Instagram