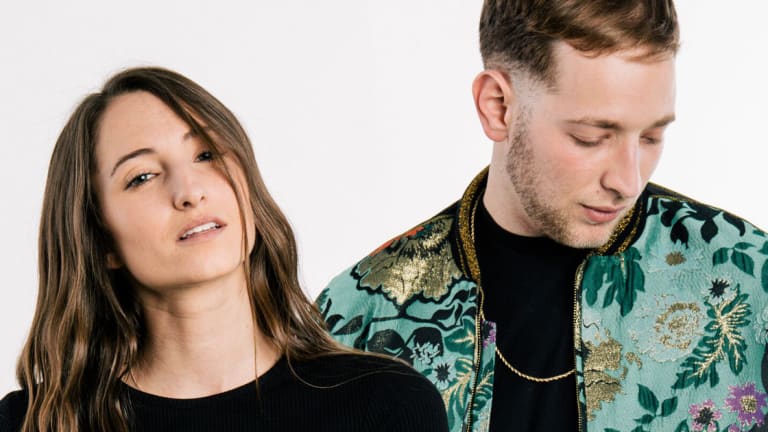 The Only Thing BONNIE X CLYDE Are Guilty of Is Knowing How to Party [Interview]
These partners in crime give us the inside scoop on how they met, their new album and some fun they had on tour.
With their vocal bass music, there's no stopping BONNIE X CLYDE from wreaking havoc to our ears -and that's a good thing. In a short amount of years they've been making waves in the electronic dance music world and they've recently released their second EP. We were lucky enough to have the opportunity to catch up with Paige (Bonnie) and Daniel (Clyde) and talk about their new album and DJ careers. 
EDM.com: Going back to the beginning of it all...you guys met in high school, but how'd you become friends, is there some crazy story? And what were your first impressions of each other?
BONNIE X CLYDE: We were in the same friend group during high school. Really started hanging out at parties and at the lunch table. Our first impression of each other was starting a chant in our high school every Friday and making people want to turn up for the weekend.
Now you're a rapidly rising duo who's making quite the mark on the EDM world with your unique vocal bass music, did you guys ever have another career path you wanted to pursue?
No actually. The only career path we both saw was in music.
So what led you to make electronic dance music and form BONNIE X CLYDE?
In our last year of college we both started producing over Skype. Clyde went to the University of Miami and Bonnie went to Virginia Tech. After producing music over Skype for a year we decided to join forces in Miami after graduation and that is where we came up with the name BONNIE X CLYDE and really started to run with it.
You know the name BONNIE X CLYDE really works well because the infamous Bonnie and Clyde were originally pursuing music careers, Bonnie as a singer and Clyde playing the guitar/saxophone. Did you guys pick the moniker because of that or is there another reason why?
We knew they had musical endeavors before they were criminals and, obviously, it is a guy/girl duo name, but we really chose it because as criminals they made a lot of "noise" in the news and around the US. We felt it was perfect for our music because we like to make a lot of noise in our music and in our performance too.
Recently you released your While We're Young EP which is all about living life, what's something on your bucket lists that you still have yet to do while you're young?
Clyde would like to skydive and Bonnie would like to explore more of the world. This September she'll actually be visiting Italy for her birthday to see where her ancestors are from.
Back to the album, what's your favorite song from it and why?
Clyde: My favorite song off of the EP is "As It Should" because it's the one I can relate to the most. It's about goals and when you reach a certain goal you feel accomplished, yet you still have more goals to reach. So it's a never ending cycle.
Bonnie: My favorite is "All For You" because it's the first song vocally where I feel my most confident and comfortable singing while performing. I love the song's drop as well. It represents our genre more than any song we've made so far.
Is there a song that was especially challenging to write, make or sing?
"As It Should" had at least four different versions of the song before we decided on it. It wasn't very challenging, but we couldn't decide for a bit which direction we wanted to choose.
When you do encounter these kinds of challenges, what do you normally do to get out of that funk or writer's block?
Usually we go outside and do something fun in the fresh air or just go online and listen to all kinds of different music from a variety of genres and even music from many many years ago. We pull inspiration from all over the place.
Out of all your songs, what's the most meaningful one to you and why?
The most meaningful one for us is "Do It All Over" because we wrote it from a very real place. It's all about how every day you do the same stuff over and over, but in reality you can't do this life over. So you really got to live life to the fullest and live every day like it's your last.
Starting out, you played at some local music festivals and major ones like Life in Color Miami and you also headlined the Gunshine State Tour. Out of all those awesome experiences, what was the most memorable and why?
Our first festival EVER was Life In Color Miami and we'll never forget packing out the tent for the first time. We played 4B's track, "Pop That," and the entire tent was jumping with us. It was an incredible first set experience we'll always remember.
Currently you're on your While We're Young Tour, what's one of the most craziest things that's happened on tour so far?
Bonnie: While I sang "Bass Jam" to close out one of our sets, four people were crowd surfing. It was hilarious, memorable and so much fun.
So other than this tour, what's next for BONNIE X CLYDE, any new tracks coming up?
We have some really exciting new music coming that's completely different from our EP and we can't wait to continue to share the new BXC style with the world.
Special thanks to Paige and Daniel for taking the time to chat with me! It was a pleasure learning more about your music and we can't wait to hear your new songs!
Follow BONNIE X CLYDE: