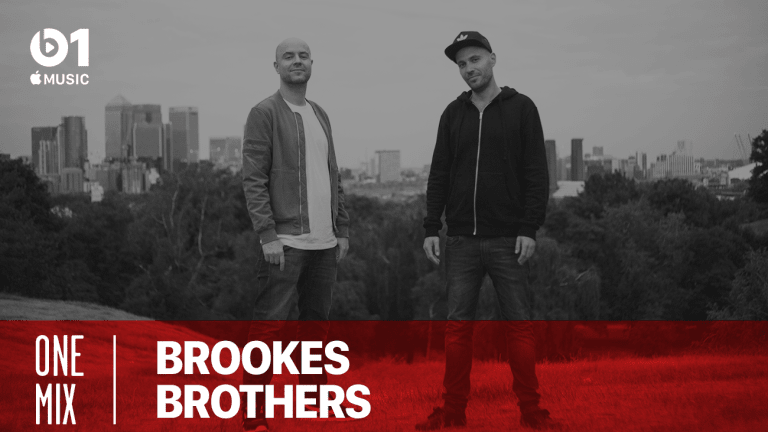 Brookes Brothers Bring Drum and Bass To Beats 1 One Mix [INTERVIEW]
The duo take have a knack for blending R&B, soul, funk and drum and bass.
It's drum and bass hour with Beats 1's weekly radio show One Mix. 
This weekend, Brookes Brothers make their debut for a deep exploration of drum and bass, bringing with them unreleased music from Agent Alvin, Critical Event, Scott Allen, Pulsar, Basstripper and Document One. Plus, hits from Culture Shock, Calibre and Danny Byrd.
Tune in here, exclusively on Apple Music.
Air Date: Friday 12th July 2019 - 21:00 LA / 00:00 NY / 05:00 UK
Brookes Brothers (real names Daniel and Phillip Brookes) are known for their smooth blend of drum and bass with soul and funk. High energy yet emotive.
They cemented their signature sound with their album Orange Lane, released in 2017. The LP took influences from '80s and '90s R&B, infusing it with drum and bass to concoct spirited, melodic tracks.
It seems mixing music from different eras is turning into a trait for Brookes Brothers, highlighted by their track "Every Minute," which came out last year. The song starts with a 1960s vocal hook and soft '80s piano keys before spiraling into a deep drum and bass centered soundscape.
Get to know more about Brookes Brothers as they shared plenty with us ahead of their One Mix. From their biggest inspiration to their favorite throwback track, read on for our conversation with Brookes Brothers.
EDM.com: First show experience?
Brookes Brothers: Room 2 at Fabric for a Breakbeat Kaos show was the first time we ever DJed in public. Talk about being thrown in the lion's den!
First time you brought your mom to one of your shows?
To our absolute shame this has yet to happen. We couldn't bear the thought of her getting flung around on the dance floor to be honest!
The artist who inspired you to become a musician?
Our mum. And our dad, who's a great whistler.
Go-to places for new music?
The streaming platforms.
Guilty pleasure record?
"Escape (The Piña Colada Song)" by Rupert Holmes, but it's not really too guilty to be honest
Desert-island dance record?
Sincere by MJ Cole.
Dream B2B partner?
DJ Jazzy Jeff.
Favorite BPM?
Tough question! We love 174 of course but you can't argue with anywhere between 100 to 120.
Piece of gear you always need on the road?
A good, old-fashioned book to be honest.
All-time favorite festival?
Probably Exit festival 2011 straight after Jamiroquai with Danny Byrd.
Biggest misconception about dance music?
That it just samples other music and boom, that's it.
How often do you get out and have fun, and where do you go?
Not as often these days, maybe once or twice a month. We just hang out with friends; we rarely go out to clubs or events when we're not performing.
City with the most underrated dance scene?
Prague.
Industry prediction for the next year?
Epic key changes to make a dramatic comeback.
Best piece of advice for new producers?
Finish tunes!
Dead or alive, who would be your dream collaborator?
The legend Whitney Houston providing vocals.
What is one of the unique experiences you've had backstage?
Played a gig with DJ Craze in Atlético Madrid stadium players' lounge and a few of us ended up breaking onto the pitch after the set and playing ghost football, beers in hand, it was too much. I heard the security were all fired the next day cause this drunk girl we were with threw up some pen graf in the dressing room!
A unique travel experience you've had?
We once drove to a show in Puerto Rico on a golf buggy down the beach!
What's your favorite throwback track?
For drum and bass, "Love is Not a Game" by J Majik.
What's one track that fans always lose their mind to?
Our track "Tear You Down."
What was the first album you ever bought?
Think it might have been The Simpsons Sing the Blues.
Name one remix that you think is better than the original?
Every Jazzanova remix ever.
What song would you want (god forbid) played at your funeral?
Something upbeat to take the edge off for the mourners. Maybe "Piña Colada" actually.
What's the perfect sunset track?
"What You Won't Do For Love" by Bobby Caldwell.
What song do you listen to cheer yourself up?
"Toast" by Koffee or "Know You Good" by Busy Signal.
Follow Brookes Brothers:
Facebook: facebook.com/brookesbrothers
Instagram: @brookesbrothers
Twitter: @BrookesBrothers
SoundCloud: soundcloud.com/brookesbrothers