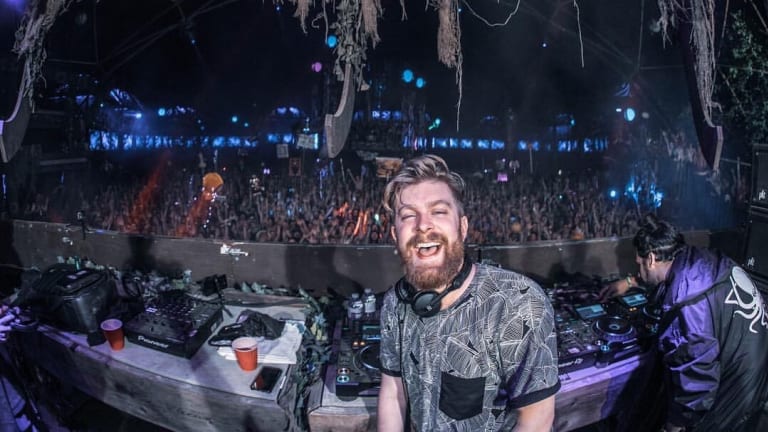 Buku Slayed Shambhala Music Fest [Interview]
I've caught every Buku set in Denver for the past two or three years. Every one of them has been better than the last, which is probably why he's been on nearly every festival bill in North America this season.
While Robert B from Pittsburgh PA has been making beats for over seven years, the last couple years his career has been on a fast track, and he's not slowing down any time soon. Having collabed with everyone from Stylust to G Jones to Willy Joy and Minnesota, the list of possibilities keeps on growing for Buku. This summer has held some really important firsts for the artist, and I picked his brain about some of the firsts yet to come.
You've been on nearly every lineup this summer, have you been enjoying yourself?
I've had a really great summer so far! I've been hitting some of my bucket list festivals, which were Electric Forest, Camp Bisco and now Shambhala, so it feels pretty epic already.
What have been some of the highlights of your summer so far?
Well I just got here, but I guarantee by the end of my set, this one will be a highlight for sure. I got to close out the second weekend of Electric Forest, which was truly an honor that they trusted me with wrapping up everyone's experience there.
Are you tired?
Oh, I'm destroyed, haha. I was actually home for a couple weeks before this, so I got a little break. But I honestly can't believe these festival goers who go from Thursday to Monday and then off to another festival! Hats off to them, I could not do it. Even though I kind-of do, haha.
Who are you most excited to see here at Shambs?
I've been here since Wednesday, so got to see my buddy, Charlie, Digital Ethos, play last night and that was dope. I'm really hyped to see Liquid Stranger and Space Jesus. I wish I could catch more Claude tonight, and Whipped Cream, but we're all playing at the same time.
 Is there any chance of a tour with Minnesota in your future?
I've had so many people ask that, especially now that we've done the two back to backs at Paradiso and Bassrush Massive this summer. Me and him are homies and have been talking about it. He says he wants to do more and obviously I would be super down.
Who would you like to tour with? Do you have a top three list? 
(Buku hesitantly looks for the ok from his manager, sitting next to us) I mean, should I say, Josha? Because I do want to. Obviously, I'd love to do something with Space Jesus. I'd love to do something with Minnesota. I love playing with Stylust Beats, I did dates with Luczid and had a blast, there's so many good friends and I'd love to tour with any of them. 
What are your goals right now, personally or professionally?
I don't really have any crazy long term goals, because who knows what's going to happen. But I do have a few shorter term goals, including doing a support slot on a big bus tour. That's one of the steps I'd like to take. I did a short stint with Paper Diamond and Gladiator a few years back but that's been my only bus tour so far.
How do you know your manager here? 
(Passes the mic to Frank, his manager sitting next to us) I used to be his agent, back when I was doing booking. Buku's manager at the time also lived in Portland and we were good friends and in a Grateful Dead bowling league together. There were a bunch of growers on the league and everybody between each game would go out to the parking lot and roll like 20 joints, haha. It was the slowest league ever but yeah we talked about it there and I joined the team. Since then I've transitioned and here we are, that was about five years ago now.
How big is your team?
It's me, Frank here, our tour manager, Brandon. As far as the core people, it's the three of us. My booking agent is also out there working hard for me, and a publicist from time to time. We get together for festivals and whatnot but otherwise all of our business is done on the phone and emails. 
How is your house hunt going?
So, I got kicked in the mouth by Uncle Sam this tax season and it cleared me out, haha, so the house hunting has been paused for the time being. I mean it's a good problem to have because I had a great year, but it was like "Oh, by the way, empty your bank account right now."
I've just started to look at my house hunting apps again recently, but for a while I was like over it.
Do you do your taxes yourself? 
I was, and then this past tax season was the first time I hired an actual accountant and it's made life significantly easier. When it comes down to it, the fee I'm paying him isn't that much compared to how much money and hassle he's saving me, it's so much better. He finds it really interesting what I do. It's basically like the exact opposite of all his other clients who are like older and retired.
Are you able to work and create while your touring or on the road like this?
No. I need to be home for a little stretch of time. I could force some creative content while I'm on the road, and I've tried it, but it just doesn't work. I really need to be in my space to make anything quality. Because I'll stand up and walk around the room and have these little spots where I'll sit to test out how the music sounds. Like I have this one corner I sit in where I can feel the bass off the walls. And I have a couch in the back of the room where I'll prob myself up in this weird way to feel the bass, so I need my studio. The creativity comes once I get home and have a couple nights of sleep and rest up.
How have you liked working with your modular synthesizer? 
It's extremely humbling and so much fun. It's just so complex and advanced. It's rewarding whenever you come up with something cool with it, but until then it's like "This sounds like hot garbage." It's all man made, so to come up with any manipulation in the sound you're doing it manually. I've explained it like taking a digital synthesizer and taking the faceplate off of it, all the inner workings and connections, that's basically what the modular synthesizer is, only bigger.
Has working with it made you a better artist?
Oh, absolutely. It's made me learn and understand sound design tenfold better than I ever did before. Since every sound manipulation is man made, It forces you to learn each individual function and what it does to change the sound. It's made me way better, in my opinion. Nothing easy is ever fun anyways, haha.
What are your greatest creative challenges at the moment? 
Honestly, I'm on a really great stretch as far as creating music right now. It's been really satisfying. I've wrapped up a few tunes lately that I'm really happy with. I'm dropping one of them tonight, a remix of Alexander Lewis that my manager thinks is my best remix ever, so I'm stoked.
How do you feel like you're growing as a person right now?
This is such a hyper social environment, doing this music stuff. I've learned that we're all really having and going after the same experience. Doing all these shows, parties and festivals, I've come to realize that everybody here has the same ultimate goal, to have a great experience, and I've really come to value that common ground recently.
Do you prefer the studio or the stage? 
Obviously, it's a bit of both. There's nothing more satisfying than testing something out and having it crack the fuck off. And you can tell in the studio when something's going to work. I'll be texting Frank, my manager, and he knows how to give me feedback in the right ways. My other friend isn't good at feathering in the criticism he just shoots it down so now I tell him "I'm just sending this to you, don't tell me how you feel about it, haha."
Do you keep bits and pieces of things or see one song through?
It's one thing at a time for me, I don't jump from thing to thing too easily. I feel like I start to copy ideas if I have multiple things going on and mimicking ideas from the other tunes. I basically have one creative stream and need to try to focus on that and make it as good as it can be.
What or who is your biggest creative inspiration right now? 
In Your Head by G Jones, I'm obsessed with that song right now. He's another homie I'd love to do more with.
What's been one of the "Fuck Yeah" Moments of your career in the past year? 
Closing out Forest. It was like a confirmation that all the time I've put into this thing and this work has paid off. It was a really validating experience.
What are you most stoked about being at Shambhala now? 
Jeff from Stylust Beats is a close friend of mine and he's been dropping my name for years trying to get me on the set list. And I have a bunch of Shambs veteran friends who are in love with this place so being able to finally be here, and play here too, is a dream come true. I can't get enough of that river, too, it makes the whole world cooler for like an hour!
Big thanks to Buku for coming out to chat with me, for throwing TF down at the Village stage Friday night, and for always making music I can bang my head to. Keep an eye out for him at Lost Lands and Dancefestopia later this summer. Follow him on Soundcloud, Spotify or iTunes to catch that new ish when it drops and look out for a his name on the bass tours coming through your town in the next year. If it's on his bucket list, something tells me it'll be in the real soon enough.