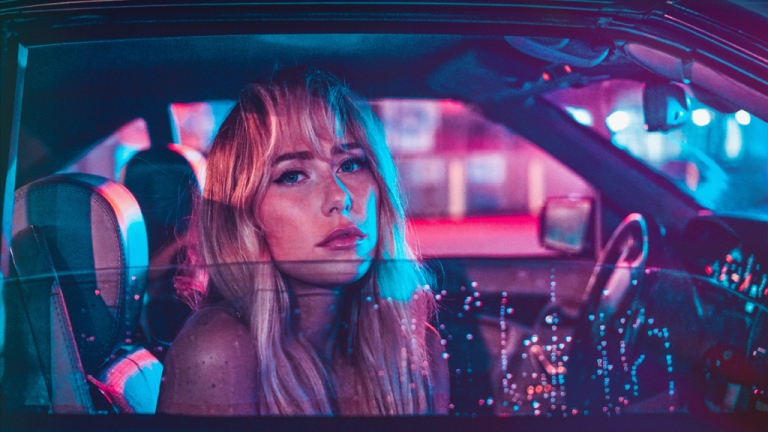 Exclusive with Carter Cruise On Her New EP "Send Moods"
"Send Moods" is out Friday, August 17th
Carter Cruise is a woman of many hats. Some may know her as an artist, performer, producer, songwriter, vocalist, and DJ, but no doubt you know her as a star. If you've ever caught one of her DJ sets you know how infectious her vibes are. Well, now she's sharing that spirit with us through her new EP 'Send Moods'.

The EP is a look inside a more emotional, vulnerable side of Cruise. This is the first project you'll hear her vocals on. 'Send Moods' traces the thread of ill-fated love throughout time from past, to present, to future pulling influences from different eras and mixing classic acoustic sounds and vintage synths with modern electronic vibes. 
We got the chance to exchange questions with Ms. Carter to get a glimpse at the behind the scenes of "Send Moods" and what makes Carter, Carter:
EDM.com: Love the new EP! It's great to hear your voice and lyricism play out with these three tracks. What kind of headspace do you need to go into when you start writing a song? 
Carter: Thank you so much! And it really depends on the song. All the songs on "Send Moods" started out as poems that I built tracks around, but sometimes I like creating a beat and vibing off of that to write to. I was in a very emotional headspace writing these songs since I never expected them to be SONGS, I just wanted to put my feelings down. Obviously I cut them down a lot to fit to music because I'm pretty verbose haha. I like to get in my feels sometimes and just write down or record lots of ideas, and then later I go back with a more analytical mind to craft a song from those ideas. 
How did you end up getting into music? 
I've been doing music my whole life, mostly as a vocalist. When I was 13 my best friend and I wrote an entire musical. We would have "band practice" and write songs and dream of living in LA one day haha. Growing up in the suburbs of North Carolina I never really thought of it as a viable career option, but when I discovered DJing it opened up a whole other world for me. I initially started out as a Gogo dancer, but I always thought I had better taste than the DJs I was dancing for and I wanted it to be MY stage. My friend taught me how to make edits and I become obsessed. From there I started making mashups and then remixes and originals. 
Who do you think has/had the biggest effect on your sound? Where do you draw most of your inspiration from?
I grew up on singer/songwriter pop and musicals so I think that storytelling part of music has definitely had a big influence on me. As a vocalist and writer, Lana Del Rey has always been a huge inspiration for me and more recently, Billie Eilish. I like that they don't have the typical "pop" sound in their vocals and that they tell stories and create characters with their music. As a producer, I love when songs fuse different genres and styles together so I listen to a lot of different music from around the world and take inspiration from that. 
You've been killing it touring! Any festivals you're dying to get on the lineup of?
I'm stoked to be on the lineup for ANY festival, but one I've always wanted to attend and haven't is Lollapalooza. The lineup is always sick af. Also, Electric Forest. 
What's the craziest thing you've seen on tour thus far?

The craziest thing I've seen on tour was in Alabama when during my set, a guy bit another guy's ear off. No, I'm not kidding, there was blood EVERYWHERE. I felt bad for the guy but I also thought it was kind of dope that it got that lit. 
If you could collab with anyone, who would it be?
Gordan Ramsey. Because I would love to collab on a mean beef Wellington. Music wise, probably Griz. I'm obsessed with the sax. 
If your friends could describe you in 3 words, what would they say?
I polled my friends and boiled it down to: Entertaining, Passionate, Loyal 
What should we expect next from Carter Cruise?
Nothing! Anything! Haha I want people to expect the unexpected. I have some more tracks in the works, one is quite similar to the vibe of this EP but I'm also experimenting with some heavier bass vibes. I love writing jams but as a DJ I also want to make music for people to dance to so you can probably expect some of that in the future :)
Finally, if you could give any upcoming dj/producer/songwriters out there a word advice what would it be?
DO YOU, BOO. Haha, but really, make what makes you happy, express yourself, don't let other people limit you, and BE CONFIDENT in who you are! 
There you have it! "Send Moods" is out tomorrow, but luckily we have the inside scoop!!
Make sure to check Carter out while she's on tour at Summer Daze Festival In North Carolina, her residency "Welcome to the Internet" in Dallas, and a huge performance at Breakaway Festival in Charlotte! Check out tickets for that here!