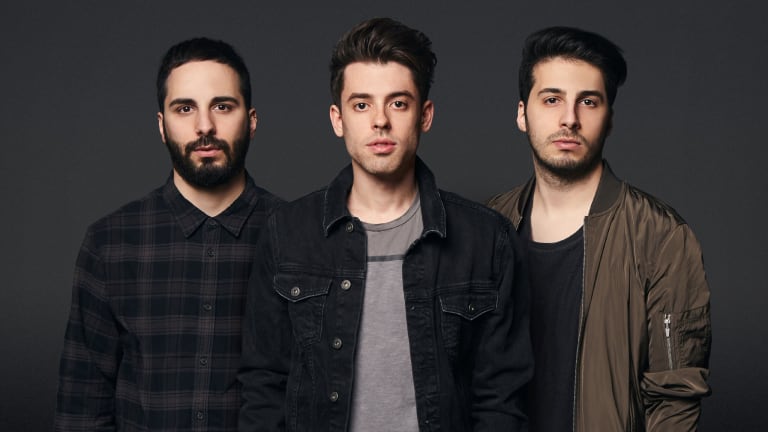 We Speak With Cash Cash About New Music & Inspirations Within The Industry [Interview]
We sat down with Cash Cash at Chasing Summer in Calgary!
During Chasing Summer in Calgary, we caught up with Cash Cash, one of the most talented electronic artists within the EDM scene, to talk about their new music, future inspirations, and much more. 
You can stream their new song, "Finest Hour",  here:
EDM.com: So thank you for taking the time to chat with me. How did you get into the music industry originally? 
Cash Cash: It took a lot of hard work. We were just running around NYC with a backpack full of demos. We played a lot of clubs and was just trying to get our name out there. We were constantly sending physical press kits, and playing loads of shows around the local area. It paid off. We got discovered, and here we are!
You're one of the biggest acts within the music industry. I believe your new album is out?
Yeah, our album is called "Blood, Sweat & 3 Years". We've just been putting out singles since then. The response has been amazing hearing it on the radio, and seeing people tweet at us. 
Awesome. What's been the hardest thing for you guys coming up in the industry?
Not getting too let down when you hit speed bumps along the way. There were times which we thought about giving up. If we did, god knows what we would be doing. Every time, a speed bump came up, things got better. It's been like a stock market: Things go up & down. Always moving forward.
Of course. Who would you say are your biggest inspirations within the industry?
I'm gonna say, Adam Sandler. He's probably one of my favorite songwriters of all time. His use of poetry, and his literalness. Filthy language. Can be so beautiful. We love everything from rock to 90s alternative etc. There are even people such as executives who give us hope for the industry. 
So obviously you have quite a large social media following. What's your view on fan interaction?
We love it. It gives us the chance to talk to them. Back in the day, we had to get a press release & submit to journalists etc. It's cool but it allows the community into our lives and to see what we're doing.
Nice. What advice do you have for producers trying to make it in the music industry?
I would say to have a backup plan. Be a dreamer but always keep your feet on the ground. Setting goals that you wanna meet is also pretty important. Don't just put stuff out and let it happen. But go and make things happen. Like in NYC, we went out to parties and made some contacts. Networking is huge. And focus on good songwriting & being yourself. 
You've done quite a few original songs & remixes. Who do you want to work with in the future? 
We did a remix this year for Pink that got a great response. Would be great to get an original song going with her. 
What's your creative process like when making a new track?
It changes from track to track. It often starts with a keyboard, acoustic guitar, or just a melody. Even just a vocal hook or chorus. And build it from there. We'll often reproduce a song several times. For example, it'll start at one tempo and end in another. We definitely repaint a canvas multiple times.
It definitely takes a lot of hard work to get where you are right now. What advice do you have for producers wanting to invest time towards their career?
Take your watch off and stop looking at the time for sure. If you're constantly looking at how long it's taking you, it won't work. It's gotta be something you love, and something you wanna do. You can't expect to make money straight away. We got serious about 18 years old, and all through college we were learning our craft. When we decided that we didn't wanna do anything else is when things picked up for us. We focused fully on music & everything came together.
When you focus your energy & time into what you're passionate about, there's often a good result if you're talented enough. What are your future ambitions for the Cash Cash brand?
It changes every year. We've been so lucky to reach a lot of our goals pretty quickly. We've remixed & worked with amazing artists. We'll focus on making great music. We've been doing worldwide touring, and to hear people from around the world sing our music is crazy. It reminds us why we're doing it. 
This is a question that I ask at the end of every single interview I do. If the world was ending tomorrow, and future generations could only remember you for one thing, what would you want it to be?
I would want people to remember us as artists that brung people together. Music is very diverse, and that's a reputation of who we are: we work with Hip-Hop, Dance, Pop artists etc. We try to bring people together from different genres to appreciate music. That's what Cash Cash is all about. 
Thank you for talking to me - I appreciate it.
Thank you man.