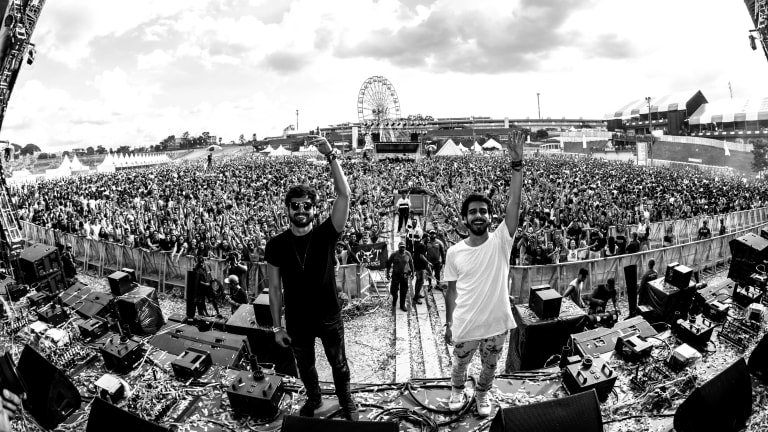 In Conversation with Brazilian Duo Cat Dealers About Their New Single, Upcoming Shows and More! [Interview]
After slaying the charts with their remix of "Your Body", with their latest release "Keep On Lovin" out now on Sony Music, Cat Dealers are showing no signs of slowing down and are only getting started!
From Rio de Janeiro, Brazil, to the world - Lugui and Pedrão, better known as Cat Dealers are slowly but steadily spreading their sound and making a mark for themselves. Among the top three most influential DJs/Producers emerging from the Brazilian music scene, the sibling duo broke straight through the global charts coming in at #74 on the DJ Mag Top 100 list for 2017! 
After having played in over a 100 cities in 25 states across Brazil including some of the largest festivals to be held there from Ultra Brazil to Lollapalooza and Rock in Rio, the duo now have their eyes set to on the international markets. Through last year and into 2018, we saw the duo spread their wings and make their globe-trotting ways around the world to perform in South Africa, Mexico, China and around Europe to name a few.
What kicked off with virtual virality in March 2016, with their remix of Tom Novy's "Your Body" going viral on YouTube and gaining over 80 million views, has now translated into immense real-life success worldwide for this burgeoning duo. We sat down with them to discuss their new single, future shows and ummm, cats. 
EDM.com - Tell us a little about the inspiration or story behind the name Cat Dealers. Side note: How many cats do you guys still shelter? Haha.
Cat Dealers - This is probably the most asked question about us hahaha. We decided to use the name Cat Dealers because we have 9 cats at home. We used to have 10, but one passed away, unfortunately. Our mother started helping street cats a few years ago, and she actually helped a lot of them. Since she was having huge success with it, she had imagined she would save all the cats in Rio de Janeiro, and we ended up with 10 of them hahaha. The first thing everyone says when they're at our place is "wow, you guys have so many cats", and our answer is "do you want one?" That's why we chose the name Cat Dealers. 
Do you both think it works to your advantage or disadvantage that you are siblings working together? How did it all begin?
Advantage for sure! The best thing about working with your brother is that we've been used to fighting since we were kids hahaha. We argue and then 10 minutes later we are best friends again. It all started back in 2012 when Lugui wanted to start DJing, and we downloaded Tracktor and started doing it together. One month later we got ourselves into music production and it never stopped since then.
From breaking onto the scene and every viral chart with your remix of "Your Body," what has the journey for the Cat Dealers been like since then?
"Your Body" was one of our first tracks, so everything has changed since then. We've matured a lot as producers and DJs, and we've met a lot of great professionals that have inspired us and now we feel we have a better understanding of how this business works. This journey so far has been amazing and we feel we have so much more to show!
You guys are supporting none other than Latino sensation Shakira on her Brazil tour, how did that come about?
When our manager told us we would open for Shakira in her Brazilian tour, we were really stoked! It's amazing to think that our music took us to so many places and now we are playing with one of the biggest stars in the world! We are really looking forward to it. 
You broke into the prestigious DJ Mag Top 100 listing at #74 in 2017. Do you believe this changed how the world perceived you as artists to look out for?
For sure! Being in the top 100 of anything is a great achievement, and internationally speaking it was something big for us. We already had a lot of fans around the world, but many people didn't and still don't know us. Being in the top 100 enabled us to reach lots of new people who now like our music and follow us. 
You've just released "Keep On Lovin" on Sony Music Brasil, tell us a little more about it and future Cat Dealers releases to look out for!
"Keep On Lovin'" is the track we were the most excited to release this year. It's a different kind of track where we mixed up our style and crossed over into pop in a way. I think it is the most pop sounding track we have made so far and it was awesome to work on it. We are always experimenting with new stuff and we like this pop style a lot. For future releases, we've got club tracks, radio tracks, new experimentations… We are super stoked and looking forward to sharing everything to you guys! 
What is the one song on your playlist you'd never skip? If you had to pick ONE song each to call your all-time favorite, which one would it be?
Pedro: Foo Fighters – Strange Things Have Happened
Lugui: Tough question, but I guess it would be Holdin On (Skrillex & Nero Remix)
Who do you think is the next big thing to come out of Brazil, who're some artists and producers we should be checking out according to you?
We have many excellent producers back in Brazil! But I would bet on JØRD. He is a really good friend that we met way before everything, right when we started producing. He is the best at producing, super creative and hardworking. 
After playing major festivals like Lollapalooza, Ultra Brasil and Rock in Rio, what festival do the Cat Dealers have their eyes set on to conquer next?
We want to play all the big festivals around the world! Recently we played Medusa Festival in Spain, and in 5tardium in South Korea. Now we have upcoming festivals in Mexico and other places around the world. We are really stoked and happy with the international career we are starting to build, and that's our goal now: playing all the big festivals around the world!
What do you think is/was the 'best time' to have been in the dance music scene? If you could go back in time, what years of the music industry in the past do you'll wish you could have been a part of?
There were many awesome times in the scene! But we guess we wouldn't change what we have now. For us, for our career, today is the best place and time to be!
As they said, for them "today is the best time and place to be", amen to that and we've definitely got our eyes and year peeled for what the duo has in store for us in the near future!