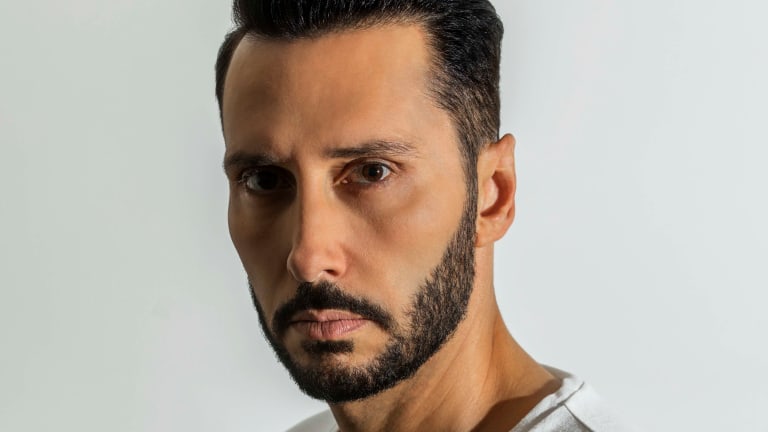 Remix Master Cedric Gervais Is Back With "Hey You" [Interview]
His energetic house flip ups the energy on Dope Lemon's slow-burning acoustic original.
Best known for his 2013 Grammy-winning remix of Lana Del Rey's "Summertime Sadness," French house producer Cedric Gervais (real name Cédric DePasquale) is proving he's still got it with his latest flip of "Hey You" by Dope Lemon (real name Angus Stone).
Released earlier this month through BMG, the remix is dark and sexy, blending Stone's sleepy vocals with a characteristically Gervais house beat. The producer used a bouncing percussion line to up the drama of Stone's acclaimed original. After Gervais finished with "Hey You," he had produced a track with an entirely new vibe and truly made it his own, proving his expertise. 
Most recently, Gervais has been touring and working on new music. Currently sitting at #76 on DJ Mag's "Top 100" poll, "Hey You" solidifies his standing as one of today's top French producers. EDM.com caught up with Gervais over the phone to chat about the inspiration behind his "Hey You" flip, life on tour, and upcoming releases.
EDM.com: Tell us about the process behind "Hey You." You've been producing remixes for decades; how did this one come into fruition?
Gervais: If I don't feel a record, I won't do a remix of it. This original track was very cool, and had great vocals. The band is super cool in Australia. I took the vocals, and knew I wanted to do something more underground with this record. Since the vocals are cool and lazy, I started building around them with the bass line and then went from there.
What about Dope Lemon's song made sense for a remix?
It was the vocals and the video. It's very different and cool, and something I could take to my world and do something with. If you want to make a successful remix, you have to take an original song and take it somewhere else.
You obviously pulled the vocal sample from this original. What other elements did you make your own? Do you pay attention to the original vibe of the track and try to make adjustments there, or do you try and make it your own?
Gervais: It was all my own. There's nothing else from the song except the vocal. I heard a lot of records like this this summer in Ibiza, and wanted to take it back to tech house music. I just did this simple square bass inspired by Michael Woods and Chris Lake.
What makes a good remix in general?
I think of it as, if I'm an artist and have a song I want to mix, and that song is not hitting the clubs or certain radio stations, then that can be what makes a good remix. If you have a song like this, which is for sure not going to be played in any nightclubs or at festivals, and you turn that into a song that anyone in the world can hear or play, that's a success.
What other electronic artists have you been paying attention to recently?
Chris Lake for sure. I haven't heard any insane remixes lately. You have to keep the magic of the original vocals and song, and keep the vibe of the original song while adding to it. I haven't see any amazing remixes that blew my mind, but I've heard some amazing production.
Your sound right now is so eclectic, ranging from dark and sexy house tracks to groovier mixes like "Turn Your Love Around" and "Everybody Wants to Be Famous." How would you describe the sound you're currently making? Where is it headed?
I'm just doing everything right now. I have a record coming out very soon on Lane 8's label called "Dreamer." I can do techno to disco house. With my southern France background, back in the day there was techno and disco filter house. Every time I produce something, it's inspired by this. I'm not a house guy, or an EDM guy. I don't produce the EDM sound, but I always try to create songs that can be disco, tech house or even pure house. Right now I'm going more toward the tech house roots that I have, and that's what I'm playing now in my sets. It's so big in Europe, along with techno. Trap doesn't work in Europe, and the EDM sound is dying there, so I'm going back to that tech house sound in Europe and in the U.S. as well. It's just what people are listening to.
Tell us about this new track, "Dreamer."
"Dreamer" is a very dreamy, trance sound. It's hypnotic, but very tech house. Lane 8 signed it for his label, This Never Happened with one of his artists, Aston Lane, and we did the record together.
You've said in the past that you don't produce music on the road. Do you draw inspiration from touring in other ways?
I do come up with ideas on the road, mostly from hearing stuff. I work when I'm in L.A. or New York, but mostly songwriting. I don't produce on the road, though. I do in my studio in Miami because I have all the stuff I use there, and don't have time on the road when I'm focused on my DJ sets. For example, the record I did with David Guetta and Chris Willis, "Leave Me Alone," I was listening to in my car in Aspen while driving through the mountains. I heard the song and, when the chorus came, I thought, "I have to sample that." When I got to Miami, I called Guetta and we started working.
What do you listen to when on tour?
I listen to mainly rock and roll. Recently, I've been listening to a lot of reggaeton and J Balvin.
Tell us about your relationship with J Balvin, since you've done a couple remixes of his tracks.
I'm a fan of Balvin, and he's a good friend of mine. When I heard "Mi Gente," I made a mix of it and J got behind it and really pushed it. "Loco Contigo" was with DJ Snake. He came to me in Barcelona this summer and asked me to remix it.
You've been sticking primarily to single releases recently. Is there an album coming soon?
I'm just releasing singles right now. Maybe I will do an album at one point, but right now I just want to release singles. When one of them connects really well, like "Summertime Sadness" did, then I'll get into an album.
What are your thoughts on the state of the EDM album?
My friend David Guetta used to do a lot of albums, but now he's doing all these singles and he loves it. The singles are connecting way more than any recent album he put out, and he has no plan in his head of doing an album. That's how everyone is right now. Like, when you release a single, people get the vision right away. If you release an album, you don't have time to work a single. You're going to have a ton of tracks and probably four or five singles, and everyone will hear all of it right away. There is no promotion for those great singles. It's a weird thing.
Any releases or news we can look forward to?
You have "Dreamers," and then there's a track called "Spirit In My Life" that's getting a rework through Ultra Music. There's a lot of work getting done right now. I'm looking forward to it.
This interview has been edited and condensed for clarity.
FOLLOW CEDRIC GERVAIS:
Facebook: facebook.com/cedgerv
Twitter: twitter.com/cedricgervais
Instagram: instagram.com/cedricgervais
Soundcloud: soundcloud.com/cedricgervais