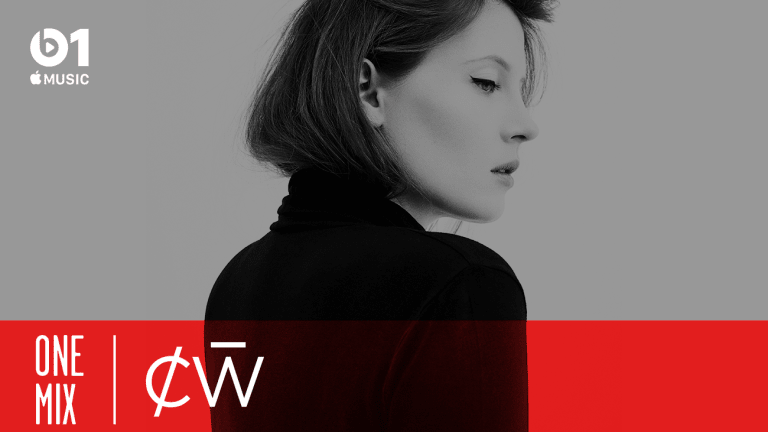 Stripped-Down, Dark Techno With Charlotte de Witte on Beats 1 One Mix [INTERVIEW]
Charlotte de Witte's approach to music, bare-bones yet tinged with melancholic emotion, is a pure, hard take on techno.
Another week, another One Mix. This time around, Beats 1's weekly radio show hosts Belgian no-nonsense techno enthusiast Charlotte de Witte. Stripped-down, dark techno held by long eerie loops and hellish, unrelenting kicks marks her style. Her less-is-more approach favors a few strong elements - a kick drum, some percussion, and maybe a vocal - over bombardments of boisterous sound. 
Expect plenty of simple, emphatic techno, with tunes from artists like Caesium, Jan Fleck, Alex Randal, and Moddullar, on her debut One Mix.
Air Date: Friday 18th January, 2019 - 21:00 LA / 00:00 NY / 05:00 UK
Tune in here, exclusively on Apple Music.
Growing up in electronic music-savvy Belgium, de Witte dove into club culture early on in life. Her first taste of electronic music was at the age of 16, going out to underground clubs in her hometown Ghet, listening to electro by artists like The Bloody Beetroots, Crookers and MSTRKRFT.
Immediately hooked onto the vibrancy of the music, de Witte explored the nuances of electronic music ever more until she heard Len Faki and fell deep into the dark embrace of techno. Faki's remix of Dustin Zahn's "Stranger Stability" in particular drew her to the hypnotic spell of the genre's functional, bared sounds.
Mixtapes on Ableton kickstarted her affinity for DJing before she eventually bought decks, though she didn't have much practice before her first-ever show. In fact, she had never touched CDJs before she played on them at Jeugdhuis Tentakel, a youth center in a village called Wippelgem near her home. She recounts:
"I got the opportunity to play my first DJ set there right before opening hours. Only the bar staff and some friends were there. Needless to say, it was a total disaster. I didn't know how to mix at all but I had a good, although embarrassing, time."
A year later in 2011, de Witte won a Tomorrowland DJ contest, earning a Studio Brussel residency, a crucial role in shaping her taste-making and mixing abilities. However, up until 2015, the world didn't know her as Charlotte de Witte. Instead, she went by the alias Raving George to mask her gender from the aggressive, judgmental boys club of electronic music she feared a young female producer like herself would be exposed to.
Her instincts were fueled by sexist rhetoric; in an interview with Mixmag she shared that, "there were people who couldn't stand seeing a 17-year-old playing events like Tomorrowland and I Love Techno. There were hate groups against me on Facebook! People would say things like 'Oh, she must be sleeping with the manager' or 'they've only booked her because she has tits.'"
Furthermore, de Witte went on to explain, "I was so young, and still very insecure. I didn't want to shout about the fact I was a female producer until people had booked me. Eventually I just thought 'Fuck it! I've been DJing for six years. Everyone knows I'm a woman – why do I need a male name?' It was a stupid idea anyway."
The transition was strong, powered by a great debut EP on Tiga's Turbo Recordings titled Weltschmerz. She has since released eight other well-received EPs on labels like Sleaze Records, OFF Recordings, and MARY GO WILD BLACK.
de Witte's approach to music - a bare-bones sound tinged with melancholic emotion through heartbeat drums and simple, focused elements - is a pure, hard take on techno that has earned the attention of fans and critics alike. Though in her downtime, she often listens to more soothing, subtler shades of electronic music by artists like Howling, James Blake and Bob Moses.
On the live side, de Witte has performed at renowned festivals such as Movement, Pukkelpop, I Love Techno, and Dour. In addition, she has hosted her own stage at Tomorrowland. Her KNTXT brand, a party concept that emerged in Brussel's famous Fuse nightclub in 2015, has been steadily growing as well.
Before her upcoming One Mix, we got to catch up with de Witte, exploring her background in music and the drivers of her musical tastes. Read on for her guilty pleasure record, favorite throwback track, dream collaborator, and more.
EDM.com: Your first show experience?
Charlotte de Witte: There was this place called Jeugdhuis Tentakel, a youth center in a village called Wippelgem close to where I lived. I had never played a DJ set before, but because some of my friends knew the owners, I got the opportunity to play my first DJ set there right before opening hours. Only the bar staff and some friends were there. Needless to say, it was a total disaster. I didn't know how to mix at all but I had a good, albeit embarrassing, time.
The first time you brought your mom to your show?
I think that was Pukkelpop 2012. It was my first big outdoor festival and I remember being dead nervous. I brought both my parents with me and I still have a picture of my mom, standing in the crowd, with her hands shaped in a heart. It's absolutely adorable! Since then, they have joined many times. Last time was when I hosted my own KNTXT stage at Tomorrowland 2018. They're my biggest fans.
The artist who inspired you to become a musician?
Len Faki is the one that got me into techno. When I started as a DJ, I was playing electro. But, after listening to Len's set at a festival, I fell in love with this specific kind of darker, more stripped-down music. I told him this story last summer and we all laughed about it.
Go-to places for new music?
My options to go digging for physical records are quite limited since I'm constantly on the road. I'm more of a Beatport, YouTube, BandCamp person.
Guilty pleasure record?
Probably something from Sylver. Belgian dance music from the noughties. Proper party tunes.
Desert-island dance record?
"Dunne" by Espiral.
Dream B2B partner?
Vocal wise I would like to do something with Bob Moses or Lera Lynn. Techno wise Chris Liebing was high on the list and I'm very proud and excited to say that there's a collab EP coming up soon. Life goals.
Favorite BPM?
133.
Piece of gear you always need on the road?
Besides my headphones and SD cards for obvious reasons, I'd say the Pioneer RMX 1000. It's an effects unit that I couldn't miss anymore during my set. It adds so much to my sets and I get quite nervous if I don't have it with me on stage.
All-time favorite festival?
Hmm. Difficult one. Maybe Awakenings? It's always extremely cool to play there and be a part of the story they're creating and telling. It's always so fun to see many friends backstage as well so the vibe there is always amazing.
How often do you get out and have fun, and where do you go?
I'm never really available on the weekends to go out with friends so I often meet them during the week. We usually go to a restaurant and a bar or a house party. We don't go out together that much because obviously there's not so much clubbing to do during the week and I'm always in a club, so I prefer to chat with them and have some quality time.
City with the most underrated dance scene?
I'll give you a continent. South America. By far my favorite continent to travel to. The vibe there is absolutely mind-blowing. They truly go for it and have an endless supply of energy.
Industry prediction for the next year?
I'd say techno is on a roll. I see an ongoing evolution already in many cities all around the world. Techno is getting accepted on a large scale which is very fascinating to see. It's a beautiful genre of music, after all.
Best piece of advice for new producers?
Cheesy but true: don't give up. The first couple of months will be extremely rough and frustrating. Even after all these years, I'm not even close to knowing everything possible with Logic. It's not about what you know but what you can do with the kind of stuff you do with your limited knowledge. Look for the thing that works for you, even if that's something unconventional.
Dead or alive, who would be your dream collaborator?
The Beatles.
A unique experience you've had backstage?
Awakenings Eindhoven 2018: It was Rocco's [the owner of Awakenings] birthday and he had organized an entire artist dinner and private backstage dance floor for the occasion. The entire night was so much fun. Everyone was beautifully drunk and even though I played at a techno festival, it was hard for me to stay away from the backstage dance floor where they played disco. That was such a cool night.
A unique travel experience you've had?
Too many to name! I've been traveling the world for two years and every new location still touches my soul. I always wanted to travel. Now that I'm able to combine this with music, it's a dream come true. I guess the ideal situation is when not only a country blows you away but also the people living in it. And I experienced that in Sydney. I made friends for life when I went there for the first time in 2017. We kept in touch and met again of course in 2018. They're wonderful people with beautiful souls.
What's your favorite throwback track?
"Arnold Classics" by Brodinski. A track I'll always remember from back in the days when I used to play electro.
What's one track that fans always lose their mind to?
An old '90s tune from Kai Tracid called "Voyager."
What was the first single you ever bought?
"Blue" by Eiffel 65. Haha.
Name one remix that you think is better than the original.
Watch Out For Stella's remix of "Jam & Spoon" by The Age Of Love.
What song would you want (god forbid) played at your funeral?
"Sirens" by Ben Klock.
What's the perfect sunset track?
"Far From The Tree" by Bob Moses.
What song do you listen to cheer yourself up?
Rex The Dog's remix of "Tony The Beat" by The Sounds. 
Follow Charlotte de Witte:
Facebook: facebook.com/charlottedewittemusic
Twitter: @CharlottedWitte
Instagram: @charlottedewittemusic
SoundCloud: soundcloud.com/charlottedewittemusic