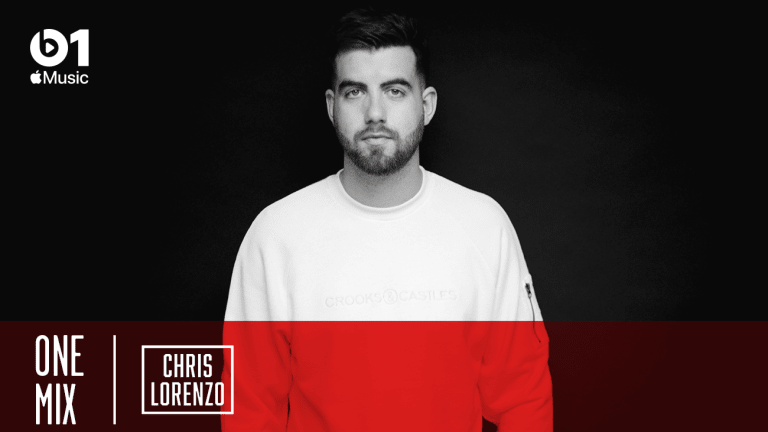 Leading Bassline Producer Chris Lorenzo On Beats 1 One Mix [INTERVIEW]
The Birmingham producer mashes heavy bass tones and speed garage for a modern take on a classic genre.
Chris Lorenzo champions Birmingham's sound, one marked by heavy bass tones and speed garage influences. He has released on labels like Defected, UKF and Night Bass, with hit releases like "Rhymes" and "Gammy Elbow." Most recently, he teamed up with Chris Lake to form house music duo Anti Up.
This weekend, Lorenzo stars on Beats 1's weekly radio show One Mix. Expect tunes from Ardalan, Chris Lake, Redlight, Dense & Pika, Alix Perez, and Blade Runner.
Stream the mix here, exclusively on Apple Music.
Learn more about Chris Lorenzo as he shared his favorite throwback track, guilty pleasure record, and more with EDM.com.
EDM.com: First show experience?
Chris Lorenzo: I DJed in a competition at a club called the Moon Lounge in Birmingham when I was 16 or 17. I obviously never won I was pretty terrible back then. I still am now to be fair.
First time you brought your mom to one of your shows?
I took her and my dad to Amnesia in Ibiza when I was playing there a few years back. She has been super lenient with my music blaring for all the years when I was younger so I hope that there in that moment it had all paid off for her.
The artist who inspired you to become a musician?
I was never really inspired like that. I started playing the guitar when I was 7 years old so I had been into music from a young age. I first discovered electronic music through DJ Hype's Jungle Massive mixtapes and Oxide & Neutrino's album Execute was the first digital CD I ever bought so you can say I've always been into drum and bass and garage from a young age which still inspires me to this day.
Go-to places for new music?
My girlfriend's playlist. She's a boss and she has great taste in music.
Guilty pleasure record?
"Mr Happy " by DJ Hazard.
Desert-island dance record?
"Like A Fool" by Crazy P.
Dream B2B partner?
I don't really have one, to be honest.
Favorite BPM?
Tough one, depends on my mood. I play on average at 128 but I listen to all sorts of styles so it varies quite often. If I'm driving then 172 is the vibe.
Piece of gear you always need on the road?
My neck pillow for flights. I got a long one and if I sleep wrong I'm done for the rest of the day or evening.
All-time favorite festival?
Shambhala.
Biggest misconception about dance music?
It's not all fun and games being on the road as Instagram would make you think.
How often do you get out and have fun, and where do you go?
I like a good road trip in the car to somewhere remote. My girlfriend is an outdoors person so she knows all the spots, It's nice to switch off every once in a while.
Industry prediction for the next year?
There will be mass riots of DJs against airlines for delayed flights.
Best piece of advice for new producers? 
Take two styles of music you love and merge them together to make something completely new. Originality will make you stand out in the long run.
Dead or alive, who would be your dream collaborator?
There are so many: Crazy P, The Internet, Switch. I would have said The Streets but I was lucky enough to be able to do a track with them for my album, that's the most legendary thing that has ever happened to me.
What is one of the unique experiences you've had backstage?
What happens backstage stays backstage.
What's your favorite throwback track?
It changes all the time. Off the top of my head, "Electric Relaxation " by A Tribe Called Quest.
What's one track that fans always lose their mind to?
My remix of Justin Martin's "Back To The Jungle."
What was the first album you ever bought?
Execute by Oxide & Neutrino.
Name one remix that you think is better than the original.
Skream's Let's Get Ravey remix of "In For The Kill" by La Roux.
What song would you want (god forbid) played at your funeral?
"BDE Bonus" by Mac Miller.
What's the perfect sunset track?
"Sequoia" by Compuphonic.
What song do you listen to cheer yourself up?
Anything dark. Dark music brings me joy.
Follow Chris Lorenzo
Facebook: facebook.com/chrislorenzo88
Instagram: instagram.com/chrislorenzo66
Twitter: twitter.com/Lorenzosbeats
SoundCloud: soundcloud.com/chris-lorenzo-1