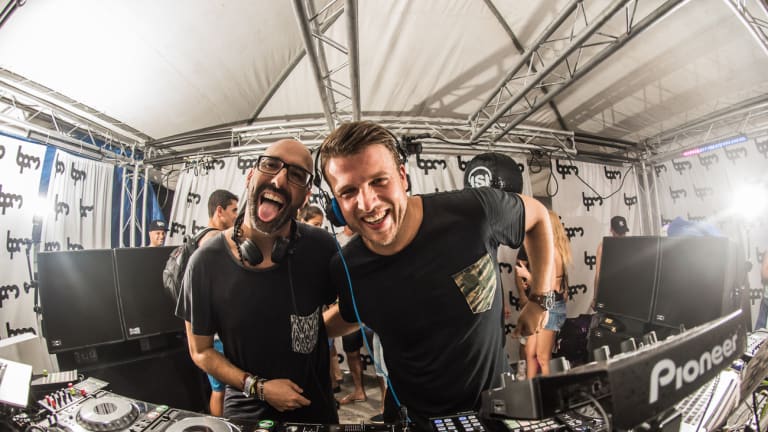 CHUS & CEBALLOS ARE TURNING UP THE HEAT IN MIAMI THIS WEEK [INTERVIEW]
INTERVIEW: Chus & Ceballos on BPM Festival, Miami, and the Influence of Music
Chus & Ceballos has been a force in the scene for the past 17 years with their groovy tech-house sound that is famous for keeping bodies moving on the dance floor.
The Spanish duo have helped to curate a strong roster of artists on their label Stereo Productions that embody the idea of creating a deeper connection through music by turning fans into family. Each spring, Chus & Ceballos release their Miami Compilation which features the latest and greatest sounds that Stereo Productions has to offer. Featuring music from rising talents Dennis Cruz, Rafa Barrios, David Herrero, and many more, Chus & Ceballos have been working tirelessly to handcraft this compilation for your listening pleasure.
We had the chance to chat with Pablo Ceballos of Chus & Ceballos about the duo's 17-year career that has taken them across the globe to experience unique cultures in some of the most remote regions of the world. From seeing the rise of the DJ from dark-corner dweller to main stage pop-star, Pablo Ceballos shares a lot of insight with us about the state of electronic music and the importance of finding connection with music.
Be sure to catch the guys in Miami this week at one of their many events!
EDM.com: What makes Miami Music Week different from most of the other events that you play throughout the year?
Pablo Ceballos: I think that Miami is exactly the speed of Miami. There's the pool parties, it's sunny, everyone's excited. Some people coming from the cold winter so when they arrive and get the good weather they're super happy excited. And Miami has one of the best venue setups in the world, every single day there's amazing parties during the day, at night, after hours. So that really makes a difference, you have the best venues, the best weather, best international crowds. What else do you need?
You recently released your annual Miami compilation – can you tell me a little bit about that?
It's the compilation that we do every year before Miami to celebrate the week with all the good tracks we curate from the artists on the label [Stereo Productions] and we have very interesting tracks from rising talents like Dennis Cruz, David Herrero, Supernova, Rafa Barrios, among others. And the thing to keep in mind on this compilation is that they're all brand new tracks. Each year what we try to do is bring out new tracks rather than compile tracks from different labels.
How long have you been doing the Miami sampler?
I mean, we have been working hard for the past year to put this together but we release a big compilation every couple of months. After the BPM compilation this might be the second, if not the most important compilation we release all year. So it's like the work of a few months actually.
We've been putting out the Miami compilation since we first started going to Miami 13 years ago and then we first started doing parties in Miami about 11 or 12 years ago. And that's why it's one of the most important compilations that we release throughout the year because we do have a big association with this compilation and these Miami parties.
"BPM is just so important and so big, and is so important to the lives of so many people. And what happened at [elrow] is very sad but I think it's something that was external to the real spirit of BPM. We're music lovers, we just play music to to make people happy. Bad things happen, and it's not our fault [as fans]."
Aside from Miami, you've also had a major presence at The BPM Festival in the past, which unfortunately will not be returning to Playa del Carmen next year…do see yourself getting involved in its expansion to Portugal?
Yeah we are actually working with BPM because we are from Spain and both of us are very close neighbors. And actually where we're going to throw the party is just 50 miles from Spain, so it's going to be full of Spanish people. So yeah, we're negotiating right now to bring the Stereo Productions showcase to Portugal.
And hopefully next year, if not Playa, I'm sure it will be another destination. BPM is just so important and so big, and is so important to the lives of so many people. And what happened at [elrow] is very sad but I think it's something that was external to the real spirit of BPM. We're music lovers, we just play music to to make people happy. Bad things happen, and it's not our fault [as fans]. It's a question of the security and safety of the country, so hopefully they will move to a safer destination and we'll be talking about a brand new and exciting BPM next year.
And the place that BPM has picked this year is a great destination in Portugal. The beach is so big and so beautiful, and everybody is going to love to stay there. And it's in Europe in September so most of the industry is going to be around at that time so I think it's going to be a massive success.
Your label, Stereo Productions, has had a lot of showcases in the past at BPM and in Miami and has really helped to define the Spanish sound in tech-house – What has been the journey for Stereo Productions so far?
It has been a long journey. We started the label in 2000 so it's already been 17 years so we're close to the 20-year mark of Chus & Ceballos and the label. We've kind have been doing the same thing, we really support one kind of sound that's groovy and has a lot of percussions that's very good for the dance floor. We always supporting Spanish artists, but not only Spanish, international artists that are close to our sound. As the label was becoming popular, it kind of became one thing, our artists, and the label, and the showcases all encompass the same vibe, and so it became a family. So we're working very closely with the artists and the showcases and put a lot of effort and love into them.

And everything is linked. An artist that we believe is a good producer and a good DJ should release on the label, and then we invite him to our parties for people to enjoy. Everything is linked, and I think it's important these days to have all the different areas of electronic music link together and make a family so that people get involved and be a part of it.
Especially as this festival boom has taken over that there does seem to be a lot more artist collectives where artists are helping to build each other up rather than just get a top-notch manager or booking agent that can just sell them.
Exactly, I think that the people see us in the booth hanging out with other artists and having fun with each other and they see that there is a musical and personal connection between us. And the people feel it and get it, and are part of it too. It's something beautiful actually.

When you have different artists from different labels and maybe they're not that connected, it's different. The artist may be good, but when it's the label doing the lineup knowing very explicitly the artist's sound and can curate the flow of music throughout the night, I think is a very good thing.
"Music doesn't know about colors, languages, countries, or religions."
Speaking of places you've played, over the years what have been some of the more unique destinations that you've performed out. You've played over 950 gigs and counting!
It's a lot of traveling actually. A lot of traveling. Over the years we've played in more than 50 different countries. Our main markets has always been North America and Europe but we're everywhere. We often have many tours in South America, we go to Asia a few times, and then we have super random destinations. One time we played in the Arctic Circle in Russia. We've played remote places all over the world, and there's something beautiful about that actually.

To experience different countries, and to meet different people that live differently than us. You learn from everyone, and they always teach you something. Every time you go to a different country and talk with the locals and eat the local food and traditions you always learn something, and then you go make home feeling fulfilled after having experienced a rich culture and spirit.
In a lot of ways, music is a universal language. That's something realistically everyone can enjoy and historically dancing has really been a foundational aspect to the human species across cultures…
Music doesn't know about colors, languages, countries, or religions.

What has changed in the past 17 years in terms of the house and techno scene, and where do you seen it heading in the future.
The main thing is that when we started, the electronic music scene was underground. Especially in North America and Asia, in Europe it was always a bit more popular. And then there was the explosion of EDM and the mainstream that brought electronic music to everybody and the DJ became a very important figure, even more important than pop-stars. Back in the day it wasn't like that, the DJ was just somebody playing music in the corner lost in the back of the club. He wasn't even an important person, now DJs are pop stars.
After that big rise of EDM and the mainstream, and the underground scene was a bit lost, I think that the mainstream has begun to lose a bit of steam. And I think the underground isn't going to be as popular as the mainstream, obviously, but I think it's slowly taking the place [that the mainstream] had in the past. The good thing is that I see right now that there's going to be many options and that's a great thing actually. I think that the explosion and popularity of EDM has been a good thing because exposed electronic music to so many people who had never listened to electronic music before. So I think it was something positive, absolutely positive.
What are some big projects coming from Stereo Productions and Chus & Ceballos in 2017?
We're working on so many things it's crazy. We have a very busy scheduling touring wise, as well as our usually residencies in places like Exchange in Los Angeles, Heart in Miami, and Output in Brooklyn, we have April and May we have an Asian tour in Japan playing in a few different cities and then we head straight to Brazil.
We've got plenty up our sleeves in 2017, but you'll have to stay tuned to find out what we're up to next.
Do you have any survival tips for fans that are heading to Miami?
Don't over do it! You can't be everywhere every day. If you're going to be there for the whole week take at least a full break one day and take it easy another day because there's other things to do in Miami apart from going to the parties. Don't over party because then you're going to miss the party that you really want to go to!
So be smart about how you program you week, drink a lot of water because Miami can be very hot. And don't leave anything to the last minute! Because most of the big parties will have sold out so get your tickets early. And same thing, get to the parties early for the first artists because if you wait to get there for the big artists then you're going to be waiting in line for a really long time, under the sun, while one of your favorite artists is playing inside.
Chus & Ceballos Miami Music Week Events:
3/23 - Stereo Yacht Party w/ Chus & Ceballos & Friends
Location: Le Musette
Tickets
3/24 - TOOLROOM in STEREO Pool Party
Location: The Raleigh Hotel
Tickets
3/25 - Stereo Productions (Main Room) / Transmit (Basement)
Location: Heart
Tickets
Cover photo courtesy of The BPM Festival