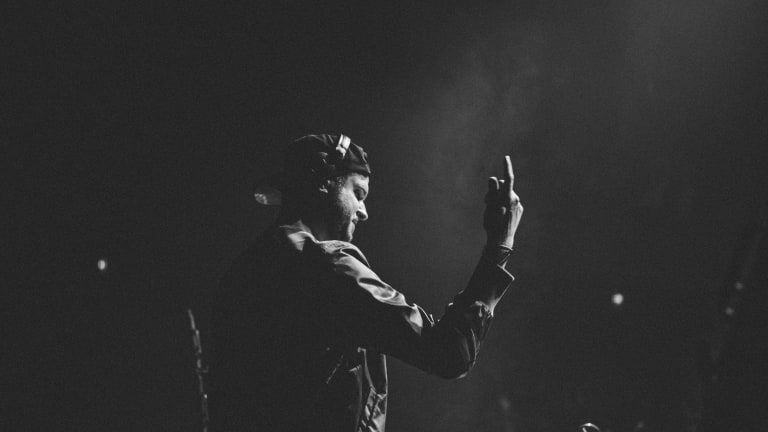 CID Talks Grammy Nomination, LSD Remix, Early Mentors and More [Interview]
CID took the time to take us through his journey in music as well as discuss his Grammy nomination and brand new radio show.
Breakout producer CID is nominated for Best Remix Recording for his remix of the LSD (Labrinth, Sia & Diplo) song "Audio" at the 61st Annual Grammy Awards. 
The remix has over a staggering 15 million streams on Spotify. The mammoth success of the track and following Grammy nomination have brought CID (real name Carlos Cid) into the limelight. Speaking about it, he said:
 "A few years ago I was nominated and won in this same category for my work on the Lana Del Rey remix. Even though I was in the background on that one, it gave me the confidence to know I was good enough as a producer and remixer. That experience set me on the path to focus on myself as an artist, with the hopes of one day being able to get back to the Grammys. Feels surreal to have my name up there this time." 
The NYC-based artist is also set to launch his own radio show on the SiriusXM channel Diplo's Revolution early this year. 
Cid took the time out to speak to us about his journey, from the early days he spent scouring through new music at his favorite record store to his recent Grammy nomination. He also touches on his early support from Markus Schulz to his current dream collaborator.
EDM.com: Your interest in the world of dance music started at a really young age. How did it all begin?
CID: My dad has a restaurant and catering hall in New York where they do a lot of private parties. There was this one DJ who played most of the events and I was just drawn immediately to what he was doing. He saw my interest early on and showed me the basics. I was hooked from that moment. In my 8th grade year book they asked us what we wanted to be when we grew up, while most of the kids in my class wrote doctor or lawyer or something like that, I wrote i wanted to be a DJ.
From being an 11-year-old mesmerized by the sounds you heard and experienced, how did the journey take off from being a hobby into a career?
What's always driven all of this for me is the love of the music, I still don't feel like this is a "career." I finished college with a degree in accounting but I already knew music was what I wanted to do with my life. I was lucky enough to get an internship at a studio in New York and just tried to do whatever it took to keep making music. I did a lot of background studio stuff early on and that really helped me build connections and get my name out there as a producer.
You got early support from some big names in the industry such as Markus Schulz and Kaskade. How did this pan out?
A lot of people don't know about the Markus Schulz connection. I was still in college at the time and I was just producing for fun. I didn't really know what I was doing, but I managed to finish my first ever song. At the time I was listening to Markus' Global DJ Broadcast, so I decided to send it to an email of his that I found online. Four weeks later I got an email back and sure enough, it was Markus. He called me on the phone and ended up signing the song to his label, Coldharbour Recordings. I would say that was the moment I knew I wanted to make music for the rest of my life.
I think the real turning point that launched me as an artist was Kaskade taking me under his wing. At the time he was really supporting "Got Me Thinkin" - one of the collaborations I had done with Don Diablo - and we connected over email. He really believed in my music and we collaborated on "Us," which released on his Automatic album. When it came time for him to do the Automatic tour, he put me on as support the entire tour and that really helped to start growing my following in the U.S.
You've already got a Grammy under your belt for being a co-producer on Cedric Gervais' remix of Lana Del Rey's "Summertime Sadness." While your name as an artist didn't feature in the credits given, how would you say this win helped your career take off?
Yeah, it definitely helped my career. Not only did it inevitably open doors for myself as an artist, but working with Cedric Gervais really gave me an inside look at what it took to make it as an artist. He's always been really good at marketing and positioning himself, and that's something that, at the time, I didn't realize how important it was.
A few years down the line, you are now nominated under the "Best Remix Recording" category once again at the 61st Annual Grammy Awards for your stellar remix of "Audio" by LSD. Tell us a little more about your thought process behind the remix.
Well first off, shout out to Diplo! Earlier in the year, he started really supporting my music and I think that's where the remix request stemmed from. I remember when the original of "Audio" came out, and it just felt like one of those projects that would be special to remix. Sia and Labrinth are both incredible singers and songwriters who've been on my bucket list to work with. Once I got the parts, it was super inspiring to work with their vocals and the remix just flowed. I wanted to create something that has the essence of the original, but still had my sound and I am really happy with the way it turned out. 
You're up against one of your early supporters and fellow artists Kaskade among others for his remix of Kygo's "Stargazing." How does this make you feel to be now nominated alongside him?
It's pretty crazy to think about. He's helped me so much and has always respected and treated me as an equal. It feels surreal to be nominated alongside him.
This year will also see you launch your own label and radio show on SiriusXM. What's in store for us here?
This past year I did a lot of touring and club shows and It really inspired me to make more club music. The label and radio show is called Night Service Only and the motto behind it is "we listen to music at night." I've been working hard to develop a consistent sound for the label and I am really excited for everyone to hear all the music that I'll be releasing.
After working with some huge collaborators like Tiësto, Don Diablo, Galantis and more, where do you have your eyes set next? Who would you say is CID's dream collaborator right now?
I would love to collaborate on something original with Diplo. He's always pushing the envelope and everything he does really moves the needle. I think we could do something super fresh.
2019 is already shaping up rather well for you with the Grammy nomination, your Bonnaroo debut performance, and lots more. What can CID fans look forward to from you this year?
A lot of new music!! I've held off on releasing new music until the label launches. Once it launches, people can definitely expect a constant flow of new releases that I am super excited about!
Tell us the one thing you've always wanted to say to your supporters and fans but haven't had a chance to yet.
Thank you to everyone who's supported and shared my music. I've always felt equally passionate about the DJing, and the production and seeing you all at shows singing along to my music really inspires me to get back in the studio and continue to push myself to make new music. 
Follow CID:
Facebook: https://www.facebook.com/CIDofficial/
Twitter: https://twitter.com/cidmusic
Instagram: https://www.instagram.com/cidmusic/
Soundcloud: https://soundcloud.com/cidmusic