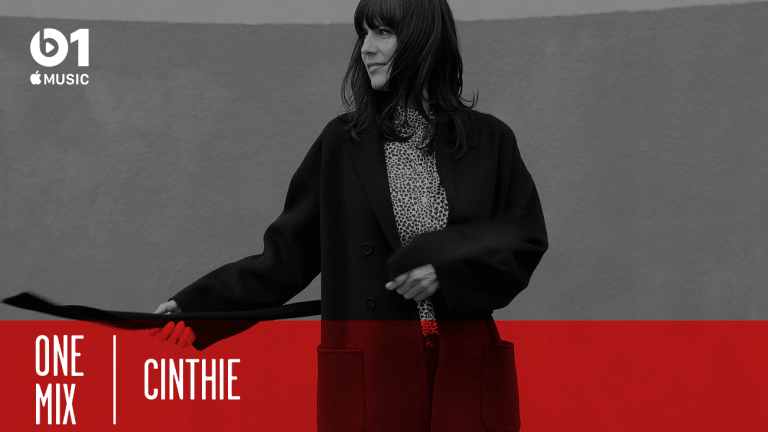 Cinthie Joins Beats 1 One Mix for an Hour Of Groove-centered House & Techno [INTERVIEW]
The Berlin-based producer also shared her dream collaborator, guilty pleasure record, favorite throwback track, and more.
Berlin-based DJ-producer Cinthie stars on Beats 1's weekly radio show One Mix this week. Heavily influenced by the sounds of electronic music-loving Berlin, Cinthie hits the dance floor with raw house tunes, groovy techno, and a few classics. Expect more of that, with tunes from artists like Julien Sandre & Mennie, Mutenoise, and Floorplan on her debut One Mix.
Tune in here exclusively on Apple Music.
Air Date: Friday 25th January, 2019 - 21:00 LA / 00:00 NY / 05:00 UK
With avid record collecting parents, Cinthie adopted a love for music at an early age. Her affinity for music jumped from casual to serious at the age of 15, when she met someone who taught her how to mix.
A few months later, in 1996, she began working at a record store. While digging through records on the daily, she also spent time improving her DJ skills. Her peers pushed her ever more, giving her tough records to mix, and Cinthie would mix without headphones for hours on end.
Her career really kicked off in the '90s, when she started playing at clubs in her late teen years. Soon after, she signed with Low Spirit Recordings in 1999, growing from unknown talent to sought after DJ.
Berlin's unique electronic music culture played a big role in Cinthie's musical roots. A city with no closing hours, you could step out at midnight or midday and easily find a good dance music shindig. With the fall of the Berlin wall, empty houses turned into playgrounds for underground parties, spurring Berlin's underground electronic music culture. 
The illegal warehouse parties were largely ignored by authorities simply because the East police believed it was the West police's job to patrol them, while the West police thought it was the East's. A big misunderstanding for them and a big boon for electronic music in Berlin.
After over 20 years of experience in the music industry, underground and official, Cinthie now runs 3 labels - Beste Modus, Beste Fruende, and Unison Wax - hosts her own radio show, and performs around the world. Her style centers on groove, blending whatever groovy records catch her ear, whether its house, techno, or minimal.
Moreover, she's a big proponent of vinyl, opting for vinyl decks during live performances and vinyl releases on her labels. Growing up in record culture, it's only natural for her. In a past interview, she explained:
"Vinyl is for me joining the social life by going out of your house to the record store. Meeting friends and having a chat, finding new stuff you would never find online because the owner of the shop recommends you a record. That's something we really need to protect in our daily digital life where you buy everything online. And also vinyl is a big part of the techno and house culture. Especially the house culture. Or imagine hip-hop without MCing or beatboxing, breakdancing etc. That would be pretty lame."
Before her One Mix, we got to ask Cinthie a few questions ourselves. She shared her dream collaborator, guilty pleasure record, favorite throwback track, and more. Read on to see what she had to say.
EDM.com: First show experience? 
Cinthie: Carneval in 1997.
First time you brought your mom to one of your shows? 
Mom and dad came to my show for the first time in 1998.
The artist who inspired you to become a musician? 
My first boyfriend back in the day; he was a bedroom DJ.
Go-to places for new music? 
My own record store Elevate or other record stores in Berlin.
Guilty pleasure record? 
"Pump Up The Jam" by Technotronics.
Desert-island dance record? 
"It's A Lovely Day" by Blaze.
Dream B2B partner? 
Hard question. I don't really like B2Bs so much, but would of course love to play with Kerri Chandler or Asquith. I guess we would kill it.
Favorite BPM? 
125.
Piece of gear you always need on the road? 
Needles and my turntable weights.
All-time favorite festival? 
Pitch Festival in Australia.
Biggest misconception about dance music? 
Dance music lovers are drunk or high all the time.
How often do you get out and have fun, and where do you go? 
I live right next to Berghain and whenever I have a free weekend I'll go there for one Coca Cola… says no one ever.
City with the most underrated dance scene? 
Nantes in France.
Industry prediction for the next year? 
House and U.K. rave music will be back this year.
Best piece of advice for new producers? 
Believe in yourself and do your own thing.
Dead or alive, who would be your dream collaborator? 
Would love to jam with Paul Johnson in the studio or get a little lesson on a 909 from Jeff Mills.
What is one of the unique experiences you've had backstage? 
What happens backstage stays backstage.
A unique travel experience you've had? 
I'm blown away pretty much every time I go abroad. The world is such a beautiful place.
What's your favorite throwback track? 
"Who Dares To Believe In Me" by The Believers.
What's one track that fans always lose their mind to? 
"Planet Pimp" by Makam.
What was the first album you ever bought? 
One Night In The Disco by Nick Holder.
Name one remix that you think is better than the original? 
Mr. Oizo's remix of "Ark" by Le Magicien D'os.

What song would you want (god forbid) played at your funeral? 
My own track "Together."

What's the perfect sunset track? 
"Devoted To You" by Folamour. 
What song do you listen to cheer yourself up? 
"We Should Be Free" by Marques Hawkes & Jamie Lidell.
Follow Cinthie:
Facebook: facebook.com/CinthieBM
Instagram: @cinthie_dj
SoundCloud:.soundcloud.com/cinthie