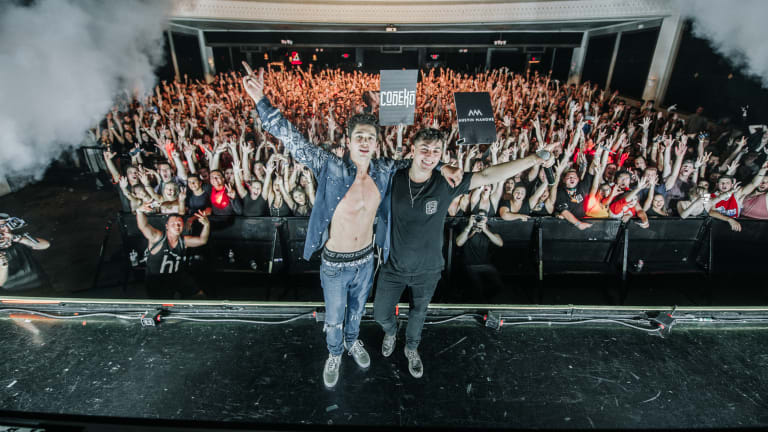 We Spoke With Codeko About Balancing Books and a Music Career
While most college students worry about finishing their term papers, Codeko is producing music and playing some of the world's biggest festivals.
For most of us, college is a time of self-discovery. A time to eagerly explore our new found adulthood by packing in as many social activities as academic ones.
Although there are a few of us who go into our studies with a plan of what we want to do with our future lives, most of us leave college having even less of a clear picture than when we started.
And then there are people like Codeko, who somehow manage to do it all.
Ed Clark, better known as Codeko, has been building buzz with his production savvy on tracks like "Say Hi," "Crest," and "Lunar." But Clark is also no stranger to the world outside of the studio; the college senior has already clocked in performances at major festivals like Electric Zoo and Mysteryland.
He does this of course while managing the pressure of a rigorous academic program at Cambridge University studying Physical Sciences. 
Y'know, nbd. Just Cambridge.
After dropping "Say Hi" his remix package we caught up with Codeko to discuss why getting a degree is an important goal for this young music talent.
For just 21 years old, you've already gotten an impressive start to your music career. How did electronic music come into the picture for you?
Well, I have been playing piano and a ton of other instruments from a young age. I actually went to high school in London on a classical music scholarship. Then when I was 16 I had to do a music GCSE, which is basically the UK's version of standardized tests. Most of my friends created songs using acoustic instruments, but I decided to make a record on the computer. I was pretty fascinated by the diversity of sounds I could create and then figured out how to layer live instrumentation on top of it. That was the project that started it all! 
I know that you're a classically trained musician. At what point did music become a potential career path for you?
When I was in my last year of high school, a few of my songs really started blowing up and getting millions of streams, I couldn't believe it! Even though I was building some momentum, I had an unbelievable opportunity to study science at Cambridge University and I could not pass that up. Last year while at Cambridge I really started taking music seriously and working on it every day. The past year has been amazing with some really successful releases, signing a deal with Capitol Records, and playing festivals like Tomorrowland & Electric Zoo. Although I am still in school, its very clear I want to pursue a career in music. 
You're currently finishing up your program at Cambridge University which is impressive in its own right. Many in your shoes would have quit school to focus on music full time. Why is it important for you to get your degree?
Its no secret becoming a successful artist or DJ is insanely difficult. Having a solid education to fall back on has always been extremely important to my family and I. Cambridge is ranked as one of the best Universities in the world and I was very lucky to get in; it would have been foolish on my part not to complete my degree. Over the last couple of years I have had the option to drop out and focus solely on music, but I have the rest of my life to do that! 
You're studying physical sciences and are working on your senior thesis where you're working on a 3D printed rechargeable battery - What made you choose this program?
I currently study "Physical Natural Sciences" with a concentration in "materials science" which is basically a combination of 1) Physics 2) Chemistry 3) Engineering. I actually started my degree studying just physics, but that got far too theoretical for me. My studies now are much more relevant to the real world; it feels like the work I am doing has a purpose, so I am glad I switched.
My master's research project on a 3D printed, rechargeable battery is an example of this. At the moment, there are a ton of really cool sensors and other electronics that are flexible and stretchable, but there isn't a good powering source (aka battery) that can also stretch/bend. The idea of a flexible battery will allow all these stretchable, wearable electronics to be properly implemented, and become fully wearable (e.g. no brick attached with wires). For instance, you could produce a fitness monitor (aka a 'fit-bit V2') where instead of wearing a bracelet, it can be woven into your t-shirt! Other applications include diabetes monitoring systems (that can be worn like a skin patch), fully flexible tablets/phones (e.g. not just the screen that can bend), soft robotics, and a ton more. 
To balance both music and your studies you have to have a lot of determination. Do you have any tips for staying so focused?
I'm actually pretty terrible at focusing. My minds always going a million miles a second so I am very much a deadline person, unfortunately. But to help myself out, every day when I wake up I write a 'to-do list' of everything that I need to do today, whether it's finishing a piece of written work, replying to emails, or mixing down a track. I don't always complete that list, but keeping track of what I have, or haven't done, makes me far more productive overall. 
At Cambridge, do your peers ever react or recognize that you're Codeko?
Yeah, there have actually been a few and it's usually pretty funny. I have a really great group of friends that know me from well before my Codeko days and they keep me very grounded, which means I get to have a normal college experience.
Your single "Say Hi Feat. Austin Mahone" has been generating a lot of buzz - what was it like making that track?
I went through 4-5 instrumental versions before I came up with the current horn melody. As soon as I made the melody I knew I had something special, but the instrumental actually ended up sitting on my computer for almost a year before anything happened with it. I came across it again before one of my first ever songwriting sessions and thought it would be fun to resurface. Austin and I had been talking about me remixing one of his old records, but when he heard Say Hi for the first time we wanted to jump right on it and his vocals really took the record to another level. 
Which artists were early influencers of your musical taste?
I played a ton of classical music from age 5 until about age 18. In classical music, everything needs to be both harmonic and melodic, and I think you can hear that in the music I'm making now. The first electronic album I ever bought was 4x4=12 by Deadmau5. For me, that album opened up my mind to electronic music and changed it all. From there I started listening to a lot of music from other guys like Nero and Pendulum just to name a couple.
What's coming up for Codeko in 2018? Can we expect more gigs and festival appearances?
I am finally graduating later this year and can't wait to be able to focus on music full-time. "Say Hi" was my first original release with Capitol and 2018 is all about new original CODEKO music plus some monster remixes. Also really looking forward to Miami Music Week this year followed by a USA Spring tour. Looking ahead to summer…I can't wait to get back to Tomorrowland again! 
Follow CODEKO:
Website: codekomusic.com
Facebook: facebook.com/codekomusic
Instagram: instagram.com/codekomusic
Twitter: twitter.com/Codekomusic
Soundcloud: soundcloud.com/codeko