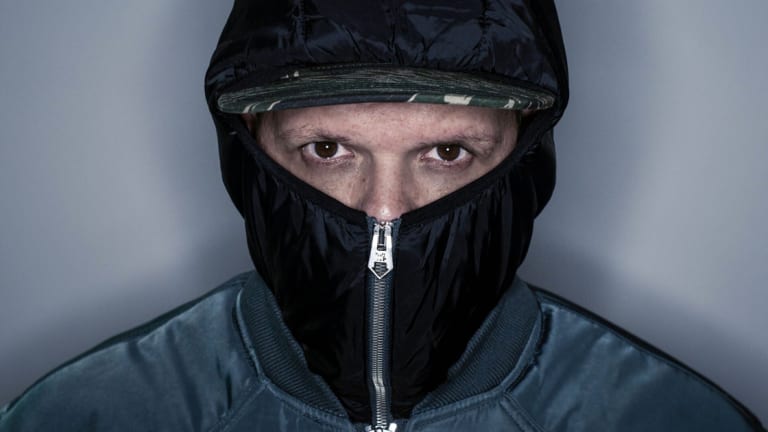 Conrank Releases "Blast" and Gives Us the Inside Scoop About His Music [Interview]
Growing up in the UK and now living part time in China and Los Angeles, it's no wonder Conrank has so many influences for his unique sound.
After releasing an EP on Circus Records in May, UK DJ and producer Conrank is already back at it with another new release, "Blast"-and he's got a ton more of new tracks just waiting to be released. We were lucky enough to catch up with Conrank and learn more about all the fun he has creating and sharing his unique heavy bass sounds. 
EDM.com: While you were living in the UK you toured Europe as a beatboxer, was that something you always wanted to do growing up? How'd you get into beatboxing?
Conrank: Beatboxing wasn't really something I knew about growing up apart from maybe Police Academy or Michael Jackson…I kind of just lucked out, Killa Kela who was a pioneer and became a legend in his own right started working at the petrol station next to my house. We became mates and I learned from him. It was fun, but I quickly realized I didn't have the same passion he had for it. It was awesome, but I knew there was something else out there for me.
With beatboxing you mimic drum machines­­ and other instruments or sounds, did that make transitioning into production easier?
I've always had a fairly musical brain, I'm not a theory person though, I do everything mainly by ear­­. Everything I had done before from playing the trumpet as a kid or beatboxing, to learning video editing software contributed to making the production transition easier. There wasn't a huge transition for me. I just one day went, "F it...I really want to produce music," so I did it and I just sat there day in day out till I could make something people might actually listen to. The beat got me, I couldn't stop.
When you were initially starting out and refining your craft what was the kind of sound you were going for and why? Were you inspired by anything you listened to growing up or currently listening to at the time?
I started out focusing on DnB. I was really into that whole autonomic sound that D-Bridge was pioneering, it was so deep and emotional but still hard hitting on a sound system. My inspirations outside of that range massively tracks like "Terrorist" by DJ Vadim, stuff by say DJ Hazard or Dillinja and then, obviously, the dubstep legends like Caspa, Rusko, Skream, Coki, Mala, etc. There's so much amazing music in the UK to be inspired by.
Your current sound is a mix of a few different things, how would you describe it to people who've never heard your music?
Whenever people ask me that I always get a little stuck. Non-conventional grimy heavy bass music…let's say that for now haha. It really does pull in my love for house, dubstep, grime, DnB, etc, it's like a melting pot. My brain laid out on a timeline.
So when you're in the studio and you're working on some new tracks, what's the process like? How do these ideas come to mind?
I get a lot of budding producers hitting me up asking about my Ableton templates, drum racks etc. Honestly, I am the most unorganized producer ever. Every track is started differently, with different drums, different synths. I don't have drum racks set up or templates. Generally, an idea starts with the bassline but not all the time, I might find a chord progression I love for example. The one thing that stays the same is how I process everything. Regarding ideas, I have to be in the right mental space, well rested, coffee down the hatch. I'm a daytime producer which seems to be rare. 
It doesn't always come easy, sometimes I'll be sitting in that seat all day and… NOTHING. But when ideas flow, it's like a machine gun. I can knock out tracks for days. I'm a true believer in getting an idea down and not dwelling on one small part. I get the whole track mapped out start to end and then when the structure and idea is there and I'm buzzing off of it, I go in and get heavy on the details. If you build a house, you build the whole thing, then you decorate each room. That's how I work.
Back in May you released your Distorted Method EP which draws influences from your time living in both China and Los Angeles, what's a song on the album that's the most heavily influenced from these places and why?
I would say "Lose The Plot." It's just a mash of my experiences in those places. From the LA beat scene to UK dubstep and there's definitely a lot of influence from music I discovered going to The Shelter in Shanghai and meeting other producers here. Shanghai has had a huge influence on my music, you can't live somewhere and not be affected.
Which track off the album did you have the most fun with and why?
"On Your Mind" was quite an emotional track to produce. I love that 90's house/rave vibe, I used to go out and rage to that stuff as a kid and as I made that track it just all came back to me, my first clubbing experiences. It was an epic track to write and I had times where I was just in the studio smiling and losing myself in it. Probably why it ended up around the six-minute mark, it just couldn't be a short piece.
You had a residency in China for quite a few years, how different is it playing there as compared to in the states? Do people react differently to your music?
At the start, it was definitely tough because China doesn't have the history of electronic music like the UK or the US, so it's totally brand new. I remember playing a festival and some kids came to talk to me using a friend to translate and they said they had never seen a DJ or heard electronic music before. Pretty eye-opening. It's changing rapidly though now. The crowds get down hard and the rail-riding thing is getting big over here. I've also had crowds just stand and watch me like a show, no dancing or anything, just like…ok, so show us what you can do. There are loads of awesome music scenes and genres coming out of China right now though. New producers, rappers, DJs… it's a hotbed of creativity and originality, very exciting.
Do you have any crazy stories from your residency in China?
Those, I have a lot of. Once I was playing a festival and I got on the mic and started hyping the crowd up, the front row started grabbing the rail and dancing and generally having a good time. About two minutes later the music cut out and the stage manager came over to tell me they were shutting down the stage because my music was too dangerous. 
Another time I played a beach fest called Strawberry Festival, I didn't have shoes on, well, because it was on a beach. Halfway through my set I suddenly felt a huge amount of pain in my foot, lifted it up to see what was happening and there was a nail head poking out. I literally stopped the music (there were around 10,000 people at the stage) explained what was happening and then the cameraman projected me having a nail pulled out of my foot onto the huge screens. The next day I was having an injection in my arse cheek for tetanus. 
Aaaaand the last one, so I was playing in a place called Hangzhou, I got on the mic asked for a tequila and about seven people turned up with a tequila to drink with me. Seven tequilas later (I was already a little drunk), I was having the best time, well, until I danced so hard that I fell off the stage and knocked myself out. I came around to hear them explaining on the mic that I was unconscious…I got up, brushed myself off and got back behind the decks and we went for about another hour. I still have a scar from that one.
You also played the debut Circus Records x Bassrush show in LA, what was it like playing alongside Doctor P and Crizzly? And what's one thing you'll never forget about that experience?
The venue was epic and playing with those guys was amazing, it feels great to link up with my Circus Records and Bassrush family. And Doctor P has been a huge influence from the start, man, when "Sweet Shop" was released…game changer. I'll never forget standing on the booth, screens all around me blasting my logo with a packed crowd raging. I remember being at a big Bassrush show a couple of years ago in DTLA and saying to my missus, "One day I'll be playing these shows," and bam, I got there. It feels amazing. I need to thank Bassrush and Circus for being such a huge supporting force in my career.
Talking about Circus Records, your newest track, "Blast," was released on the label, and it's an interesting hybrid of reggae-style and dubstep. How'd you come up with the idea to mix the two?
I had that vocal sample sitting around for ages waiting for the right time to use it, the right track. "Blast" came out of a studio session one day and I was like, ooohhh, maybe just maybe…grabbed the vocal, chopped it in and it just worked. I then built around that vocal even more and the track really took shape. The idea of mixing those styles definitely comes from the whole jungle ragga sound. Jungle has been mixing ragga/dancehall/reggae and bass music for a long time, I absolutely love it and there will be a lot more of that coming. 
What was the most challenging part of making this track and why?
The bassline…originally it started quite a few semitones lower, but the sub was at like 28/30hz, very few sound systems could deal with it and half the time it was just missing when I played it out…plus 28hz is extremely low. So, in the end, I had to bring the whole keyup, which was stressful, especially trying to keep the vibe and atmosphere the same. I tried it for a couple of days and it didn't work. I thought the track was lost, but then a couple of weeks later I tried again and it just clicked. Track saved!
So what's next for Conrank? Any new tracks you're working on or playing at some shows/festivals?
So much I wish I could shout about. I have about thirty new tracks I'm testing out and working on, plus some huge tour and release announcements coming. Until then I'm playing Shanghai with Spag Heddy next week, then East Sea Music Festival on Daishan Island just off the Chinese coast. Then heading back to the US for the Wild Woods Festival and some other shows, which will be announced very soon. But I'm really putting my focus on the studio at the moment, I'll essentially be on the road from August until January, so I want to write while I can. So in short what's next? Music, lots and lots of music.
Special thanks to Conrank for taking the time to chat with me! It was a pleasure learning more about your career and we can't wait to hear all of those new tracks!
Follow Conrank: