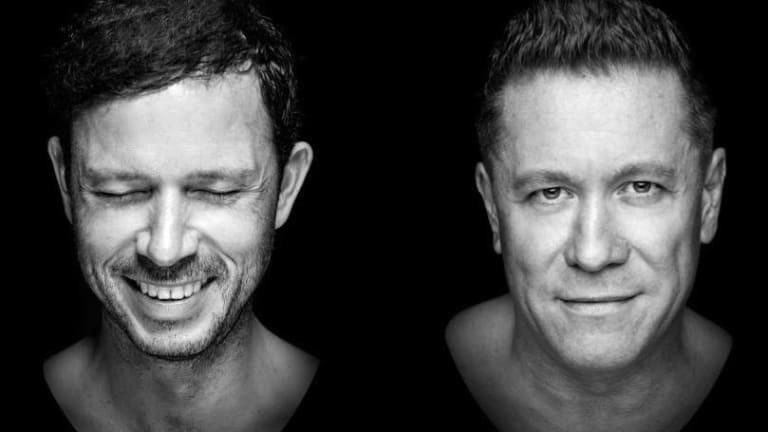 Cosmic Gate: 20 Years of Defining Trance [Interview]
The German trance duo opened up about their friendship, recent Grammy nomination, and the legacy they wish to leave.
The melodic beats and emotionally charged breakdowns of trance music have grown and evolved over the last few decades. From the early days of fist-pumping hard trance to the sentimental chords of uplifting trance, the genre has always offered varied ways to convey its euphoric sounds.
Encircling those etherial beats and embracing each emerging tune is Cosmic Gate. The German duo have embodied the essence of trance music over the last two decades.
Cosmic Gate (real names Claus Terhoeven "Nic Chagall" and Stefan Bossems "Bossi") have always been one step ahead of the ever-changing trance scene. Positioning themselves as a hard trance acts in the late 1990s, the group found a more progressive sound in 2006. 
The resurgence of trance music in the early 2010s found Cosmic Gate's sound changing yet again, this time finding a more broody tone to their tracks. Today, both of them find themselves ready to advance their musical form yet again, as they revel in their successful twenty-year career.
The milestone is being celebrated with a new tour titled Forward Ever, Backward Never. the pair have been traveling the world allowing fans young and old to partake in their festivities. 
Los Angeles played host to one of their biggest shows on the tour, where the boys performed at the legendary Hollywood Palladium. Their extended three-hour set included guest performances by JES, Eric Lumiere, and Emma Hewitt, who have lent their vocals to some of the duo's biggest tracks. 
We had the opportunity to catch up with Cosmic Gate prior to their Hollywood appearance. In the green room of the renowned music hall, Nic and Bossi shared stories of how the two became friends, their greatest achievements, and what they hope their legacy will be.
EDM.COM: Take us back to when you both first met. Was there ever an expectation that Cosmic Gate would be in your life 20 years later?
COSMIC GATE: No, not at all. We actually met by total chance. We were in the studio with a few friends working on separate projects. There was no intention whatsoever for us to start Cosmic Gate. The track that we eventually started working on was also never planned. In fact, we forgot about the track until it managed to see daylight - and then it blew up.
Since this was never planned, are you happy with where the project has taken you in life?
Very happy. We still enjoy doing this because it's what we love to do. We don't feel like we're going to work. We're also feeling pretty good in our skin because don't have to prove anything to anyone.
During a recent interview, the reporter who interviewed us said, "you're like two boys on the playground just playing around." We want to keep that vibe.
What has been your proudest moment these past two decades?
The Grammy nomination for sure. Other big moments were playing Tomorrowland for the first time and the first time our tracks made it to the top ten charts in England or Germany.
Congratulations on your Grammy nomination for your remix of Gabriel & Dresden's "Only Road." How did you decide to remix that specific track?
Thank you! Gabriel & Dresden actually asked us to pick any track off their album and remix it. The singles were too obvious of a choice, so we looked at the other songs that had vocals that worked on the dance floor. When we decided on "Only Road" we knew the song had this insanely great vocal but the music itself was very minimal. We knew there was a good opportunity to build upon that vocal.
Did you ever have any expectations that the remix would garner a Grammy nomination?
Zero. Our manager called us and asked us to sit down because she said she had big news. I said to her, "I've heard a lot of things in my life; do I really need to sit down for this?" She said, "Yes, yeah sit down. You're nominated for a Grammy!"
We couldn't believe it. The fact that we would ever get nominated, it never crosses your mind. There is no warning to this.
One of your biggest hits just so happens to be considered an anthem for trance music. What's the story behind "Exploration of Space?"
We had no idea it would become as big as it is. The reaction wasn't the greatest when it was first getting played. In fact, we felt that "Exploration of Space" may not be strong enough, so we had a second track, "Melt to the Ocean," prepared. Sometimes really great songs need time, and that's what it needed.
In a previous interview, you had stated that your latest double album, Materia, would be the defining sound of Cosmic Gate. Does that still ring true?
It's always true for the time it was said. At that moment, the combined years of Cosmic Gate were defined by the tracks that were in Materia. It made sense that Cosmic Gate sounded exactly like it did at that moment.
Right now, as we're working on another album, we feel like we want to push the boundaries again. It feels like our sound is taking yet another step forward.
How have you guys managed to keep your friendship alive over two decades?
We were actually joking around earlier, saying we started the project twenty years ago but have only been friends for ten.
We became friends through the project. Other DJs work together because they're friends or they grew up together, but we were not friends when we first started Cosmic Gate. We knew the same people and they pushed us to work together. We developed our friendship alongside working on Cosmic Gate.
You can see your friendship on full display when you're performing on stage. How do you feed off of each other's energy?
Nic Chagall: Good question, I never really thought about it. I think you have to remember that we're both different humans and we will not always be on the same page. Sometimes one will be on fire, forcing the other to push a little harder.
Bossi: Sometimes when you're DJing solo, the pressure builds because you have to come up with something on your own. With us, we can look at each other and say "Hey, I'm a little stuck here. What should I play?"
How do you guys handle disagreements when it comes to music production?
We handle it like a democracy, even if it's just two people. In the end, the one rule is if one of us doesn't feel good with a song, or the production of it, we won't go any further with it.
What do you guys love most about each other?
Nic Chagall: He has a really good heart and he always means well. He can be a dick, but he means well. He's more organized and I'm more creative and all over the place.
Bossi: I like that, it's true. It's a huge compliment. I know he's always gonna be late, but he's always gonna be there to have my back.
What kind of legacy do you guys want to leave with Cosmic Gate?
We want our music to touch people. We want people to realize that there are true emotions in music and that it can put a smile on your face. Maybe make you sentimental, maybe make you dream, but the most important thing is that we touched.
Having accomplished so much already over twenty years, is there anything that you haven't achieved yet that you would like to?
That's a big question. There's a lot, really. We'll email you the answer. 
FOLLOW COSMIC GATE:
Facebook: facebook.com/cosmicgate
Twitter: twitter.com/cosmicgate
Instagram: instagram.com/realcosmicgate
Soundcloud: soundcloud.com/cosmicgateofficial