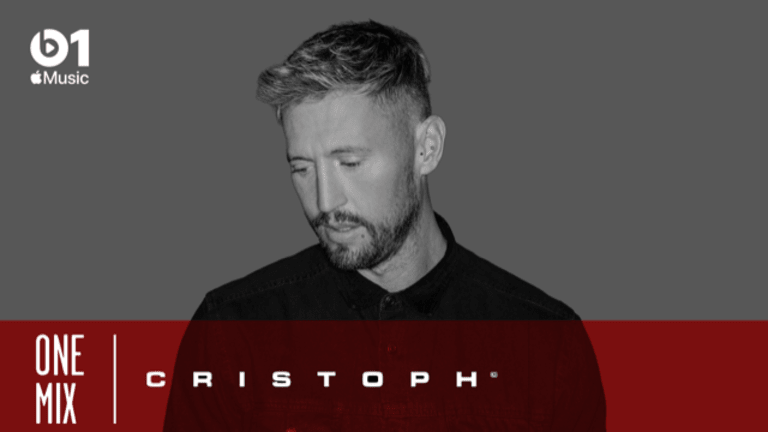 Eric Prydz Protégé Cristoph Makes Beats 1 One Mix Debut
With releases across imprints by Sasha, Digweed, and Hot Since 82, Cristoph is catching attention all over the world of underground dance music.
One of progressive house music's rising talents, Cristoph is set to make his debut on Beats 1's weekly radio show One Mix. Expect plenty of Cristoph IDs, plus tracks from artists like Mind Against and Dosem.
Tune in here, exclusively on Apple Music.
Air Date: Friday, 2nd August 2019 - 21:00 LA / 00:00 NY / 05:00 UK
Cristoph (real name Christopher Costigan) grew up immersed in electronic music. His father and brother were both DJs, and Costigan was entranced by his brother's Chicago house and Detroit techno records, Masters At Work and MK in particular.
At 15, his father bought him his first pair of decks, and not long after, Costigan began performing at local clubs. Growing older, he discovered artists like Eric Prydz, Hot Since 82, Sasha, Solomun, and Maceo Plex, fostering a love for progressive house and trance melodies.
Inspiration can come from unusual places, and unfortunately, a close friend's death gave Costigan the push to eventually create music of his own. Coping with loss can be dark and tunneling, but luckily Costigan was able to channel his emotions into a positive creative outlet.
Long breaks, careful build-ups, and moody vocals mark the Cristoph way. You can hear it on tracks like "Closer" and "Let It Go." The latter of which was released on Hot Since 82's Knee Deep In Sound label for its debut 8-Track series. Costigan has also released EPs on Sasha's Last Night On Earth and John Digweed's Bedrock.
The turning point of Costigan's career, however, was his chance encounter with Eric Prydz. In December 2016, Costigan's was heading back home to the U.K. after shows in the U.S. when he received an offer to open for Prydz at Sound Nightclub in Los Angeles. Costigan didn't think twice about taking the chance to perform before one of his inspirations, canceled his flight home, and paid out of his pocket to travel to and stay in Los Angeles.
The show turned out fantastic and the chance encounter turned into a budding relationship. Prydz went on to invite Costigan to perform at his momentous EPIC 5.0 show and his summer residency at Hï Ibiza. Plus, he signed Cristoph's track "Feel" for the first release on his Pryda Presents imprint, and even connected Costigan with his manager.
The future looks bright for Costigan and he's determined to make the most of it. With deep aspirations to find a distinct take on progressive house and techno, a drive to pursue excellence in the studio, and a careful way behind the decks, we're excited to see what's next.
We got to know a little more about Costigan's musical tastes and inspirations as he shared plenty with us ahead of his One Mix. Read on to see what he had to say.
EDM.com: First show experience?
Cristoph: Shindig, Newcastle Upon Tyne.
First time you brought your mom to one of your shows?
A hometown gig [in Newcastle Upon Tyne] in December just gone. Was incredibly happy she eventually came to one.
The artist who inspired you to become a musician?
DJs like Sasha, Digweed and Danny Howells were all artists who inspired me early on. However, I would probably say the first was my dad.
Go-to places for new music?
Actually going to watch other DJs play, listening to promos from both promo pools and tracks sent to me personally from other DJs and producers.
Guilty pleasure record?
At this very moment Climie Fisher's "Love Changes (Everything)", Lewis Capaldi's "Bruises" or "Robbers" by The 1975.
Desert-island dance record? '
Lazy Dog Bootleg of "Tracey In My Room" by Everything But The Girl versus Soul Vision.
Dream B2B partner?
Eric Prydz.
Favorite BPM?
124 to 126.
Piece of gear you always need on the road?
My laptop.
All-time favorite festival?
Tomorrowland.
Biggest misconception about dance music?
The whole "it doesn't require real talent" thing. The intricacies of DAWs and plug-ins fry my mind at times.
How often do you get out and have fun, and where do you go?
Not very much. When I'm home I just enjoy catching up with my family and friends. I'm always at my mam's house chilling. Other than that I'll be in the studio writing new music. If I am to go out it's normally to go see someone play if they are in my hometown or nearby.
City with the most underrated dance scene?
Newcastle Upon Tyne. I don't think there is a huge scene here as such but the amount of quality DJs and producers in the city is crazy.
Industry prediction for the next year?
More melodic music will be in bigger demand and start to take over from the tech house fad.
Best piece of advice for new producers?
Take all constructive criticism in stride. People aren't giving you advice or telling you things to put you down, they are trying to help you improve. With music being an art there is no specific right or wrong - it's simply someone's opinion.
Dead or alive, who would be your dream collaborator?
Tracey Thorn and Eric Prydz.
What is one of the unique experiences you've had backstage?
Falling off a wall into a swimming pool walking to the stage to play a gig in Costa Rica, injuring my MCL.
A unique travel experience you've had?
Qantas airlines losing my bags between Melbourne and Sydney and giving me a grey pair of pajamas to DJ in.
What's your favorite throwback track?
Morales' mix of "Space Cowboy" by Jamiroquai.
What's one track that fans always lose their mind to?
If it's one of mine I would probably say my remix of "Sweet Disposition" by The Temper Trap. If it's in general when I play it then "Mirage" by Pryda.
What was the first album you ever bought?
Dangerous by Michael Jackson.
Name one remix that you think is better than the original.
&ME's remix of "What To Do" by Guy Gerber.
What song would you want (god forbid) played at your funeral?
"Solisbury Hill" by Peter Gabriel.
What's the perfect sunset track?
"Chasing Cars" by Snow Patrol.
What song do you listen to cheer yourself up?
"Alright" by Red Carpet.
Follow Cristoph
Facebook: facebook.com/CristophMusic
Instagram: @cristophmusic
Twitter: @Cristophmusic
SoundCloud: soundcloud.com/cristophmusic