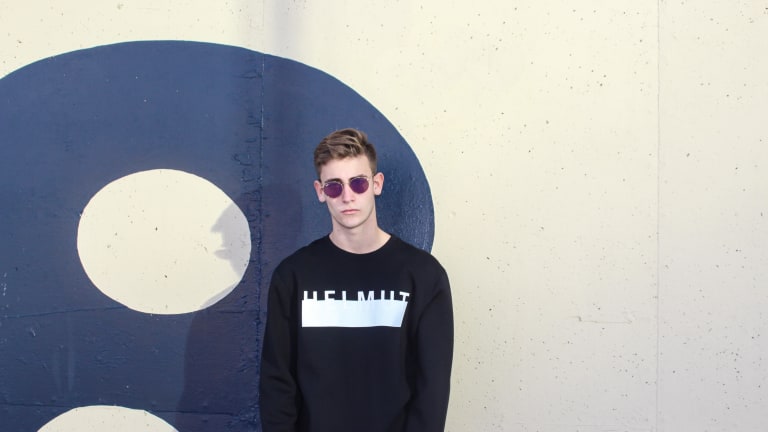 MEET CRVE U, A HIGH SCHOOL PRODUCER THAT'S ABOUT TO SHAKE THE GAME [INTERVIEW]
This 17-year-old producer is already dropping the heat, get to know CRVE U here.
Described as "a millennial making his mark", Jared Rapoza, or as we all know him, CRVE U is changing the game with his indie inspired electronic beats. With his love for electronic music starting at the young age of 13, CRVE U is already engaging with enormous amounts of fans on SoundCloud. His most recent remix to "Xanarchy" by Lil Xan topped 200,000 plays in under a week. So who is CRVE U? Well, we sat down and got to know this dedicated 17 year old producer, and we think you should too! This artist is sure to be hitting a stage near you soon.
At what age did you get into electronic music? How?
-- After my swim meets in 5th grade, I would listen to Cascada's song "Evacuate The Dancefloor" and wanted to know how to make such 🔥. Two years later after moving to the ironically non-revolutionary suburban town of Concord, MA, I spent my free time learning how to produce music on Ableton at age 13 and have been grinding 💪 ever since. 
What made you decide to start producing music for yourself?
-- For years I'd tried to become an athlete by sampling every sport available to me, but came to the realization that I was never going to get on a varsity team due to my dreadfully terrible hand-eye-coordination skills. I eventually played the violin and sang for a few years until going to high school. In middle school, I started producing, but never took it seriously until my sophomore year. 
How did you come up with the name CRVE U?
-- I was talking to this girl for a while and we went a couple weeks without seeing each other and out of the blue she messages me and said, "I crave you". It sounds pretty corny, but I thought it was a cool name and the rest was history. After a few more weeks of brainstorming, I decided to change the spelling to the way it is now to make it easier for fans to find me on google due to the unique spelling. 
Tell us about what Epicure is and why/how you started it.
-- Epicure is the incubator for all of my ideas that aren't CRVE U related. Epicure first began as an artist collective made up of my best friends in music, and eventually grew into an entertainment business which I co-run with my partner in crime, Nelson Mak (Far & Few). We now sign indie-electronic music and sign it to our tastemakers such as Epicure, Make War Not War, and The 808 Arcade, and offer branding and digital marketing services for up and coming artists like myself. We've had the opportunity to work with brands such as Mind of a Genius, 20Twenty Management, Fareoh, and more. Our goal is to help artists who tell a unique story get their music heard, and I think we are well on our way to accomplishing this feat, garnering over 18 million streams on SoundCloud for the artists in our collective, our clientele, and close friends in 2017. Epicure sticks together because we know that as a family we can reach the stars. 
If you could b2b with any artist who would it be?
-- I would love to b2b with Banksy. He would make visuals during a live performance by yours truly 🕺🏼.
Who/what has been your biggest supporter throughout this journey?
-- By far, my biggest supporter has been my family of artists in Epicure's artist collective. Through thick and thin they've been here for me, and I can't thank them enough for what they've done to help me grow my career and help me mature quickly in an industry filled with adults. Along with Epicure, I'm going to give a quick thank you to my family, Ph.D, Oliver, Jacob, Eddy, Andreas, Booligans, and the weight room. 
What do you want people to think of when they think 'CRVE U'?
-- I want people to have as much freedom as possible when interpreting CRVE U, but I think of my project as so: a collection of stories sewn together in an effort to present a voice for the youth, urban culture, and myself. I hope my music will inspire other people from all walks of life to think creatively and find the fervor that will drive them to reach success in whatever way they define it. Oh, and I hope people will think of my merch so it will sell out like a god...I'm not a Jake Pauler...
What song of yours has been your favorite to produce? Why?
-- If I'm being honest, my favorite song that I've produced so far is one that's unreleased and should be coming out this spring once I 🌯 the track up. The music is inspired by indie-pop and alt-rock influences like Matt & Kim, Passion Pit, Arctic Monkeys, and Foster The People. Whenever I make a song, I want it to be able to move people; to make them feel 😭 through the story that unfolds. 
What do you hope for the future of Epicure?
-- I have high expectations for Epicure, and really think that our tightly-knit squad will evolve into a brand that changes the visions of creators around the world. We want to shake up the industry, and let the overwhelmed listeners of today enjoy the finer sounds in life. 
What advice would you give to young producers like yourself out there?
-- You'll get there ✊ just keep on hustlin' and don't let the 🐍 slither into your ⭕️. Don't give up. Be yourself, and don't get pressured to make any decisions that you'll regret in the long run. Trust your intuition over anybody else. Focus on improving your craft rather than wasting time thinking about how great other producers are. Let go of your emotions and let the music talk for itself. Lastly, make sure you find time to relax in between hard work breaks and be able to joke around 😉.
Like what you hear? Follow CRVE U on SoundCloud here.
For more information on CRVE U, check out his website here.