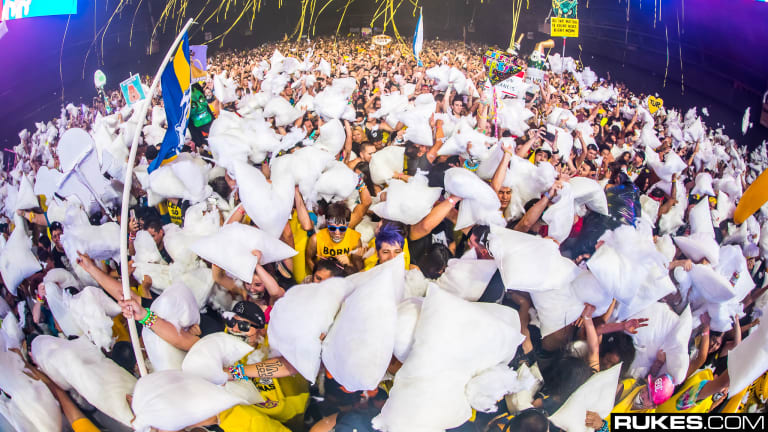 Dada Life's "Our Nation" Brings the Da Back to EDM  [Interview]
Also, F*** Sundays.
Dada Life's third album, "Our Nation", is finally here, and it is incredible. Filled with high energy, run-until-your-heart-gives out music, "Our Nation" truly exemplifies the family vibes of the Dada fanbase. 
We sat down with Stefan Engblom to discuss the new album, living in the moment, pillow fights, swords backstage, and...Christmas music? 
So. Sunday F*** you too. What's that all about?  
"Well, I think the title says it all. We live for the weekend. I could say Monday, Tuesday, Wednesday, Thursday, fuck you, but it sounds better on the track to say Sunday F** you too."

So you hate the end of the weekend?   
"It's just like, in this world, it tends to be Friday & Saturday, the high peak of fun-time." 
What was the inspiration for the album "Our Nation" as a whole? 
"Lately, EDM has gone kind of soft in the world. As for us, we've always been high energy. When you come to our shows, it's high energy, it's like running into a wall with a big smile on your face. For us, that's what it's always been about, so we weren't gonna change anything, we just kept doing what we love."
Anything new we can expect on the tour?    
"We try out many new things on the tour, so you have to come to a show to be able to see it. When we started doing pillow fights, the first 40 shows were a disaster. Now we have a bunch of stuff that we are trying out that probably will be a disaster but we fine tune it to perfection."
What was it like DJing in a hot air balloon?    
"It's high, and it's hot. No, the thing is, once you step in and start DJing, you step into another world. It's like, you don't think, you just, the body just does by itself. Not autopilot, I would say not thinking. The problem, I would say, with everything is that people tend to think too much. Like when you go to a club – not saying you do – when people go to a club, some of them think too much and that's not a good thing. So when you step into Dada Land, you leave your brain at home, and just have fun. You stop thinking about how tomorrow is gonna happen next, just be in the moment and experience the thing, you're gonna have fun."
What was it like playing your music with the orchestra?
"Referring to So Young So High. The thing is, when listening to music through speakers, you have the left and right speaker and those two can't translate everything. When you're sitting inside an orchestra, you have the sounds coming from all over the place. If the girl to your left hits the string a bit different from the girl to your right, it's hard to explain. It's so different of an experience inside an orchestra even sitting in front of an orchestra, it's different because then you have the sound directed towards you. Being inside of it, it's 360."    
Do you think you guys will ever get sick of bananas?    
"I would say for 20 years, I've eaten 1 or 2 bananas each day, so I can't see that happening." 
What's the most awkward situation you've had with a fan?    
"I actually don't have a good answer for it. The thing is, I wouldn't say for us, the fans are like family, and that's why we named the album Our Nation. It's me and Olle and the fans, and it's like family. And with family, you can't have an awkward moment because it's like family."
What is your favorite fan interaction?    
"After each show, I try to go down to the crowd on the side of the stage and talk to them. It's my reward. Super fun because before the show you meet people, do the show, and it's amazing. Afterward, you've delivered all this energy and taken so much energy from the fans who feed off each other. After, you go down and take pictures and talk to them because it's family. It's like 'what's up, did you like the show, what did you think about this' and they're just happy and it's amazing."  
What is the craziest thing that you've put on your rider that they actually fulfilled?    
"We asked one time for a sword so we could saber a champagne, but the lawyers said that a sword backstage is not a good idea. So I would like to say a sword, but not yet. I think there is some truth to it that a sword backstage is not a good idea. I sabered a champagne with a wrench once."  
What's the weirdest tour stop you've ever had?    
"Oh yeah, ohhhh my god, not the weirdest. So, booking flights for us is a US-based company. We had a show in Belgium and the next day we had a show in Holland. It would have taken roughly 40 minutes to drive by car but they didn't look at a map. So they booked us a flight from Belgium to England, because there were no direct flights because it's so close, so we flew 3 hours to England and 3 hours back. So after, I made a PDF called "How to Book a Flight", a diagram you follow. It goes, 'Is it 1 hour by car, yes.'"   
By the way, he's not kidding, he showed us the flow chart! 
Where do you eat most on the road?    
"In the room."
No, as in, what do you eat most? 
"(Laughs) Oh, I actually eat Ambronite, it's stuff that you find in the Nordic countries and they dry-freeze it into a powder. It's oats, berries, pea protein, stuff like that. The thing is, when you're touring on a hectic schedule, you never know when you're gonna eat. So being able to have that and to drink it really fast makes a real difference."
What's your favorite non-electronic song?    
"Oh, that's easy. Hang on, I'm gonna show it to you. People think I'm crazy. I mean, maybe I am crazy. It's a Christmas song I listen to every day. It says *****" (insert fancy Swedish expletive).
"I listen to this every day. Whenever it's like, kind of high intensity, or when I need to calm down a bit. Or if it's like, I'm gonna be in this line for 90 minutes I just put the album on and it zones me out. I could listen to it for hours."
How long has this been your favorite song?    
"Since I was 17 or 19. At least 15 years."
So let's talk about the album.    
"When we wrote the album "Our Nation", it was a gift to our fans, to show them that what we're doing is together with them. It's me and Olle and them and together it's "Our Nation".

Without our fans, it's nothing, it's just me and Olle making music we like. So, just showing them that we're all in this together and we're a big family. And it's really simple to be a part of – just listen to the album and you'll understand. Once you listen to the album, you get a feeling for what it's about, and then you come to a show and you understand what it's about." 
Which track is your favorite?    
"Sunday F*** You Too. It's been like that my whole life."   
What do you hope people take away?    
"I hope they understand that we always are gonna make music with high energy. If you want a crazy party, if you want to wake up the day after with bruises and you've lost one of your shoes, that's Dada Life. We won't go soft."    
Anything else?    
"If you haven't checked it out, check out the videos. It's a 3 part series, it's animated but real life. Go online and check them out, it's a bit of a story. Our inspiration was Our Nation – we need to hammer it in because that's what it's all about."
Listen below to the new album "Our Nation" and get ready to run into a wall with a smile! 
Also, someone please get this man a sword backstage. Legally.