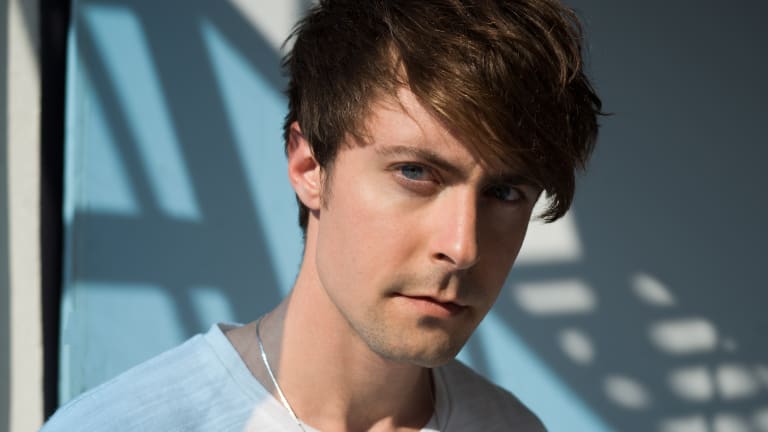 DallasK On Upcoming Releases with His New Dance Pop Sound [Interview]
Along with some tips, DallasK gives us an insight into what it's like being a songwriter and producer.
Having started out as a big room DJ/producer, Dallas Koehlke, better known as DallasK, is setting his sights on developing and improving upon his new sound that bridges both dance and pop.
EDM.com got to catch up with Koehlke about what he learned from the opportunities and people around him that greatly contributed to his success as a songwriter and producer. 
EDM.com: How did you get into music initially, what was your first memory of it?
DallasK: My first memory of music is listening to the radio when I was really young. I was born in Michigan and I moved to Florida when I was five. I listened to this one radio station, it was hot in Orlando. It was called, 95.3 Party, and it was electronic music. I remember being really, really young and my mom was listening to the station and hearing all these crazy songs.
I was in band in middle school. I played the saxophone and I definitely wanted my parents to buy me turntables for Christmas one year, but they bought me a guitar instead. Looking back on it, it was a much better investment in my future and time.
My cousin was working for a program called, Fruity Loops, and when I saw him messing around with it, I realized I could make music with a computer. And from there, that's kind of when my whole life changed and my journey of being an electronic artist and producer started.
For those who are looking to start writing and producing music or have already started, what advice or tips would you give them that you wish someone would've told you?
The one thing I tell people all the time is to listen to as much music as you can from every background and genre. I think that's what helps me a lot - obviously in electronic music, but also branching out to pop and hip-hop stuff that I've done. 
Also, just keep going. When you're starting out I feel you're like, "Cool I want to release this and put it out and start to do this." When you're ready to enter a marketplace as an artist or producer, even when you think you're ready, you should spend one more year getting ready.
In the beginning when you were doing more big room songs, you worked with Tiësto and Hardwell. What lessons did you learn from them?
Obviously Tiësto's a legend, but he's also one of the people who just has the best head on their shoulders and is always really driven to find what's next for them. Being around his energy and seeing how he attacks a problem or what he wants to do creatively has been really inspiring to me. And obviously, he's a mentor for any questions that I have, like, "Hey how should I approach this?" He's been there and done that many times before.
For your latest tracks like "Recover" and "Self Control" you've started doing your own vocals. Did you find it more stressful now or uncomfortable that your vocals are out there for the world to hear?
I only find it stressful when I'm finishing the song and I'm like, "Is this good, do my vocals sound great?" It's definitely a big feat to put that part of yourself out there and you'll obviously be judged one way or the other. I'm not super stressed about it by the time the song comes out, usually because at that point I've already spent so much time perfecting the vocal to the best of my ability.
I think "Self Control" was the first one that I really went super deep into the whole process of being the only vocalist on the song and making sure I had the right part, right stack and ad libs and everything and kind of like starting to develop the style that I have now. So I think that was probably my favorite one to record.
You've also written and produced songs for other artists, your most prominent one being Fifth Harmony's "Work From Home." Is there a difference when it comes to writing those songs as opposed to yours?
Oh, for sure. That's why I really love writing for other artists because you can wear any different hat that you want. If you're writing a song for another person, you can write it purely because you like the song or because you have an idea and it doesn't necessarily have to fit into the box that's you as an artist. I think, from that perspective, it's very freeing creatively. 
Writing and producing can also be pretty challenging at times. When you hit some kind of creative block what's your go-to way of getting out of that funk?
Well, my main thing is that I always let myself know that it will end at some point. That's the fact of it and that's always what I think is the most important perspective to take during those time periods because it's not going to last forever. You'll have another idea.
Usually what I like to do is collaborate in those time periods because you can use somebody else as a, I guess crutch in some respect, and maybe you can gain another perspective and it helps you shift your focus off of what you were stuck on. Even if it's a different song, like I meet up with writers three to five times a week, so I always have people coming over. They're all at different points in their career and life and journeys and moods, so there's always a lot of energy in and out of my studio that helps me keep creating.
What has been the most challenging song you've worked on?
They're all challenging to some respect. But I would say mostly the challenging thing, especially when you're writing for other artists, is to become the psychiatrist and the soundboard. Like it's getting to know somebody usually pretty quickly and then helping them express whatever it is they're going for. As a songwriter and producer, that's probably the most challenging thing that I encounter pretty regularly.
Out of every song you've made, which one holds the most meaning for you?
I think "All My Life" is definitely my favorite song that I've ever done. I don't necessarily know if it holds the most meaning to me, but the process of that song coming to life and the way it was received by people and them still hitting me up and saying, "I love this song so much." It's also the first one that I sang on, so it definitely holds a special place in my heart and I love the people I wrote it with Sasha Sloan and Johnny Mitchell. 
"Looking For Your Love" is also very special to me because it was my first release that I wrote just by myself. So for that it was a huge growing process for me to trust myself to be the one to really make a record from start to finish that's beyond an instrumental one obviously. 
So what will DallasK be up to in 2019? Are you working on a new track or releasing anything in the near future? 
I was just in the studio last night working on some pretty big pop stars' music, so that was pretty fun. And yesterday, early in the day I was finishing up the next single that I'm putting out with a DJ friend of mine at Ultra. We have a really cool indie band who's doing the vocals alongside me in that record.
What I'm really focused on this year is collaborating with artists whom I really respect, and who can be an asset to help bridge the world of dance and pop for myself and other artists. I've met so many great artists through producing as well as other DJs that I've worked with and have met touring and playing festivals.
I'll also be doing a lot of collaborations where we're collaborating on the production and songwriting. And you know maybe I'll be the vocalist on it or maybe it's a duet with somebody else. So it's a pretty exciting time. Definitely going to be doing some touring later in the year and I think after Ultra, I'm going to ramp up the intensity and the frequency of releases.
We can't wait to hear all these new songs - are you ever going to put them all in an album?
I don't really have a plan for an album right now per se. At some point there will be a collection of music that is released together. That's about as good as a commitment that I could give right now. 
Follow DallasK:
Facebook: facebook.com/DallasKMusic
Twitter: twitter.com/dallask
Instagram: @dallask
Soundcloud: soundcloud.com/dallask