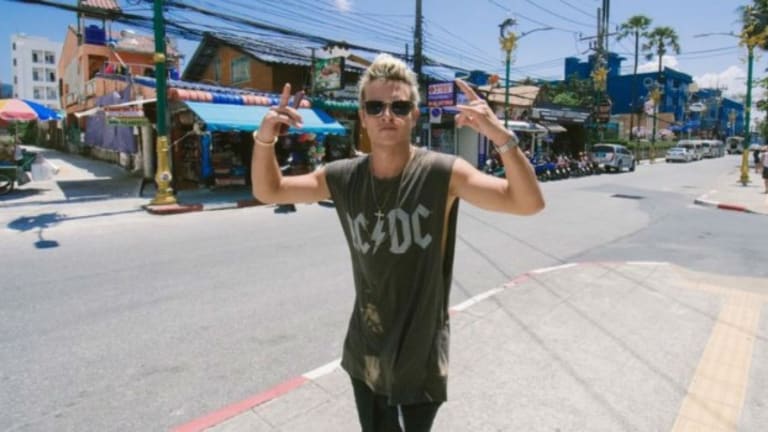 We Talk Crossing Genres and Wakeboarding with Dance Music Superstar Danny Avila [INTERVIEW]
Go inside the mind of one of EDM's biggest stars!
At just 22 years old, Danny Avila has already left his mark on dance music. He's play shows in more cities than we can count and has created some of dance music's timeless classics. He recently finished his Style Session series which saw him stepping out of his comfort zone and creating original mixes in several different genres. We were lucky enough to ask one of dance music's prodigies some questions about his life and music in this exclusive interview!
You've been known to explore many different genres. Is there any genre you haven't touched on that you would like to?
I'm honestly just completely and utterly obsessed with electronic music. If I see an opportunity to delve into a new genre – I will. I like to experiment more with Hip Hop and Rap and will hopefully do so in the near future. If you look at the wide range of genres, there so many which I haven't checked out yet. Drum'n'Bass is also something I'm super interested in.
In your Style Sessions series you created a series of mixes each in a different genre. Which one was most difficult for you?
The Style Sessions series was literally one of my favourite projects to date. It was all over way too fast! I just wanted to showcase my passion for all types of electronic music in the most relatable way possible. When it comes to which was most difficult, I guess it was Drum'n'Bass, due to the speed and the flow, which is very different from what I usually spin. But it was super fun, since there's so much energy in this.
If you could change one thing about the dance music industry/scene, what would it be?
There isn't much open-mindedness when it comes to experimentation. Sometimes when artists decide to experiment with their sound a little or incorporate other genres in their music, it doesn't go down too well. I think we should embrace change a little more and be a little more flexible. With my sound, I'm constantly trying to evolve and bring in tastes of other genres – I LOVE it when I can hear this in another artists' music. There just seems to be a bit of a stigma in the industry when artists decide to switch things up a bit. Let's keep evolving, doing bigger and better things and keep raising the bar!
Rumor is you are a great wakeboarder. Do you still find time to do it despite your busy schedule?
Wakeboarding is something I hold really dear. Before I got in to the music industry, it was my number one passion and I've maintained a strong love for it despite my career progressing to the point it has now. I get to keep up practice here and there, my favourite spots being in my home country of Spain. A few years ago, I got to wakeboard at Ultra Music Festival which was an absolute honour – being able to combine my two passions was an insane experience and I'd love to do it again! I've fantasized about one day holding my own wakeboarding event – it'll always be something very close to my heart.
If you could collaborate with any artist (living or dead) who would it be?
Choosing just one is tricky! It changes all the time, but if I had to select one artist who rises above the rest for me it would be Tiësto. Learned so much from him and he still is like a mentor to me.
Your career took off when you were still quite young. Was there ever any incidents where your age caused you problems in the industry?
Well, my first residency in Las Vegas was a bit tricky. Since I was under 21 I actually wasn't allowed to enter the club. So, I was picked up by a couple of bouncers in my hotel room and brought to the stage. I got a lot of people asking me later "Wow, there's so much security here to take care of you, that's so cool!" It was then when I told them that the security was actually only there to check that I didn't drink any alcohol and that I left the club right after my set, haha. So, yeah, that was actually very funny.
What is the craziest thing that's happened to you during your travels?
There was one trip that really took me to the limit regarding my lack of sleep. I was on tour for a week in the US and after the fourth show with early travels in the morning, I just could not keep myself awake anymore. So, I fell asleep at the airport. When I woke up, my flight had left and I was super confused. So, I called my booker and told her what happened so she booked for another flight which would luckily leave only 60 minutes later to the same airport. However, I was so tired, that I almost fell asleep again. So, my booker called me every 5 minutes to keep me awake and I eventually made it!
What's next for Danny Avila? Is the rest of 2017 going to be a big year for your fans?
I never stop working. I'm always looking for new projects to throw myself in to – you have to stay one step ahead of the game if you're going to continue to progress, both personally and professionally. The landscape of electronic music is constantly changing, so I like to keep people guessing at what's to come. That being said, what I can tell you is that I have a collaboration coming up with none other than NERVO! It's called 'Loco' and when you hear it, you'll see why.
Special thanks to Danny for talking with me! Can't wait to hear Loco!
Follow Danny Avila:
djdannyavila.com
Facebook.com/dannyavilaofficial
@djdannyavila on Twitter
@dannyavila on Instagram
Soundcloud.com/dannyavila
Youtube.com/dannyavilalive
Snapchat: itsdannyavila