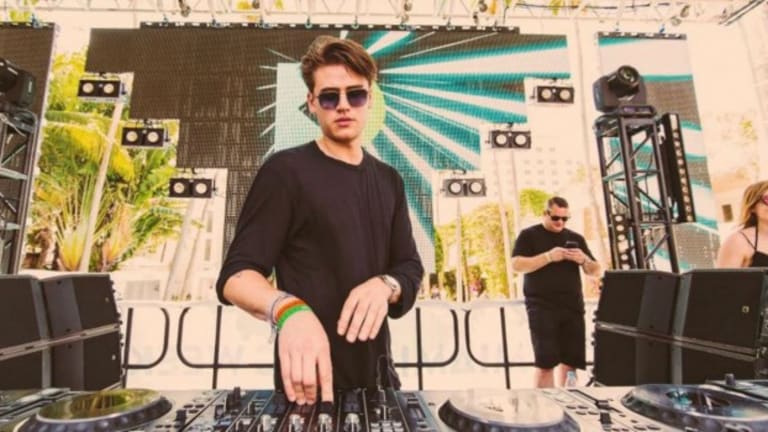 Get to Know Rising Star Dante Klein with an Exclusive Interview
Look out for this guy!
Dante Klein is showing the world that he is a force to be reckoned with. At just 21 years of age, he has shared the stage with dance music legends Hardwell, Benny Benassi, and more! Alongside the EDM legends he recently released a track with hip-hop icons Bone Thugs-n-Harmony titled "Coke and Hennessy". We caught up with this rising star and asked him some questions about his career, his inspirations, and more!
EDM.com: What was it like working with a legendary group like Bone Thugs & Harmony?
Dante Klein: It was a very big honour to work with them!
Which Dutch producer do you look up to the most?
That will be Hardwell, He accomplished a lot and I'm very glad I was able to play a couple of shows together with him this summer.
What was the biggest difference you noticed between the Asian and European crowds?
The Asian crowd will jump on everything you play haha. With the European crowd you need to think more about how you build up your set.
At Ushuaïa you'll be playing alongside Hardwell and Benny Benassi. Do you get nervous playing alongside these legends?
This summer I already played a couple of shows together with Hardwell so that doesn't make me nervous anymore. But it still gives me a good adrenaline rush!
If you could choose any artist (living or dead) to collaborate with, who would it be?
Michael Jackson 100%
What's the story behind the name Dante Klein?
My real name is Max Krul and I wanted a name that would be more international but still European. So I asked my dad for some Ideas and he came up with Dante and I added Klein to that. Klein means Little in Dutch and I'm very very very tall. So that makes it a little ironic.
From the perspective of an up and coming star, what do you think the the current state of dance music is?
To be honest it's a big black hole I think. Nobody really knows what's about to come next or what will be the next thing within EDM. I also don't have a clue.

Since festival season is almost over, what does the fall and winter look like for Dante Klein?
I am going to LA again in October to write some songs. After that there is Amsterdam Dance Event which is huge over here. In November I'll be touring Asia for a couple of weeks and in December doing a lot of club shows in and around Europe!
Can you describe what was it like being an international musician while still in college?
It was actually very nice because I went to the Herman Brood Academy which is a school that's focused on artists!
You recorded your track with Bone Thugs in LA. Does your location influence the sound of what you're working on?
Yes it really does. Certain cities and countries give me different inspiration. Especially Los Angeles is a big inspirational bomb for me.
What is your favorite original track to play live?
I always end my set with a mashup I made: Snavs & Fabian Mazur - "Exhale" with "Love on Me" Acapella. It really really works all the time.
What advice would you give to a young artist trying to make it in the EDM world?
Start talking to people and start networking. Together with making original music, that's the key.
What is the overall message behind your music? What do you want listeners to know/feel?
I always want to deliver a certain feeling with people. As long as that happens I'm a happy man. :)
Much love to Dante Klein for talking with me!
Follow him online: