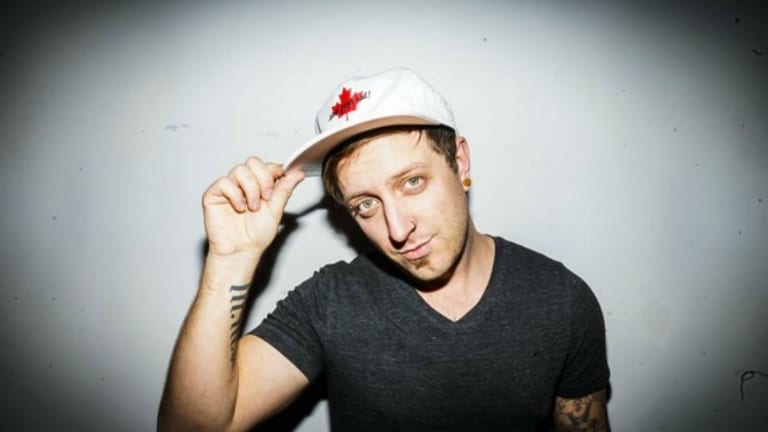 Defunk Drops New Single and Shares the Hustle Behind the Music
Defunk shares how he's been able to take his music from high-priority hobby to full-time career in the inaugural edition of Behind the Music.
Logan Shea is a self-described workaholic. In the past couple years, amidst personal and financial challenges, he's done whatever he had to to take his career and his music to the next level.
Like so many artists working to make a name for themselves, Defunk has been hustling his butt off, which means he's done it all. From marketing and promotion, to booking and outreach, tour planning, not to mention producing fresh music regularly and even teaching himself new instruments, he's worn every hat as an artist and business owner.
So what does it really take to make music your life?
"People don't realize how much goes into making your music actually happen in the world. For awhile it's like every artist for himself. Work-wise and financially, it's a huge challenge."
Defunk has been very open about those challenges with his community and fanbase online. When music wasn't paying the bills, he let people know he was taking design and video editing jobs. When he needed better equipment to produce, he started an Indiegogo campaign. When he wants to play more festivals, he asks his fans to tag him in festival lineup posts.
As an artist, I think some of your best work happens when you're struggling."
"I'm grateful because this is the part of my career that will really prove if I can hang in there for the long run."
Two years ago, the Defunk project was a high-priority hobby for Logan. He was working a good full time job four to five days a week, and traveling on weekends to play shows in other countries.
What's one of the biggest challenges you overcame to make music a full-time career?
"I had to give up social stuff, but I was able to maintain a fairly normal life. I think part of what's helped me hustle so much is that I've been ok with saying no to some things, partying etc, and working on investing in my hobby instead."
Saying no to things you love, to work on the thing you love most is one of the biggest challenges every artist must come to terms with. Defunk isn't afraid of using the "N(o)" word, but admits it's important to schedule in some leisure time to stay inspired and keep from getting burned out.
"I want to start going to more shows that I'm not playing because that was the beginning of how this all started for me. I get to see a lot of music at festivals, which is great. Shambala is my favorite festival and since I'm only working for an hour and a half there's time to go discover other artists and dance around like an idiot - that's why we do this isn't it?!"
Financially speaking, it's not all stacks of cash to blow on booze and fancy vacays after a show. There's a lot artists have to pay for out of their own pockets that people don't see.
How do you manage money as an artist?
"Money people think we make needs to go to other expenses and investing in our brand. I won't lie, I'm a very broke artist. Hopefully, it won't be like that forever. But for now, I'm doing what I have to to get my career in place."
Management fees, taxes, transportation, these are all part of the cost of doing business for any artist. "It's hard, especially on the months where you only play three or four shows. And for a sort of mid-tier artist like myself, your schedule has a lot of flux, which can be tough to plan for at times."
To account for these gaps in revenue, Defunk has been working on creative ways to balance the books through music alone. "Whether it's upping my merch game, selling sample packages, playing more shows, or taking on side jobs related to what I do like graphic design and video editing, I try to capitalize on what I'm already doing. I can use those skills for my own music and get some extra cash from it."
As for keeping himself focused, Logan says it's more passion and persistence than anything else.
How do you stay focused on your goal?
"Honestly, I just try to keep making music. That one passion alone, the need to constantly have new product, is such a driver for me. I don't necessarily have the best sense of scheduling or ways of being super productive. I just literally know I need to keep working. It's always in the back of my mind that I want to keep moving forward. So whether it's being on social media, or looking into something, or practicing piano, trying out a new program or starting a new track, I try to keep moving."

Logan says it's been a little more difficult to stay focused on the most important things without his full time jobs, which provided a lot of stability and structure. But assembling a good team has been a big part of moving him forward, along with a stellar work ethic.
"I've always got a plan B so that really helps when you're in situations, like I've been, where you have to find a way to make it work no matter what.You have one job, so you gotta deliver. The more times you do that, the more good reviews you're gonna get and people know you're on your game."
"You have to go in to kill it, like it's the best show you're ever gonna do."
That flexibility seems to be a key attitude and business tactic for any successful artist. 
Are there any inspirational thoughts or quotes that keep you going?
"Hope for the best, prepare for the worst, expect anything." that's one quote that's really meant alot to me, because if you prepare yourself mentally for any possibility you're more prepared in general for where you end up. You're never super shocked or left high and dry in any situation."
The struggle is real, but so is the dream. Rather than seeing how far he has to go, Logan's embracing the journey.
"I envision myself being successful and focus on knowing that I'll get there at some point.

"There's the dream and hope that things are gonna work out, it's always gonna get better. Because the longer you stick around, the more connections you make and the more it shows people you're here to stay. You really have to make this your one goal, and for now I have an endless supply of passion to do that."
In the end, success comes down to how bad you want it, and Defunk's hustle proves he wants it like James Brown wants funk.
"If you spend enough time on any one thing you're gonna get really good at that thing. No one's born with natural talents to make you successful without work. It's the time and energy investment you put into it. That idea of knowing you've spent so much time, and if you keep spending so much time it's gonna pay off, is everything. You just can't give up."
That's the definition of hustle if we ever heard it! Thanks to Defunk for sharing his time and endless passion with us, and for making music we can dance around like idiots to.
New Music!
Defunk's got a new EP coming out soon and today dropped the first single, Pretty Things. Needless to say, it's funky y'all. Check it out below.
Follow Defunk:
Facebook: facebook.com/DefunkOfficialMusic
Instagram: instagram.com/defunkofficial
Twitter: twitter.com/Defunk_Official
Soundcloud: soundcloud.com/defunk-music