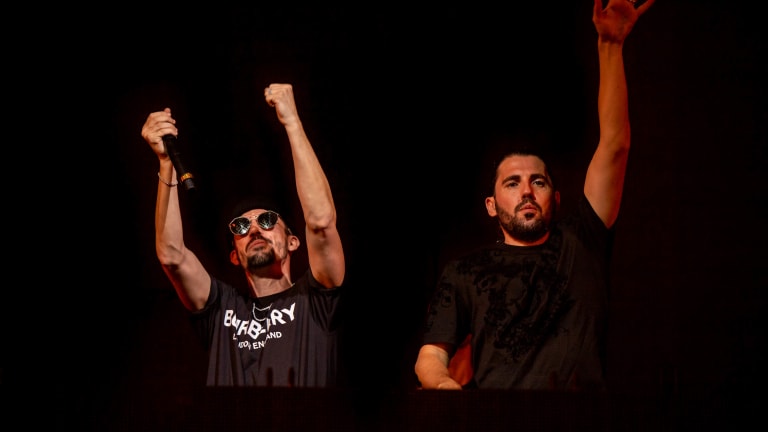 Dimitri Vegas on 2019 DJ Mag #1: "It Actually Caught Us Off Guard this Time" [Interview]
EDM.com caught up with Dimitri Vegas & Like Mike about music, their Garden of Madness events, the DJ Mag Top 100 and more.
Few names in EDM carry the same weight as Dimitri Vegas & Like Mike. The Belgian brothers recently took home their second #1 in the annual DJ Mag Top 100 DJs poll - and apparently they didn't even see it coming.
Perhaps they were simply too busy to give it much thought. Between high-profile collaborations, gaming crossovers, and the first-ever Stateside Garden of Madness event, the DJ/producer duo have been active to say the least. Be that as it may, they recently took the time to catch up with EDM.com about their recent goings on.
Read on to see what Dimitri Vegas & Like Mike told us, and don't miss their Tomorrowland Presents Garden of Madness event at Creamfields Steel Yard London on December 7th, 2019.
EDM.com: Not long ago you wrapped up your first Garden of Madness event in the U.S. How did U.S. fans receive your performance compared to those in the U.K.?
Dimitri Vegas: It was our first Stateside show with the GOM concept, and it went extremely well! We were joined by 8,000 wild fans who were down to party. It was a complete sellout.
Like Mike: The fans really love the Garden of Madness concept. Whether we're taking it to Liverpool, New York or Ibiza, ourselves and the entire team behind these events always want to deliver a unique experience. And the crowd in whatever location are always so receptive to what magic comes, so it's amazing to get up there and share it with them.
Speaking of the other side of the pond, what do you have planned for your Tomorrowland Presents Garden of Madness event at the Steel Yard Liverpool?
Like Mike: we're bringing a whole new show. We want to blow the fans minds with the production, pyrotechnics and music we've got planned for this night. It's going to be a bigger and crazier night than the last time!

You joined quite the list of collaborators on "Instagram." How did you get involved, and what elements did you contribute specifically?
Dimitri Vegas: Well, the whole thing really stemmed from David Guetta and ourselves talking back and forth over a period of time about doing another track together. Our last single, "Complicated," was such a big record and the fans still love it so much, we felt we needed to do a follow up. 
The Afro Bros have been making some awesome music lately so thought it would be fun to get them involved. It was off the back of this that the idea of doing a bigger collaborative project started to grow. Why not get an all-star lineup and just go huge with this record? Natti Natasha is one of the most exciting female singers in the world and just a huge artist right now, whilst Daddy Yankee is an icon all on his own. It felt like a great fit and the record continues to be a hit. We're over 200 million streams across all platforms with the record now.
Like Mike: on this one David, Afro Bros and ourselves just handled the instrumental. Lyrics and vocal parts were Natti and Daddy Yankee.

Although it's been out for a while, we also have to ask about "Best Friend's Ass." What was it like working with Paris Hilton?
Like Mike: Paris is a good friend and is a lot of fun to hang out with, but equally somebody who works hard to get projects done. It was a cool experience doing that track together, vibing off her ideas and all of us just going crazy with what we could each bring to the table to make this fun idea for a track work.
On the heels of your second DJ Mag Top 100 DJs win, how does it feel this time around?

Dimitri Vegas: To be honest it actually caught us off guard this time. It has been an incredible year for us, we've achieved some spectacular highs and had some really cool releases out and an awesome run of crazy gigs, but then we look around and there are so many other artists crushing it, too. It's really cool to see dance music in such a healthy place and still growing! So, when we got the call that we were #1 again, it was a big surprise - but we're super happy and grateful to our amazing fans for the ongoing and amazing support they give us.
Do you have any other big collaborations in the works that nobody's heard about yet?
Like Mike: We have new music coming with Ummet Ozcan and Brennan Hart soon, as well as Timmy Trumpet, Carnage and a host of other incredible artists.

Dimitri, you have now made cameos in a Spider Man movie and a Mortal Kombat video game. Can fans expect more of these kinds of crossovers?
Dimitri Vegas: 100%! I'm in talks with a couple of directors at the moment about some potential roles. I've just appeared in the last Rambo film and have a cameo in Men In Black International. It's an industry I'm super passionate about, and I'm excited for what the future holds for me there.

Is there anything else on the horizon that you two are excited about?

Dimitri Vegas: Too early to confirm it yet but we have some very big projects coming up which we'll be announcing soon, as well as some very cool and interesting (oh, and different) music to be released that the fans are going to love!

Tomorrowland Presents Dimitri Vegas & Like Mike's Garden of Madness takes place on Saturday, December 7th at Creamfields Steel Yard Liverpool. For more information or to purchase tickets, visit the event website.
FOLLOW DIMITRI VEGAS & LIKE MIKE:
Facebook: facebook.com/dimitrivegasandlikemike
Twitter: twitter.com/dimitrivegas
Instagram: instagram.com/dimitrivegasandlikemike/
Soundcloud: soundcloud.com/dimitrivegasandlikemike