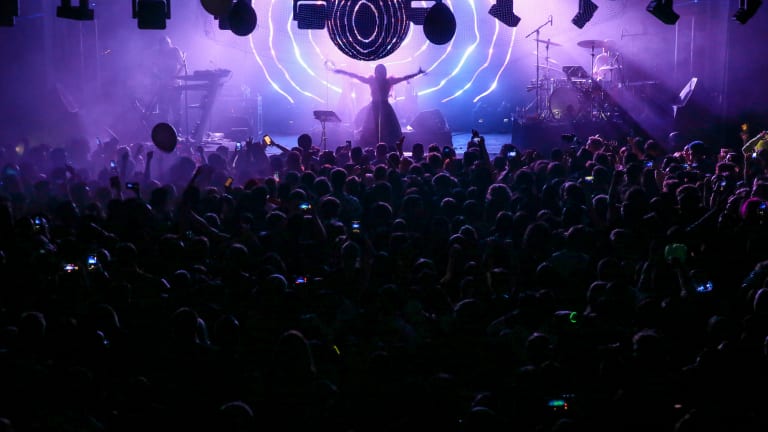 Diplo Goes in Depth on His Burning Man Fundraiser [INTERVIEW]
A Q&A with the mainstream king supporting seven crews on the playa.
On July 6th, The Midway in San Francisco was ground zero for a four-stage block party with Diplo, Mr. Carmack, Jonas Rathsman, Kenny Glasgow, Sharam, Super Flu and more. The team-up was appropriately named The Menagerie. Diplo's collaboration at The Midway was held as a fundraiser in support of signature Burning Man sound camps like Opulent Temple, Camp Question Mark, Root Society, and Duck Pond. The evening also included performances by the Dancetronauts, and art cars like Rynobus and Bounce. 
The Midway is known to host Burning Man Fundraisers for Bay Area camps and crews, but the Menagerie was one for the ages. The festivities literally stopped traffic at Michigan and Marin Streets so that the two walloping indoor stages could be accompanied by two additional stages outside.
To learn more about Diplo's involvement in the fundraiser and Burning Man Project we went to the man himself. Read along to see what he had to say.
EDM: What did you most look forward to about The Menagerie?
Diplo: Just the fact that [it was] a day party with good vibes in one of the most musically diverse cities in the U.S.! It's been a long time since we did Mad Decent Block Party in Berkeley which was always so fun, so I'm excited to get back and have a good time with that crowd.
Why should I be sure to catch the show if I'm a Burner/supporter of Burning Man? If I'm a fan of dance music?
I have played at or collaborated with all the camps involved in some way. So you're going to get a bit of everything you would expect from riding around the playa. I'm doing my deep house project and party called Higher Ground but am also involving wiggly bass artists like Mr. Carmack. Just expect underground and dance music at its best.
Why did you go to Burning Man the first time and why do you keep coming back?
First time was about seven years ago just because I love the desert. I just decided to go because everyone told me it couldn't be described and that was intriguing to me.
What's your best "one time at Burning Man..." story?
There are so many. There have been a dozen sunrises playing music that only made sense in that moment. There was the set I did with Skrillex during a dust storm a few years back, I loved the reggae and afro beat sets at Robot Heart for sunset (which no one expected but everyone always comes with an open mind so it turned out to be one of the best parties). Finding old friends out there after not having seen people for years, and being turned on to new music and vibes each time.
Which of the 10 Burning Man Principles do you identify with most? Why?
Just embracing something fantastic and new, and not to indulge in the sameness. Everything at BM is internal so you're going to discover it immediately. You don't need someone to tell you the principles!
What words of advice would you offer a friend considering going to Burning Man for the first time?
Just drop any expectations or ideas you might have. Sometimes social media distorts a picture of the event but you have to see it to believe it. Also, bring lots of water.
FOLLOW DIPLO
Facebook: facebook.com/diplo
Twitter: diplo.fm/Twitter
Instagram: diplo.dm/Instagram
Soundcloud: diplo.fm/SoundCloud