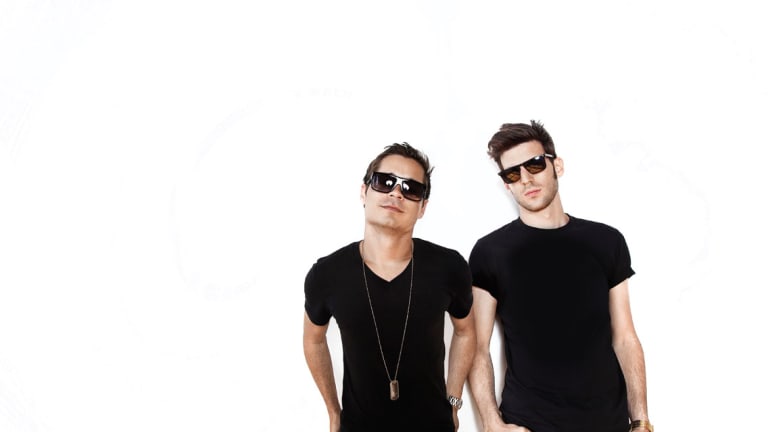 Dirtyphonics Talks New Bass-Heavy Collab, Monstercat, And More At Miami Music Week [Interview]
We caught up with the French group in Miami to talk about their new doomsday track with Bassnectar & Ragga Twins, Skateboarding, Trump, and much more.
French electronic trio Dirtyphonics, a staple name within bass communities around the world, are in Miami this week for a 3 event showcase that will leave any bass enthusiast speechless and head-banging until the sun comes up.
The EDM.com team were fortunate enough to catch up with the production wizards behind "Hustle Hard" and "Where Are You Know" with Zeds Dead and Bright Lights. Presenting you with an inside look at their upcoming projects, love of skateboarding, their experience living in America, and so much more.
Dirtyphonics, Bassnectar, Ragga Twins... Sounds like the perfect soundtrack for doomsday. Is that what we should expect when it finally drops?
Yes! "Watch Out" has our trademark intense energy and blends Hybrid, Dnb, and Trap with Ragga vocals. We're really happy with what we created and it people go crazy every time we play it! We can't wait to finally put it out and share it with everyone. 
How did this collaboration between 3 bass powerhouses come about?
We've known each other for a while and we actually started working on this collab over 3 years ago!
Lorin was in Paris for a show and he came to our French studio before his gig. We already were talking about doing something together and we naturally started playing with sounds and writing what was going to become "Watch Out". Both Bassnectar and us had lots of other projects we were working on and we had no reason to rush it so it took years to finish. Obviously over time the song and sounds changed and after trying 10 different drops and ideas we found the perfect balance. The cherry on the cake was to have the Ragga Twins to lay some lyrics over the track and give it some extra flavor.
How do you choose artist to work with? What do they need to have to be of interest to you for a potential collaboration?
The most important thing for us is to have to have a great human connection with the artists we work with. Of course we have to relate on a musical level but collaborating with people we click with makes the writing process that much easier. As long as it's fun and honest the music flows naturally. We started Dirtyphonics with the same values: we understand each other musically and we are friends. It wouldn't have worked if we had done it differently.
Why did you guys choose Monstercat for the release? What's it like working with them?
Working with them is awesome! We've been friends for years and we knew it was only a matter of time before we'd do something together. Once again here, working with people we love and share the vision of music with makes everything easier and more fun! They know what they are doing, they have been killing it and we connect on so many levels.
The "Night Ride" EP has been out for some time now. How did you approach writing the tracks differently from other EPs? How has the reception been from your fans?
Yes it's been out for a little over a month now and we're super happy with it! We got a lot of love from our fans and our artists friends, and the best is to see the reactions when we play the songs at our shows! The writing process happened organically and the EP took shape by itself. We didn't have to think too hard about how it was going to sound. We knew we wanted the ensemble of songs to make sense all together and we wanted to explore new sounds and emotions and find the right balance between the tracks. On the EP, each song has a specific vibe and personality and gives us the media to express where we are at this point of our lives and how much new music keeps influencing us.
Everything happened naturally and was really fun! Being able to collab with Example and Virtual Riot gave an extra flavor to the sounds and pushed us to new musical territories. We met Example at a festival in Austria and we already had the instrumental for "Lost In Your Love" written. After the show, he came to our green room and as soon as he heard the track he jumped on it! He wrote the lyrics on a plane to Japan and it fit perfectly with the instrumental. He understood the vibe and took the song to the next level. Being in the studio with Virtual Riot was super chill too. Valentin is super talented so it makes it that much easier to work together. Music is a language and we speak the same one. The opening title "Night Ride" is the perfect balance of a bunch of stuff that has influenced us recently. We wrote the title song pretty fast and it has been our set opener for a couple months now.
I know you are fans of rock and metal music, and you proved it more than once in originals such as "Walk In The Fire" and remixes for bands. Can we expect any original material in collaboration with more rock or metal artists?
Yes most definitively! It's a bit early to reveal lots of details but we're actually working on something very special with lots of heavy guitars…
I've seen your set at Exit festival back in 2015, and it was one to remember! On the flip side, I've seen videos of your club sets, where things get much more crazy and intense. What do you prefer, big festival stages, huge production, or clubs with more direct contact with the crowd?
We love both! It's true that you do have a more direct contact with the crowd in a club and the vibe is way different than at a festival, sometimes more electric. Having said this we also have crazy memories of playing big festivals with 5 mosh pits happening at the same time or seeing 40.000 people go nuts and sing together! These are memories for life.
We don't prefer one over the other, we feel blessed that we get to experience all kinds of venues and crowds all year long.
I know you guys are fans of skateboarding and snowboarding, your music is also filled with blood-pumping adrenaline which is perfect for both of those things. Is there any chance we could see you at events such as X Games or Air + Style in the future?
Skateboarding has played a huge part in who we are today and how we live our lives. We have played at the Burton Open in Switzerland and at the Natural Games fest in France so yes X Games and Air + Style are next!
We love playing these events as we get to combine what we love most: playing heavy music and riding!
As artists who come from France, and now reside in LA, how do you view the change of immigration policies by President Trump? Have you experienced any consequences of these policies?
We obviously can't agree with what Trump is doing. Refusing immigration to someone based on your skin color, religion or nationality goes against our values and the values we've learned growing up in France. Luckily we haven't experienced the consequences of the new immigration policies yet but we strongly disagree with them!
You work remotely from LA with Pho — who is still based in Paris. How hard is it to maintain a creative workflow, and can you give any advice to other producers who have to work similarly?
It's actually very easy. We've known each other for years, we talk to each other all the time and set some sessions up online. We connect through Skype and it pretty much feels like he is in the studio with us. It's super easy to share files, projects and work simultaneously as long as you have compatible setups. We also go to our Parisian studio every time we fly back to Europe and Pho comes to LA as well to hang with us, go skate and obviously write music.
You won DJ Mag Award for Best French Electronic Band in 2016. How does it feel to be labeled best in the country that has successful acts like Justice and Daft Punk?
It's an honor of course! French electronic music has influenced us over the years and being voted Best French Electronic Band by our peers and fans is awesome! We represent French music and culture every day and being put in the same category than Daft Punk or Justice is crazy! It's not about winning a trophy, it's about showing once again that Bass Music is strong in France! Thank you to our fans for supporting us every day since day one!
This week, you will play at three events during Miami Music Week, one of them being Monstercat showcase with a massive lineup. What can we expect, and are you preparing anything special for the occasion?
We're super excited to play every gig and you can expect an intense show as we like to do! We're definitively going to drop a lot of new music including our collab with Bassnectar as well as brand new IDs. This will be our first official Monstercat party and we're happy to celebrate the release of "Watch Out" with them in Miami!
Follow Dirtyphonics
http://facebook.com/dirtyphonics
http://instagram.com/dirtyphonics