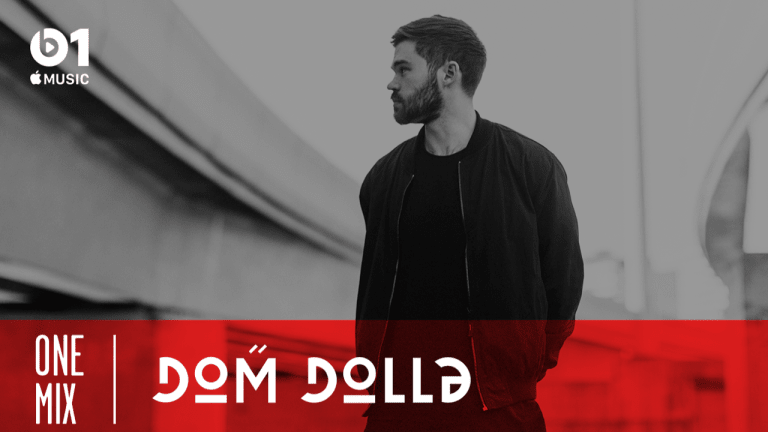 Melbourne's Dom Dolla Made His Beats 1 One Mix Debut [INTERVIEW]
The Australian producer shared his favorite throwback track, dream collaborator, perfect sunset song, and more.
Fisher isn't the only tech house artist making international headway. Though the exuberant Aussie is an EDM phenomenon, there are lesser known tech house Australian artists climbing their way towards global fandom.
Dom Dolla is one of them. The Melbourne-based producer makes his mark with deep, dark, rolling basslines, and beats that have dancefloors grooving into the night. From smoky club tunes like "Take It" to summer house anthems like "Define," Dom's sound varies across the house music spectrum.
This week, Dom Dolla made his debut on Beats 1's weekly radio show One Mix. With tunes from Airwolf, Kyle Watson, Jay Robinson, plus unreleased Dom Dolla music, it's an hour of house music that lets listeners know what the dom Dolla sound is all about.
Listen here, exclusively on Apple Music.
The Australian producer had much to share about his musical affinities and experiences. Like the one time where he missed a flight and an Uber driver drove him over 6 hours to get him to his show on time. Read on for more, including Dom Dolla's favorite throwback track, dream collaborator, and perfect sunset song.
EDM.com: First show experience?
Dom Dolla: Growing up in the Northern Territory, I had little to no experience when it came to dance music as a teen. Everything I was exposed to back then was folk or roots music oriented. I moved to Melbourne around 15 years old and soon found myself sneaking into clubs every weekend. In those days I was digging through Myspace and music blogs pretty heavily, which probably would have made my first gig experience a Classixx show at Sorry Grandma; I had the absolute time of my life.

First time you brought your mom to one of your shows?
Both mum and dad got the VIP treatment at a recent gig I had at the Forum in Melbourne. My face was sore from smiling that day; the photos are absolutely priceless.

Go-to places for new music?
I still dig pretty deep through SoundCloud, listening to live sets and mixes. But I'd say my preference would definitely be harassing my friends for their new productions via Facebook Messenger haha.

Guilty pleasure record?
"Moonlight Party" by Fonzerelli.

Desert-island dance record?
"Love Inc" by Booka Shade.

Dream B2B partner?
The legend himself Juzzy Martin, he was nice enough to let me sample him on an upcoming record of mine. I'm getting closer!

Favorite BPM? 
122 BPM.
Piece of gear you always need on the road?

My housemate's USB Condenser Mic. I definitely need to return it to him one day soon.

Biggest misconception about dance music?
That all DJs do is party. Some of the hardest working and dedicated people I know are DJs and producers. I'm not one of them, but that's beside the point.

How often do you get out and have fun, and where do you go?
On the road I have to pick my battles carefully, but when I'm at home; there's nothing I enjoy more than a Pint and a Parma with my mates on Smith Street in Collingwood.

City with the most underrated dance scene?
I was absolutely blown away by an audience I performed to in South Carolina recently. But I'd definitely say that Melbourne is getting stronger and stronger every year. It's always been good, but it's getting ridiculous.
Industry prediction for the next year?
Hard-style will not reach the mainstream?

Best piece of advice for new producers?
Make it a goal to replicate and reverse engineer as many of your favorite tracks as possible. You might not get them sounding identical, but you'll get invaluable practice in sound design and song structure. You can then use your new arsenal of knowledge to write some great originals.

Also, learn to master the gear you have. I see too many young producers blowing all their cash on expensive plugins and hardware - It's the chef, not the kitchen!
Dead or alive, who would be your dream collaborator?
Aaliyah, what a voice.

A unique travel experience you've had?
On my most recent US tour, my manager and I went a little wild in Las Vegas the night before an important show in Santa Barbara. We ended up sleeping through our flight the next day. As regretful, hung over and stressed as we were, a legendary Uber driver ended up driving us 6.5 hours across state lines for dirt cheap. Not being able to believe our luck, we put him up in a hotel and insisted he come to the show with us. He quote "had the night of his life" and we've been friends ever since. Shout out to my boy Tim.
What's your favorite throwback track?
"La Vie En Rse" by Louis Armstrong.
What's one track that fans always lose their mind to?
A remix I did for my friends Flight Facilities of their track "Arty Boy." I had no idea how well that would translate when I wrote it, thanks for the great stems lads.
What was the first album you ever bought?
I bought Rooty by Basement Jaxx as a 9-year-old in Bali. Not sure if it was a legitimate copy or not, but gee I gave that album a rinsing.

Name one remix that you think is better than the original?
Love Henry Krinkle's "Stay" but I think the Justin Martin remix tips it over the edge, such a great mix.

What song would you want (god forbid) played at your funeral?
"Highway to Hell " by ACDC. Just kidding, that's one track I'll let my mates choose. I've done enough DJing, haha.
What's the perfect sunset track?
"1988" by Youandewan.
What song do you listen to cheer yourself up?
"Polarised" by Cosmos Midnight.
Follow Dom Dolla
Facebook: facebook.com/domdollamusic
Instagram: @domdolla
Twitter: @dominicdolla
SoundCloud: soundcloud.com/domdolla