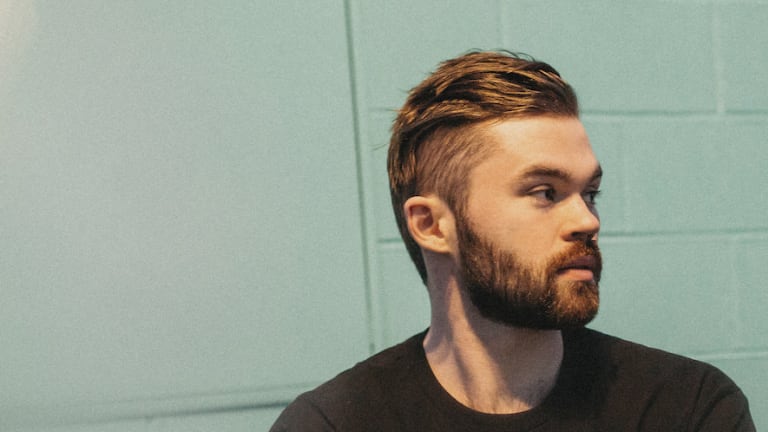 Dom Dolla Releases Video for "Take It." Tells Story Behind Track [Interview]
The Australian native will be performing at Tomorrowland this summer.
Australia has long been a hotbed of talented artists. From female powerhouses like NERVO and Alison Wonderland to genre-bending acts like Flume and Timmy Trumpet. The land down under has exported plenty of creativity to the EDM community, and its latest is hoping to increase in value. 
Dom Dolla had his first taste of success in 2015 with "Define," which saw him team up with Go Freek. The Melbourne-based DJ and producer then saw himself nominated for an ARIA Award for Best Dance Release in 2017 for his collaboration with Torrent Foot in "Be Randy."
It wasn't until 2018 that Dom Dolla's value skyrocketed, with the runaway success of "Take It." The funky synth, deep bass line, and alien-like vocal have made the record a mainstay in clubs and festivals. 
The tech house banger has garnered over 22 million streams across platforms and has recently been given a remix EP. Fellow Aussie and prolific house DJ Sonny Fodera has also taken the record under his wing, giving the track a breath of fresh air with his remix of the catchy tune.
The music video for the edgy track complements its weird vibe, with its psychedelic tones. The surreal clip follows a partygoer whose hangover continues to be as trippy as her night of revelry. A tiny man taunts her during her slumber, eventually persuading her under her bed where she finds a familiar face.
We caught up with Dom Dolla in sunny Palm Springs as he was preparing to perform at Splash House's After Hours event. There, Dom opened up about his musical style, the story behind "Take It", and his regret for not learning to play the piano.
EDM.COM: You've got a busy night ahead, how are you holding up?
Dom Dolla: I'm good. I'm running on a couple of hours of sleep. I just flew in from Chicago and drove from L.A., but I'm great.
The touring life can be hectic sometimes, do you find yourself able to rest?
Yeah, I'm the king of naps. I live my life one nap at a time. I'm also a big fan of breaks. As much as it would make sense for me to be based in the States, I do enjoy going home and hanging out with all my family and friends in Australia.
I was able to finally see you perform live at EDC Las Vegas. I know you played two sets that weekend, how was the reception?
It was amazing. EDC is like nothing else, it's a sensory overload. I took some friends who haven't been before and as we walked in their jaws were on the ground.
Is there anything that has caught you by surprise as you've toured the US?
The audiences that I've got in places that I didn't expect like South Carolina, Milwaukee, and Minneapolis. Selling out shows in towns like that has been unreal. There are screaming kids who know every word, that definitely gives me the goosebumps.
Describe Dom Dolla.
Fun and housey. Not overly concerned with what's in vogue at any given moment. In terms of my production, it's really about just not taking myself too seriously. Oh, and chords, I love chords.
There has been a recent surge of interest in tech house. How is Dom Dolla differentiating himself from the rest of the artists in the scene?
I like to develop my ideas based around hooks and earworms, I suppose. That's kind of allowed me to stand out because I'm not attempting to aim for a scene or a particular label to pigeonhole myself in. I just like to write music that I'd like to exist in the world if that makes sense.
Speaking of earworms, "Take It" is definitely a catchy track. What's the story behind what's arguably your biggest hit so far.
I was in the middle of a U.S. tour, and while I was at a show I kept finding this specific sound. I describe it as those types of bass lines that just kind of suck the air out of the room. There's a lot of tension and reverb and then all of it disappears and what's left is a low subby bass line. I was like, "Wow kids are really into this. I'm gonna try and write one."
I went through and started listening to all the different record labels that represent that kind of sound and I was not finding anything that has a hook that I felt was catchy enough that I wish was mine, I suppose.
So I said alright, I'm just gonna go home and write one. I wrote the instrumental and wrote a little rap and I just approached it the way I approached any of my other songs.
I put it out there and sent it to my record label and they were like, wow this is really cool. The goal was just for it to be a club track that DJs would play. I wasn't expecting it to be big.
Was there any whisper in your ear that was telling you "Take It" would be a huge track for you?
I had whispers in my ear from my record label telling me afterward that this was gonna be a hit. But in the beginning, I just hoped that people liked it. Now that it has caught on, I understand why it has gotten so big. But preemptively, no.
Take me back to when Dom was seven or eight years old. What advice would you give to a young Dom?

Learn the piano.
Really?

Yeah. Listen to your dad when he offers you piano lessons.
Why piano?
Simply because it's portable and a lot of the stuff that I write is on a piano roll. Also because it's so relevant to music production. So yeah, seven-year-old Dom, sit down and don't get up again!
Fast-forward now to the end of this year, where will we find Dom?
In Australia for the Australian summer. It's an endless summer for me. I'm the palest man in dance music. I've got a few big festivals around New Year so I think I'm gonna be just as busy, I suppose.
What can Dom fans expect from you in the near future?
I've got a new single coming out in about a month or so called "San Frandisco." I'm pretty excited about that. I've just finished a remix for Hayden James and I'm excited to give it a test run. 
FOLLOW DOM DOLLA
Facebook: facebook.com/domdollamusic
Instagram: @domdolla
Twitter: @dominicdolla
SoundCloud: soundcloud.com/domdolla