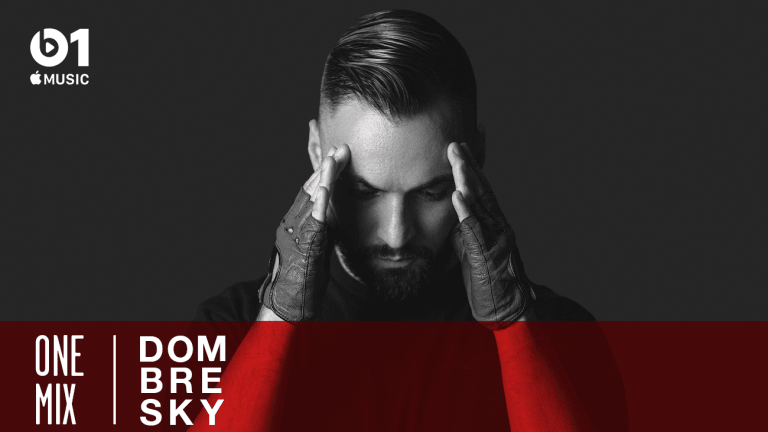 French Rising House Producer Dombresky On Beats 1 One Mix [INTERVIEW]
Funky, feelgood, melodic, driving, Dombresky loves house music in all its facets.
Beats 1's weekly radio show One Mix hosts Dombresky (real name Quentin Dombres) for an hour of funky, feelgood house music. Apart from his latest tune "Meli Melo," Dombres has tracks from KiNK, Robbie Rivera, Brokenears and Opolopo in the mix.
Tune in here, exclusively on Apple Music.
Air Date: Friday 26th July 2019 - 21:00 LA / 00:00 NY / 05:00 UK
It's all about house for Dombres. Jazz inspired on "Soul Sacrifice," classic on "Simple Hit," melodic on "Futurmastic," and tech on "Like This," he experiments with the time-tested genre in all its varying facets.
The Montpellier native has also steadily been releasing music on fellow Frenchman Tchami's Confession label. Among them are well-received tracks like "Hostyl," a menacing, bass-heavy collaboration with the enigmatic masked producer Malaa, the thumping single "Utopia" and the relentless dance floor smasher "Wait."
Learn more about Dombres as he shared plenty with us ahead of his One Mix.
EDM.com: First show experience?
Dombresky: I saw this band, NTM, back in the 2000s in France. It was my first hip-hop show. They were huge at the time!
First time you brought your mom to one of your shows?
I was playing at Amnesia in the south of France. It was actually not too far from the city where I grew up. I thought that this show would be a good time to bring my parents out. They got bottle service at a table and security. I tried my best to treat them like stars. My mom loved it but my dad was thriving and he felt like a rock star.
The artist who inspired you to become a musician?
My dad is a musician. He plays the guitar, drums, and he sings. My entire life I've been surrounded by music. Growing up around his artistic self inspired me.
Go-to places for new music?
Small clubs are usually where you can get the best tracks. They're usually the ones you can't Shazam and get it identified.
Guilty pleasure record?
"Dangerous Woman" by Ariana Grande.
Desert-island dance record?
"If I Ever Feel Better" by Phoenix.
Dream B2B partner?
Patrick Topping.
Favorite BPM?
126.
Piece of gear you always need on the road?
My red gloves.
All-time favorite festival?
Biggest misconception about dance music?
That DJs are not musicians.
How often do you get out and have fun, and where do you go?
I really love to hang out with my friends, it's really important to me. I can't go too long without being social and interacting with people. Friends and good food are the best mix.
City with the most underrated dance scene?
Tokyo.
Industry prediction for the next year?
There will be less iconic DJs and more communication between artists and supporters. Social media is making this happen for sure!
Best piece of advice for new producers?
It's okay to be inspired - but don't copy!
Dead or alive, who would be your dream collaborator?
George Michael, rest in peace.
What is one of the unique experiences you've had backstage?
I went to an A-Trak show during Winter Music Conference and I saw Armand Van Helden. This was huge for me because I'm a fan of his work. I actually was a little shocked to even say hi, but A-Trak introduced me to him and that was a big deal for me.
A unique travel experience you've had?
I had a few shows in Asia and I was staying in a hotel where I checked in and I was so jet-lagged I fell asleep as soon as I got in. In the morning I woke up and I opened the curtains, I realized I was on the 30th floor and was not expecting to be so high up. It tripped me out for sure. I also got to eat in the most uncommon places that were like mom and pop restaurants where people all just sit at a table without knowing each other. I loved it.
What's your favorite throwback track?
"I Wanna Be Your Lover" by Prince.
What's one track that fans always lose their minds to?
My track "Utopia."
What was the first album you ever bought?
Emergency On Planet Earth by Jamiroquai.
Name one remix that you think is better than the original.
Disclosure's remix of "Running" by Jessi Ware.
What song would you want (god forbid) played at your funeral?
"Musicology" by Prince.
What's the perfect sunset track?
"Ribbons In The Sky" by Stevie Wonder or "Morning Glory" by Jamiroquai.
What song do you listen to cheer yourself up?
"This Must Be The Place" by Talking Heads.
Follow Dombresky
Facebook: facebook.com/Dombresky
Instagram: instagram.com/dombresky
Twitter: twitter.com/Dombresky
SoundCloud: soundcloud.com/dombresky