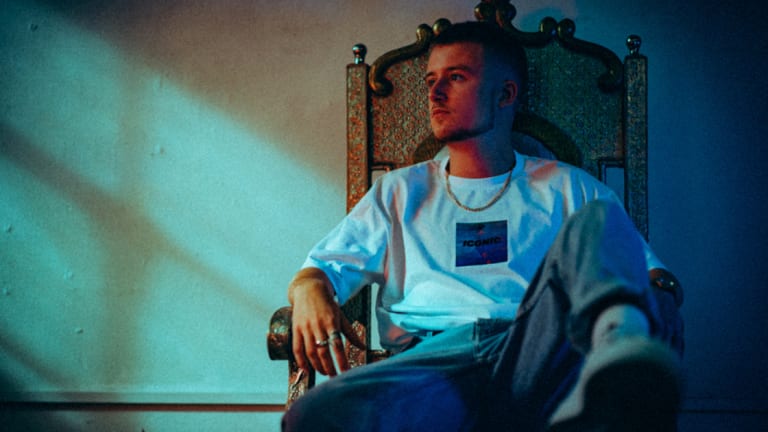 Duskus Never Fails to Bring Us Some of the Most Beautifully Breathtaking Songs [INTERVIEW]
After listening to his newest track "Longtime," we're certain that Duskus is a DJ everyone should really keep an eye on.
This year alone, the talented London-based producer Duskus has been making strides with his music. From releasing his debut EP cute and some amazing collaborations with San Holo to releasing some equally stunning singles like "Longtime" and supporting San Holo on his upcoming album1 Tour, Duskus is definitely a name we'll be hearing a lot more. To make such resonating electronic tracks is a gift and we were lucky enough to talk with Duskus and find out what exactly inspired his emotive production style and what it's like working with San Holo. 
EDM.com: What was your first experience with music and did you always want to have a career in it?
My first experience with music was actually when I was about 8 or 9 years old. My mum bought me a guitar and started me off doing guitar lessons. I continued playing guitar and, around the age of 16, I figured I wanted to start producing. I knew I wanted my life to revolve around music.
What made you ultimately decide you wanted to make electronic dance music?
I think the main reason I wanted to make electronic music was because of the power you could have with it. The fact that I could make a whole song with just my laptop was fascinating. Then having the ability to show my friends or send them my creations to people was even more exciting.
This unique sound you've created for yourself, was it what you originally set out to create when you were first starting out? How'd you come up with it and looking back, is it everything you hoped it'd be?
I don't really think I have ever had a plan for my sound. It's just an evolution of the accidental strengths in my sounds that I have had previously. From experimenting and not really focusing on making a specific genre over time, I think my sound developed. All I knew was that I enjoyed making melodic music.
Your music tends to be filled with such emotion and always manages to evoke some kind of feeling. We're pretty curious, what kind of music do you generally listen to and do any of those songs or artists influence or inspire this smooth and emotive production style you have going on?
I listen to as much different music as possible, but I have always enjoyed the more emotional stuff. I think this is because I used to listen to a lot of acoustic guitar stuff when I was younger such as Andy McKee, Sungha Jung, etc. I think when I was younger the first electronic genre I ever got into was melodic dubstep. It was actually one of the first genres I tried producing, but as of recently I have been getting into a lot less American sounding music and have been listening to music with a much more UK sound.
Not only does your music resonate with so many people because of its unique sound, but it also caught the eye, well technically ears, of bitbird's San Holo. How'd that come about?
About 4 years ago I uploaded a track on Soundcloud, "the first route preview," in which San Holo commented on. After he commented I checked out his profile and saw that bitbird existed via his bio. They only had a few hundred followers, but I thought it would be cool to send him the track he had commented on to bitbird. The bitbird team and San got back to me straight away wanting to release the track. I think this was the first ever bitbird release. I thought it was really cool that this bigger artist liked my stuff. It was even cooler when I heard his stuff too because it also resonated with my sound so much.
As bitbird's first signed artist, did you feel pressured about your first release on the label? What was going through your mind when "The First Route" came out?
I did not feel any pressure because I had nothing to lose. I just thought it was cool that some people in another country wanted to put out something I had made for fun.
And talking about firsts, this year you released your debut EP cute. It features three amazing tracks, "Find You," "Closed" and "Take Me Home," that, as a whole, shows your progression as a person. They all must be meaningful to you, but which one was the most and why?
I think "Find You" was the most meaningful because it shows the evolution of my sound and how it's going to continue transitioning. I really liked it because you can still tell it's a Duskus track, but with a new feel to it. I want my sound to keep evolving like this so I can take people on a journey, but the core of the sound will always be there.
You know, you've been on a roll this month with two new releases. The first was your second collaboration with San Holo, "forever free" and it's wow, like wow -it totally blew us away. What's your favorite part of the song and why?
So I originally sent San the main drop part for "forever free" because I was kind of stuck with where to go from there. Straight away he wanted to collaborate on it and make it a banger, which I was really happy about. When he first sent it back to me I wasn't sure what to expect, but he told me to check out the bit after the drop. And wow. When he sent it back, I had never heard something so random that fits so perfectly ever in a song. He really pushed the track to its full potential and allowed it to take its listeners on a journey.
You probably get this a lot, but what's it like working with San Holo? Is there a particularly funny or memorable "aha moment" you guys had while creating either "Take Me Home" or "forever free?"
It's great working with San. We don't really need to discuss much when working on music. We both just agree and end up making stuff we both love. We manage to get tracks done very quick and the flow is insane. However, we have never actually sat down together and made stuff. It's more sending music back and forth over WhatsApp until we are happy.
Just the other day you released your second new track this month on your very own imprint Kaleido. "Longtime" is a beautifully mesmerizing song and it even features your own vocals! Do you feel a little vulnerable because of that or do you like having your vocals included? Is that something you'd like to do for every song or for a few?
It's not something I would like to do for every song. For this particular song I was going to send the vocal idea to a vocalist, but after recording it and processing it, I actually thought it was kind of cool. It's definitely something I want to experiment with more, but I'm not sure I would do this on every track. Whatever sounds cool.
There's just so much going on in "Longtime" and all of it together has such a powerful and impactful sound, how do you feel about the song and what does it mean to you?
I feel like this song bridges the gap between the cute EP and the music which is to come out following this single. It's also the second more "housey" track I have released and reflects the future sound.
When it comes to making new songs like "Longtime" what's the process like?
Experimenting with random melodies and sounds. Either fiddling on a guitar, reversing a vocal or chopping it, making a weird drum loop, etc. Anything to start something off. I'll normally make a bunch of ideas until I accidentally make something cool. I'll then finish off that one.
You've released quite a few songs this year already, but do you have any other releases slated in the next couple of months or are you currently working on any?
Yeah, I also have a single with bitbird coming this year, but I can't give away the date yet. I also have many other ideas which need finalizing. I think it's some of my best music I have ever made.
It's exciting to hear you have a lot more coming because you truly have this amazing sound and you're definitely an artist to watch. And just gaining some momentum now, there's probably so much more you're hoping to accomplish, but what's your main dream for Duskus and what do you hope people will take away from your music?
My main dream with Duskus is to create a unique sound which showcases what I'm about and what sounds I like. And hopefully I can share this with others. 
Special thanks to Duskus for taking the time to chat with me! It was a pleasure learning more about the artist behind such incredible music and we can't wait to hear what you have in store for us next!
Follow Duskus: