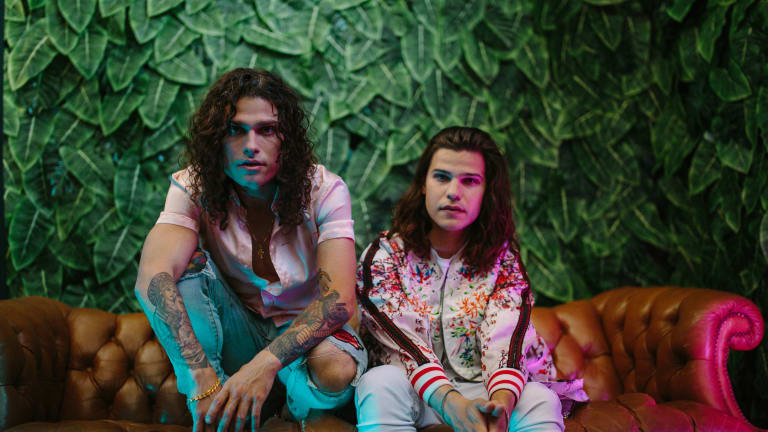 DVBBS Announce 2019 Album, Talk "Need U" and More [Interview]
From a short, new album coming this fall to a Live DVBBS show kicking off a new chapter for the duo, here is everything we can look forward to from the brothers.
DVBBS exploded onto the scene and made it into the major ranks with their 2013 smash single "Tsunami." The Canadian duo comprised of the brothers Alexandre and Christopher van den Hoef haven't looked back since.
Since then, the brothers have had a string of hits to follow including, "Gold Skies" with Martin Garrix and Sander Van Doorn, "IDWK" with Blackbear, "Without U" with Steve Aoki and their recent viral hit, "GOMF."
Their latest release comes with a fresh new single "Need U" which features vocals from one half of the duo, Alex. This isn't the first time his vocals have featured on a track. He previously lent his voice on "Gold Skies" and "You Found Me" featuring Belly as well. 
The laid-back track with its groovy beats also shows off Alex's effortless vocal capabilities which are electronically tweaked in parts to bring it all together for this end of summer jam. With synth-pop sounds taking us straight back to the '80s paired with the catchy vocal line add up to give us a song that will linger with us long after the passing summer.
Speaking about the track, they said:
"That feeling you get when summer is coming to an end, but the memories you made will last a lifetime. 'Need U' verbalizes that feeling. The nostalgic DVBBS vocals over our production is the formula we started with and nothing feels better than giving our day ones something brand new in 2019. 'Need U' forever, forever is one we will sing until the end together."
After having performed with Tiësto, NERVO, Steve Aoki and DJ Snake to name a few, the duo have played some of the largest main stages including Tomorrowland, Ultra Music Festival and Creamfields.
Fresh on the heels of their latest release, we spoke to the Van Den Hoef brothers about a shift int he signature DVBBS sound, a handful of upcoming DVBBS records which might mark their "best chapter yet" and their dream collaboration with Red Hot Chilli Peppers.
EDM.com: Who or what was the inspiration behind you'll starting DVBBS? Tell us how it all began and how the name came around.
Alex: All we did growing up was start a band, go on tour, break up, start a new band and try it all again. We did this since we were 13 years old. After four or five experimental projects ranging from punk rock to reggae and everything in between, we knew it was time for something for just the two of us. That's when DVBBS came to life.
Chris: I went off to university with a soccer scholarship and in my off time I downloaded Ableton and found a whole new love for production. While I was furthering my skills on the computer, Alex was at home writing songs on guitar and recording his vocals on old, crappy Cubase software.
Alex: We did everything together growing up, so being apart for the first time ever, this was a new way to keep our brotherhood strong. It also brought a whole new dynamic to how we started working and finishing records.
Your careers took off to the next level after "Tsunami", what's changed between then to now? What has stayed the same?
Alex: From the first question to a "Tsunami" question is a major gap in our development. But long story short, we learned our basics/developed a strong live show in Canada and decided it was time to move to L.A. 
We moved into a house with a couple of friends that had basically no furniture in it but just a studio in the kitchen. This house was off Benedict Canyon in Beverly Hills and was way out of all of our price range, but there was an energy in it that was unmatched. Every person living in the house was a creative — up-and-coming film directors, early-day social media gurus, and DVBBS. 
The first song we wrote was "Gold Skies" and the second or third that came out of that time period was "Tsunami." Everything changed at that moment, all eyes were on us and we knew we couldn't drop the ball. 1,000 shows across the world later, and multi-platinum records that have charted worldwide all started after the "Tsunami" era. 
Not much has changed as we haven't let anything get to our head, we have the same work ethic, and we only continue to learn this beautiful craft and language that we call music. The music, the production, the songwriting, the concerts, the brand, it's only just getting better and better with time. 
How is it working together as brothers? Do you guys think it works in your advantage or otherwise?
Chris: Working together has its ups and downs, but we wouldn't change it for the world. Nothing will ever be able to break up this brotherhood, and DVBBS has only made us become closer.
Alex: We have a certain language in the studio that no one else can truly understand, unless you have a sibling that you have grown up with, experiencing everything throughout life together. I also think being brothers has made our live show on a whole new level. We pick each other up on and offstage.
2019 has been off to a good start to say the least, with "GOMF" going viral. How was it working with Vine sensation Casey Frey on the official video after what started as a meme?
Chris: Casey is a pure soul - I truly think he has a bright future ahead of him in acting and even music, which is something we learned from hanging out with him. This video was one of my favorite sets I've ever been a part of. Trying not to laugh while the camera was rolling was probably the hardest thing that day. Got some more stuff hopefully we are about to do in the near future.
With the plethora of music coming out at the pace it does nowadays, do you feel moments of virality like this are necessary to keep relevant?
Alex: Virality is always nice in the moment, but I do think the best thing possible is everlasting music and energy that will live through people forever.
Chris: This social media era has tainted a lot of true music and rockstars, but I feel like it's slowly going back to the real raw emotion of a beautifully written record or just an absolute smash that conquers territory by territory. 
Alex, you're featured vocally on the newest DVBBS single "Need U." While it isn't the first time, is that something you plan to do more often?
Alex: I've been singing on records for as long as I can remember. After the success of Gold Skies, I got a little bit in my own head and felt more comfortable passing off vocals I have written to better singers, which actually just led my songwriting down a whole new path which I will never be ashamed of. 
Something did spark inside me earlier this year, where the therapy of writing and singing was something I needed to bring back into my life. I plan on working with many amazing singers and artists that I look up to, but I will never abandon my own vocals as I did for the last couple of years ever again. I've finally come to the realization that yes, I may not be a professionally trained vocalist, but singing from the soul resonates with people in the biggest way.
Is the laid-back, melodic feel of your last few releases the new DVBBS sound? Are you deliberately leaning away from the festival bangers which initially lead to your rise?
Chris: We did the bangers for years, people can always go back and listen to a moment in time where I truly believe we carved a sound where 50% of producers are still stuck on that sound/wave we created. We are punk kids at heart so bangers and hard-hitting records are easy for us, it's what we are good at. Crafting a beautifully written record from start to end was a whole new challenge for us.
Alex: After three years of trial and error, I can finally say we are hitting that level of music I always believed we could get to. I look up to bands like Red Hot Chili Peppers, where they started as funk punk badasses and blossomed into some of the world's most inspiring and beautiful-sounding bands in the world. It creates this beautiful disaster in your live show, where you can take people on a full-blown rollercoaster.
You came in at #16 on the DJ Mag Top 100 DJs in 2018, and you guys have been a constant fixture on the list since your early days in 2014. What are your thoughts on the much-debated ranking system?
Alex: Are we 16? Haha, to be honest, I haven't even truly focused on lists or political magazines in a few years. If it's not in the studio writing timeless music, we are focused on our personal lives and furthering ourselves mentally and physically. I promise you, I will never dwell over a list in my life because if you only truly knew from the Grammys to every award show the amount of politics that lay in between it all, it's not really a way to base your level of musicianship. Try getting thousands of emails of people saying, this song or that song changed my life at one point of time, or even saved someone from doing something really horrible to themselves. That to me is bigger than any list in the world - although when the time is right I do dream of winning a Grammy with a real record that hit the world all at the same time, in the heart.
Who are your dream collaborators right now and why?
Alex: Red Hot Chilli Peppers is definitely #1 for me, but in all honesty most of our idols and people we look up to, we are starting to get a chance to work in studios or on their projects. It truly is a blessing. We are sitting on a handful of records that I think are going to mark our best chapter yet for DVBBS. Even just branching out and working with people like Kane Brown, I had such a small mind towards country music growing up, and seeing guys like that take the scene on their back and transform into something so amazing now – it's incredible to be part of something so unique. Pushing the boundaries has also been a big motto for us.
You've mentioned time and again how your fan base has grown organically and are a constant support system. Any standout fan interactions which have stuck with you over time?
Chris: Definitely. Our fans are legit our family, and so many artists say that but we got blessed on a global scale, and to see the way these people welcome us with open arms at airports, hotels, concerts, it's almost like we have this extended family growing. Seven years later, the most amazing thing to see is the fact that the younger siblings of the day one DVBBS fans are now coming to our shows and it's like this beautiful family tree is growing.
Alex: We like to use the term organic because we have truly been independent our whole career, sometimes with the help of some amazing teams in different countries, it's been pretty much from the ground up. We won a TV show, kind of like battle of the bands in Canada in 2011, and we decided it wasn't for us…our destiny was to hit the streets city by city, playing for 10 people, then 1000, all the way up to 100,000 amazing people rocking out to us and finding out maybe at that first show, that they want to dig deeper and grow with us as humans and as musicians. It's truly crazy, almost impossible to explain, but I'm sure if we ever interviewed some people that were there from the beginning they could explain it from their perspective even better. Blessed for real.
From the very beginning, you'll have had the chance to perform with the who's who of the industry from Tiësto to Martin Garrix and Steve Aoki to DJ Snake. Who has been your biggest inspiration over the past five years?
Chris: We used to finish our show and stay 8-10 hours at a festival just watching every single act of all genres, learning what they did right on stage…so can't really think of one or two people, but we have been inspired by the whole industry.
Alex: There are so many talented people shining, if you just open your eyes or close them and listen, you can get inspired by so many new and old acts. From Damian Marley to Travis Scott, to Aoki to deadmau5, everyone brings something a little different and beautiful.
What's next for DVBBS? What're you'll most excited about in 2019?
Chris: Well we have a project, short album, call it what you want to call it dropping this fall…it's been a while since we have dropped one so this should be fun. All these next records we are so proud of, and I just hope we can impact a few more people that need it in a time where things can seem dark and difficult.
Alex: I've also been saying it for a couple of years, and we have tested it a few shows, but our live show and I mean live show – vocals, guitars, drums, synths – make for a rollercoaster of a performance. It's ready and it's going to be that new chapter we have always been dreaming of.
Upcoming DVBBS Tour Dates:
Saturday, August 24th TIME, Costa Mesa, CA
Friday, September 6th Temple, San Francisco, CA
Saturday, September 7th Temple, Denver, CO
Saturday, September 21st ZBT @ U of A, Tuscon AZ
Thursday, October 10th NOTO, Philadelphia, PA
Saturday, October 12th TBA, New York, NY
Saturday, October 19th New City Gas, Montreal, QC
Follow DVBBS:
Facebook: facebook.com/dvbbs
Twitter: twitter.com/DVBBS
Instagram: instagram.com/dvbbs