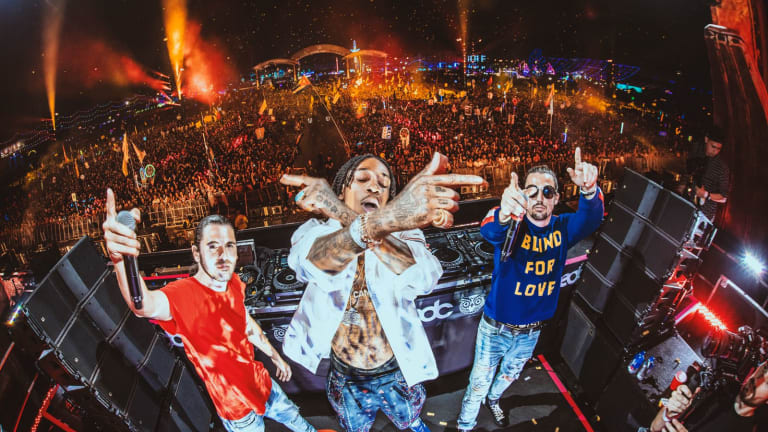 Interview: Dimitri Vegas & Like Mike Talk About New Single & How To Be A Successful Producer
The boys are back in town...
Considered to be one of the biggest names in the music industry, it was a great opportunity to speak with Dimitri Vegas & Like Mike about their new song, how to be a successful music producer, and even upcoming events of 2018.
Featuring Wiz Khalifa, "when I grow up" is a truly beautiful song that speaks about growing up, and overcoming adversity in order to achieve anything that you set your mind to. Featuring a high pitch vocal and an emotional instrumental, it's a wonderful tribute to the challenges that we all face within the music industry whilst achieving our dreams. 
Speaking about the single, Wiz said that "it was super dope DVLM thought of me for this record. Performing it at EDC Vegas really made it come to life!"
You can check it out here: 
Being such a massive fan of the song myself, I spoke with the guys about the track during an interview. 
EDM.com: You guys are obviously one of the most prominent names within dance music. How did you originally get into the music industry?
Dimitri: We both left Belgium at an early age and I moved abroad to work as a tour operator and DJ. I always wanted to be involved in music and that's where it began, from here I worked in Ibiza and the rest led me back to Belgium, where Mike and I started making music in his home made studio.
Mike: I followed about a year later and it was being in Ibiza where the music journey really became a more serious idea, and the rest is history!
I absolutely love your new song with Wiz Khalifa. How did this collaboration come about?
Mike: We've both been big fans of each other's work for a while, and we were looking for a vocal line for the track and he fitted into the type of topline we wanted for the song. 
Dimitri: We reached out and he was really keen on getting involved and working on the project so it went really smoothly and the vocal sat really nicely with the track pretty much straight away.
 What events/gigs are you most looking forward to this year?
Dimitri – We have so many amazing shows lined up and we're really excited heading into the festival season. It's difficult to pinpoint any shows as they are so diverse so we can create memories with each show in different ways. Ibiza is always special for us and to be back at Ushuaïa for our Garden Of Madness party is one we're especially looking forward to.
Mike: Playing the mainstage at Tomorrowland is always a highlight of the year for us. There is no festival like it and gets better every year. it never ceases to amaze us year on year and to play on home soil to such an educated crowd makes it a standout show every time we perform there.
As you know, there's a lot of producers out there wanting to become as successful as Dimitri Vegas & Like Mike. What advice do you have for upcoming producers wanting to achieve their ambitions?
Dimitri: we have such a passion for the music and creating an unbelievable show, we can only be grateful to be in the position we are in. I think in the beginning, and still now, you just have to show an undying work ethic, total commitment to your dreams and belief in your own abilities as you will inevitably suffer setbacks and rejection along the way. 
Mike: Stay true to what you believe in. It's important that you always stick with the things that are important to you as an artist. This comes through and helps the music to resonate organically.
This is a question that I ask at the end of all interviews. If the world was to end tomorrow, what would you want future generations to remember you by?
Mike: I think throughout our careers we've just wanted to make people happy through our music, and create lasting memories for fans that have been to one of our shows. We always want people to go away having shared moments with friends that will stay with them. If we've achieved that and people remember us for that, then we will be very happy.
I'd like to thank the guys for taking the time to speak with me about their careers. It was pretty awesome.