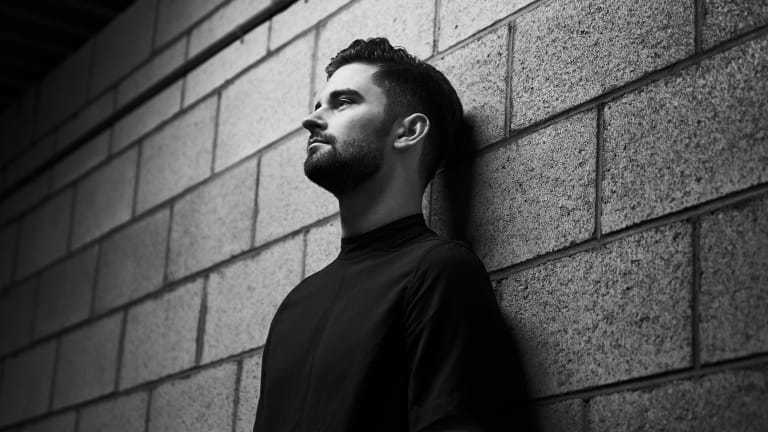 Dyro Talks Collaboration with Martin Garrix, 'Ticking Off' his To-Do List, & More [Interview]
Dyro talks about his collaboration with Martin Garrix, checking off his to-do list, and remixing Valentino Khan's 'Lick It.'
Dyro, better known to friends and family as Jordy van Egmond, has cultivated a sincere path of success for himself. His distinct dark sound has fused a multitude of sounds from producers, DJs, and songwriters from around the globe. Now, he's worked with DJ Mag's No. 1 DJ three years in a row, Martin Garrix. 
Back in 2014, Dyro launched his own label called WOLV Records. The label has seen releases from extraordinarily talented up-and-coming artists like Jaycen A'mour, Goja, Loopers, Awoltalk, and many more. The WOLV label and Dyro himself have seen support from industry heavyweights like Diplo, Pete Tong, RL Grime, and Knife Party. Furthermore, he made his debut on Garrix's STMPD Records earlier this year with "Bring It Down." 
As the burgeoning producer and DJ continues to skyrocket past his and industry pioneers' expectations, Dyro will continue be an artist, producer, and DJ that you'll want to have your eyes and ears on at all times. He'll become a household name soon enough. 
First of all, thanks for taking the time to answer some questions. I'm humbled, as I've been a big fan of yours for quite a few years. If you could eliminate one thing from your daily routine, what would it be? 
Smoking, for sure! I quit for a little while, but it's a difficult habit to quit, especially when it almost becomes a "break" after being locked up in the studio for so long. I have cut right down, though. [I'm] aiming to quit as soon as possible and continue trying to make my health a priority.
If you could add one word to the dictionary, what word would it be and what would it mean?
Earcatcher: Wild and independent.
What was pivotal point in your career and why was it so important?
When I first got discovered I went from being completely self-taught to producing in my bedroom to my tracks being played at, like, Electric Zoo and then flown around the world. I had to learn – and grow up – pretty quick.
Like most musicians, your sound has changed and evolved greatly over the years. What has been a driving force behind this change, and why have you chosen the direction you did?
It's basically, as I said above, growing the fuck up. I've seen everything with rose-tinted glasses at first and didn't really realise that not every decision I made, or my management, was with me and my best career interests at heart. I realised that I was sort of becoming to be almost on a conveyor belt, just adapting rather than learning and growing. I was still a teenager when I started this career and obviously we all change a lot from that age into our 20s. I was learning and digging for new music and getting more into grittier, darker sounds that weren't necessarily the most "commercial" or "main stage" friendly, so to speak, but I grew to have a passion for that side of the industry more than just EDM or big room. It felt like a true reflection of who I was, so I embraced it.
Your latest collaboration with Martin Garrix is impressive. Excellent work! What was it like working with Garrix, DJ Mag's No. 1 DJ three years in a row? What was something unique that he did that you learned?
Haha, thanks! Garrix and I, being two Dutch boys, have been good friends for a while now. The kid is so insanely talented. We'd jumped into the studio and hatched out some ideas before, but it never really came to fruition. So, when we finally reunited and got back to it, I was stoked with the results. The premiere during his Tomorrowland set on the first weekend was absolute fire to see. It felt great to be a part of that, and I'm super proud of the results!
Martin Garrix premiered the track at Tomorrowland. Describe the feeling you have when you heard the song on that massive sound system and saw everybody dance to it. I can't imagine hearing your music at festivals and seeing people dance to it ever gets old.
It felt amazing. I felt proud, and it was so dope for him to open his set with that. He really grabbed people's attention and to see all the buzz from fans online and across social media and from the press was sick! I'm glad everyone was into it.
What's the weirdest thing you've eaten while on vacation/traveling?
Oh, where do I begin? I've eaten a lot of crazy things in Asia and India; candied insects, chicken feet, beef tendons, but they do these marinades and low and slow cooking that actually makes most of the pretty disgusting stuff taste great! I love experiencing new cultures, although some of the things I have eaten I'm not sure that I'd have again.
What's next for Dyro? What can fans expect in the future?
A lot of new music has been my priority for this year, as you guys probably noticed. I've "ticked off" a lot of cool projects that have been in the works for a while already, collaborating with What So Not on his debut album was dope. My collaboration with Martin Garrix finally coming out, remixing Valentino Khan's sick 'Lick It' track on Spinnin' Records. I've always been more of a producer than a DJ, although I love playing to the fans. I feel like I've achieved so much this year and it's just the start of what is to come. I'm all about the long gain, and I'm looking forward to everyone hearing what else I have up my sleeve.
Follow Dyro: SoundCloud | Spotify | Facebook | Twitter | Instagram