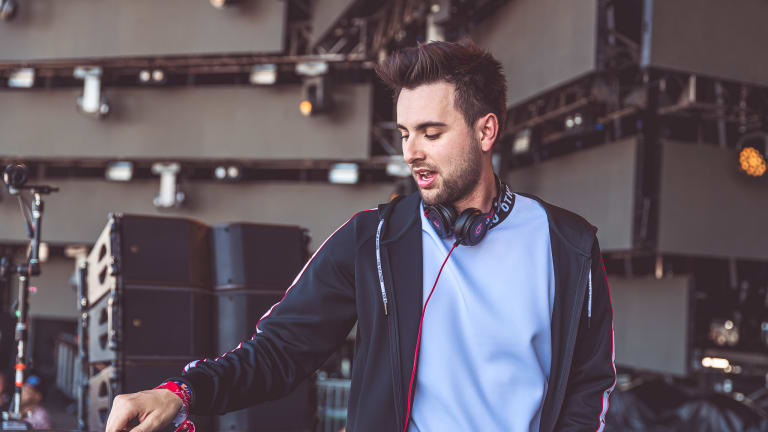 Dzeko Talks Ultra, Collaborating with His Mentor and Summer Plans [Interview]
The Canadian native's track was nominated for Top Dance/Electronic Song in this year's BBMAs.
Fresh off the main stage at Ultra Music Festival with a nomination for Top Dance/Electronic Song at this year's Billboard Music Awards in the wings, producer/DJ Dzeko (real name Julian Dzeko) is on the rise. The 26-year-old Toronto native has been listening to dance music since he was 13, he says, and names Tiësto as a mentor. 
With a new solo career launched in 2016 and even newer music in the works, Dzeko took a moment with us to EDM.com about his recent milestones.
EDM: Let's start off with the growth of your solo career. A lot of early success came from remixes. How do you choose what to work on?
Dzeko: When I was starting something new in regards to going solo, remixes were key to getting things moving. It was a matter of reaching out to friends. I remember hearing "Congratulations" [by Post Malone] before it really blew up. I listened to it like 200 times before I reached out to who is now my manager, and I got the opportunity to do that remix. It didn't even officially come out but did well on the radio and in the dance world. Guys like Martin Garrix and Tiesto played it. It's cool to have friends in the industry supporting your tracks.
How would you describe your current sound? How do you stay current? 
I'm writing tracks for just my DJ sets and clubs while also trying to work on tracks with bigger vocalists. In regards to a specific sound, I'm more dance, progressive and electro-ish. I'm still figuring all of that out specifically.
Dance music has shifted. You have to adapt to the new generation of people who are listening to dance music. I can't play too many songs that came out in 2015 or 2016 because the new kids who are listening don't know those songs. The way to stay current is to adapt sets to what people are listening to now, along with doing collaborations with up-and-coming artists.
Are there any collabs that we should look forward to?
I have one coming out with Steve Aoki and Ummet Ozcan that's more progressive-y than most of the other stuff I have coming out because the others are more vocal orientated. This is more of a club track for festivals. It will work almost everywhere that people listen to dance music because it has a catchy melody. It works really well in our sets. I wasn't sure how it was going to work the first time I played it live, but it was really good.
How does it feel to premier a song live for the first time?
It feels good. Sometimes it's hard to tell how people will react because its the first time they're hearing it. It can be hard to get a read, but it's best to test a song in front of a crowd to see their reaction. Most of the time people look a bit confused, but if people are jumping and you look out and they're mouthing the words because they think they know it - even though they obviously don't because they've never heard it - then that's a good sign.
Let's talk "Jackie Chan," since that collab with Tiesto, Preme and Post Malone was just nominated for top Dance/Electronic song in this year's Billboard Music Awards. How does that feel?
I was shocked to be honest. I just had no clue we were getting nominated. This was always the one award show I would watch every year. I remember being at the one two years ago when Drake won like 18 awards. Now, I'm like, "Oh my gosh, that's the same award show I watched growing up." It's such a big deal. It didn't hit me until I read all the other nominations that, holy shit, this is huge.
What has the song's success taught you?
That you just have to keep trying, because you never know what's going to happen. I learned to keep grinding and trying different things.
You also recently performed on the Ultra Music Festival main stage. Tell me about that experience.
It was pretty crazy. The first time I ever went was in 2012, when Avicii brought out Madonna. I was there as a fan, and I think I even bought tickets from scalpers since it was sold out. Once my friends and I were in, I was mind blown. I remember thinking, "Wow, I hope to be here one day." I've attended Ultra every year since then. Being able to play on the main stage and being on the lineup was just something I'd always really wanted, ever since I started watching the live stream when that started in 2009 or 2010. There were a lot of Canadian flags which was really cool, and especially having support from all over the world. That's the cool thing: Ultra has people that fly in from China, Korea, India, South America, wherever. It's the one place where everyone comes together and is there for dance music.
How does it feel to be able to hit these milestones as a solo artist?
I just put in a lot of hard work and push really hard for everything. I had to do a lot of things by myself at the beginning. When you go solo, it's way different than when you have a partner. I had to grind 100 times harder. But I feel like, because I've been working a lot and working really hard and trying to focus, it has helped to keep my solo career moving.
Is it more fulfilling, then?
I think so. I went from 2016 until now, almost three years later, to be able to get on the main stage and do a song with Tiësto and Post. I had some help but a lot of it for the first two years was me doing the most. I didn't have a manager for a while, and that helped me because I worked a lot harder, and I obviously have had Tiësto as a mentor and that's helped, but for the first two or two and a half years I was doing most of this stuff myself. Now I finally have management, which feels really good because I can focus. I feel like the best artists are their own managers with the help of their managers opposed to the guys that just sit back and don't have any input.
Your socials show that you'll be heading home this August for Veld Music Festival - when's the last time you played at home? What's special about it?
The last time was two years ago at Veld. I literally haven't been to Toronto in two years. It's been so long. I'm pretty pumped because I have "Jackie Chan" and it did really well in Canada, and so it'll be my first time playing in Canada with an actual hit song.
You can really express. It makes it cool in the sense that people respect you a lot more playing a festival in your hometown. I feel like a lot of people really enjoy that, and I enjoy that too. I've played so many different clubs and festivals and, now playing the biggest stage in Toronto, my hometown, it feels really good.
What's next?
I have the song with Steve coming out and then I'm going back to South America for a tour. I'm also doing a couple of gigs in Canada, some new dates in the U.S., and i'm going back to Europe in the first time in like three years to DJ. Lots of gigs. I'm just going to focus on releasing a lot of new music this summer. I'm going to start pumping out tracks and the EP that I'm working on right now. It'll be out really soon - hopefully in summer time. 
FOLLOW DZEKO:
Facebook: facebook.com/dzeko
Twitter: twitter.com/dzekomusic
Instagram: instagram.com/dzeko
Soundcloud: soundcloud.com/dzekomusic