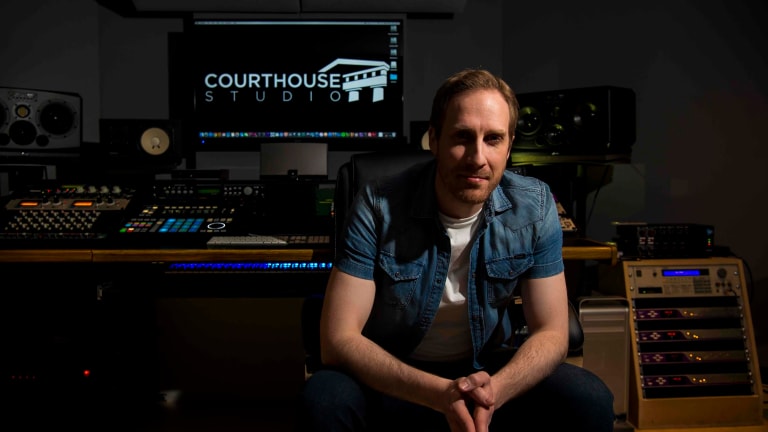 EDM Meets the Orchestra - Producer Jon Craig [INTERVIEW]
We sat down with UK Producer and DJ Jon Craig to discuss his innovative approach to live EDM shows.
When you go see your favorite dance artist live, I bet the last thing you have on your mind is "I wonder if this show will include a string section."... Yeah, it's not something that we tend to think about. Sometimes, it's the most unique approaches to art that produce the most beautiful results. One man looking to create his own live niche is Jon Craig. 
The UK based producer and composer has taken it upon himself to re-create the energy of an EDM show and combine it with the technicality of a full orchestra.  Up to this point, the producer has worked on the dance classical shows such as Cream Classical, Gatecrasher Classical, and Colours Classical. All of the shows have integrated classic club anthems into an orchestral performance. The result? Well, take a listen for yourself. A clip from Gatecrasher Classical can be found below. 
 Without further ado, let's sit down with Jon Craig and get the story behind these "dance classical" shows that he's been putting on. 

AM: Tell us a bit more about yourself. Long before you started producing these incredible live shows, what was your musical background?
JC: I was a house DJ for a number of years, DJ'ing across the UK, Ibiza & Miami. I then moved into music production, after a few years and some high-end Beatport success, people naturally wanted to start using me for their releases, and it's all stemmed from there to me running Courthouse Studio.

AM: Have you always been a fan of Dance Music or was there a seminal event in your life that persuaded you to produce/perform this kind of music?
JC: I grew up in Manchester in the 90's, so naturally I was listening to bands, mainly Brit Pop, Manics, Stereophonics etc. etc., so then when Trance started to make it to the mainstream in the mid-late 90's, my ears suddenly pricked up as it was like something I'd never experienced before!

AM: So what's a typical day like for Jon Craig when you're prepping for a classical event? 
JC: I don't have any set routines or superstitions that I have, it's just like any other day really and focusing 100% on the job at hand
Do the shows you're involved in use a lot of the same musicians for every event or do you try to find different musicians for each event?
JC: There are definitely a few key players around the country who would be the go to.

AM: You had the pleasure of working with Roger Taylor from Queen over the course of your career. How did you meet him?
JC: It's a funny one really, I met him about 10 minutes before the session started! I seem to remember having a mouth full of food whilst I was stood in the hallway of the Studio we were in just before heading to the control room, as the Studio had just laid breakfast on for us (haha). He introduced himself as soon he walked in and was an absolute gent all day.
AM: To piggyback off the previous question, have there been other artists that you've worked with over the years that you never felt you'd have the opportunity to work with? 
JC:I got to work with Marshall Jefferson a while back on one of his songs. He's an absolute legend to myself and I dare say anyone else into house music. So getting to work with the 'godfather of house' was an absolute pleasure.
AM: What's your go-to DAW?
JC: I have 2 that are my go-to DAW's, Logic and Pro Tools.
AM: Since you spend so much time putting together these performances for orchestras, do you always keep that in mind when composing by yourself or is it like working on another dance track to you? For example, do you create extra bus groups for instruments that are found in orchestras but not in regular dance tracks? 
JC: I've had my workflows for a long time now, which were taught to me by my peers, so not much has really changed for me as I'm used to working on all styles of music. I suppose because of the quite unorthodox way I've been taught by different people in different genres, that has put me a step above the rest when it comes to the classical shows. My production style anyway has always been a fusion of techniques used by different genre's.
AM: What's one aspect of dance music that you think can translate to any other genre of music? Is it a certain type of energy? An emotion?
JC: I would definitely say the energy of dance music can translate to most other genre's, there is a feel in dance music as well that cannot be explained, as you either get it or you don't. I would say that's why so many dance producers are successful in the mainstream producing for other artists.
AM: How has composing these live shows changed your approach as a DJ?
JC: I don't feel it has, I feel it's more the other way, I've brought my DJ'ing and production background to the production of these shows.

AM: You own your own studio (Courthouse Studio). How do you feel like having your own studio helps you prepare for these live events?
JC: Yes, I believe running Courthouse Studio has been a pivotal part to me being able to do what I do so successfully, I have designed the studio in such a way that is focused exactly to what Courthouse Studio / I offer. I have been lucky enough to have worked in lots of Studios over the years, and have seen what does and doesn't work in the real world. Feel free to check it out here -www.courthousestudio.com

AM: Has there been a moment when you were doing one of these shows and realized, "I'm doing something really special here."? As artists, we tend to spend so much time on the craft that sometimes that feeling of payoff eludes us. Have those rewarding moments ever hit you during a performance? 
JC: When I was a DJ a lot of those moments did pass me by until months or years later, unfortunately, but, with the classical shows it felt a little different. Right from day one working on the 1st Cream Classical show I knew they would be great, I just didn't realize just quite how much! From the opening moment of the 1st show when I heard my work play, and then the orchestra started a few moments later, I knew there and then how special this really was. Also watching people cry with joy in the crowd as they hear an orchestra play their favorite dance track, It was a very proud moment for me.
AM: Is there a particular sub-genre of Dance music that you'd like to add to the event in the near future? 
JC: I suppose you'll just have to wait and see what the brands put on next ;)
AM: What do you hope to achieve with these live classical/electronic events?
JC: I just want to be a part of something truly special, and keep working on the best shows out there! I think it's fair to say that these shows have and will go down in both dance and classical music history, and with everyone involved pushing the boundaries on each show, I can see them keep going from strength to strength. 
We'd like to thank Jon Craig for the time and if you'd like to stay up to date with everything he's working on, you can find the link to his studio below.