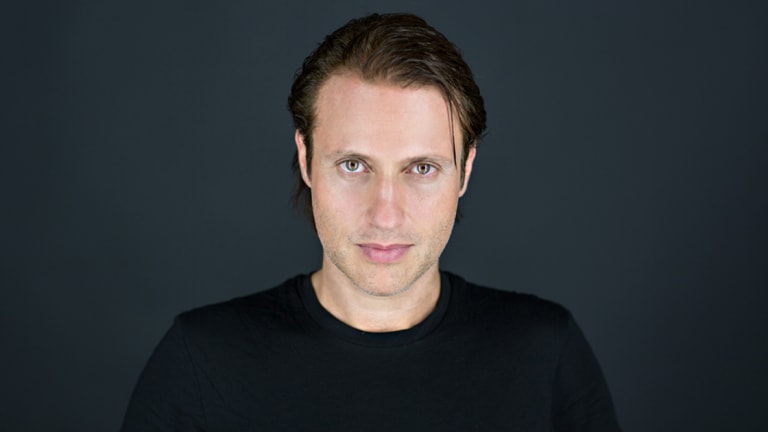 For EDX the EDM World Is Still Just as Exciting as It Was in the 90's [Interview]
With being in the electronic music scene for over two decades EDX has seen it all.
Just celebrating twenty-five years of being in electronic music, Maurizio Colella of EDX is still at the top of his game touring and playing at venues and festivals all over the world while continuing to bring us stellar house records.
Stopping to play in New York at the ever popular Marquee Nightclub, we got the chance to catch up with Maurizio about his career, the inspiration for his music and what the EDM scene was like back in the 90's.
When were you first introduced to music? Did you instantly fall in love with it and want to work towards doing something in the music industry in the future?
EDX: Well you know I'm Italian, we always kind of deal with music. In general, Italian families all have a keyboard like a Bontempi for the kids to learn to play music or at least the parents think they're gonna learn and do something great. I got in touch with music at that time and later on when I started to travel to Italy for holidays and spent a lot of time there in the summer. There was this summer hit culture and the radio was already very ahead of the game in Italy with dance music. Right away I was like this is what I really like and what I want to do. 
What kind of music did you listen to when you were younger? Who was your favorite artist or what was your favorite song?
I grew up in a generation where you were either a Michael Jackson fan or a Madonna fan and I was a Madonna fan.
You started your journey into the electronic dance music world in 1994, do you think it was harder then to get into the scene than it is now? 
Well, I don't think so. I think the scene was much smaller and there was a lot of people who wanted to get in touch. To get involved with music and trying to do something in it back then was super expensive and made everything, in my point of view, more difficult. The good thing was that it was just like organic, you know? It was like this new music and there were people getting together in off locations just to celebrate tonight and the music together. So, it's hard to say. I think it's a much bigger and more respected market today, which it wasn't in the early days. It was just like something new, like something we wanted to experience. Sometimes even something you wanted to do that was different from your older brothers and sisters. 
So then what moment did you feel you finally broke into the industry and made your mark?
It's very hard to say, everything took a lot of time. It was hard work, a lot of passion and dedication for music. There were some different chapters where I felt like, "Okay now we made it," but we, in fact, didn't make it yet. If we look at the US point of view, I think my remix that I did for Kaskade, "Angel On My Shoulder," was one of the first ones I felt, "Okay cool we kind of opened doors in the US." This remix turned out to be the biggest record he ever released and that was definitely kind of a small game changer. I always try to do music that kind of expresses a certain lifestyle and vibe while keeping my signature. I never tried to hide behind hypes. I always tried to just do my thing, music that I think is great and people should enjoy. So there were other moments, but maybe one of the biggest recent moments was my remix I did for "Show Me Love" by Sam Feldt, which hit now two, three years later over one hundred million streams on Spotify. Well, a lot of things going on, a lot of game changers. 
Have you ever gotten the feeling like you had to keep up with the trends in electronic music? I know you said you did your own thing still, but... 
You know it's always kind of a working process, like an evolution, especially when you work in music for so many years. You see cycles go and come, so in my case, you kind of find a way to advance the momentum. I think that I stayed quite well away from trying to be a follower and always being true to my sound. We of course tried sometimes to say, "Okay let's try to do something like this, let's try to combine this type of music," but in general I think I was always able to stay away from the hype. 
So what does EDX stand for? Does it stand for anything?
EDX stands for like...sexy, happy, groovy music. 
In 2002 you founded Sirip Music, what was it like creating and managing your own record label? 
There was a big hype back in the day in Europe for electronic music, for that like noisy music that all of a sudden ended up being in TV shows, radio, in daytime stores and fashion stores, etc. and the market wasn't ready, especially in 2002. Everything was super difficult. I actually started my first label, which was called Club Control, in '98 and I did that just on an LP vinyl basis. In 2002 there were a lot of changes, it was the time where some of the major companies, like Warner Music and Universal, were kind of stepping back from dance music after the 9/11 depression. I said, "I just need to do something and I need to be faster." Like when we have a record and we like it, we should just release it because we feel it, you know? We're always having a third party involved, like a third label. It's good because you get an opinion, but I felt like it was the right moment to build up that know how and do it on your own.
Did artists have more creative freedom and less pressure back then than they may or may not have now with certain labels?
I don't think so. I think back in the day, like from an A&R perspective, the labels were much more involved because there was a lot more initial costs involved like to produce a record, it wasn't cheap, it was actually expensive for different reasons. The market was bigger, so bigger expectations. When people took a record to the radio, it was super expensive. When people took a record to promotion, it was expensive. 
To produce only the initial one thousand LP's it was like $3000. So today everything's cheaper. You just click a button and you release it. So I would say it's the same thing because now you have much more output so you still need to be very creative and kind of different and do your own thing than back in the day. Back then there weren't many given opportunities to just like be an artist and want to play music. Today it's a bit easier, but you still need to be creative to stand out. 
So when it comes to making your music and creating your sound, what or who inspires you? Where do you get that inspiration from?
Inspiration is something you find and you get every moment of your day, just by so many things, you know? It can be a conversation you have with someone. Like when I was driving here I was talking to the guy who was driving the car and he was playing me Latin music. Sometimes there's a way, like a sound or an instrument that's used in an arrangement from a music genre that is nothing to yours, but you're like, "Okay that is something I can try to incorporate in my own music." But being able to travel the world, meeting so many people and cultures and hearing so many different sounds, that gives you a lot of inspiration. 
This year you already released two tracks, "Jaded" and "Anthem." What's the creative process like when you're making those kinds of tracks and just your music in general?
It's always what did I release, what do I want to release or do you want to keep doing the same or do you want to try out new things or do I think the market is ready for something like this. It's different ideas. Sometimes I produce a record two, three years ago and they release it two, three years after because they think that's the right moment for that record. I don't give up on it. I'm like, "Okay it's a good record, but it's not good for now, so let's wait a little bit." On "Anthem" I was just like hey we're leaning into the Ultra week in Miami and it's a more uplifting kind of journey. I had this idea to somehow try to use a disco loop, but also incorporate a little bit of more back in the day industrial warehouse sounds, but still keeping a little bit of the vibey side that EDX always has. It was a fast thing. I started with the disco loop and then I built around the breakdown and the lead sound built up the chords into the drops and here we go. 
Speaking about brand new music, you curate lists full of them with your iHeart radio show, NoXcuses, which was formerly on Sirius XM. How'd you end up getting such an awesome opportunity to have a radio show and did you ever think you'd have one?
The radio show...initially when we started seven years ago, I wanted to do something that, especially for the US audience, was for free. A lot of people were supporting my music, interacting with my music and I was like, "Okay let's try to do something on a weekly basis where I can give them something for free." So I was like let's just do a radio show and well, I just recorded Episode 376 this week, it's going to be aired on Saturday and it's a good kind of place to also spend time listening to new music and some from new talent that sends me music for the show. Also a good thing, like a good place where you can speak to your fans and give them shout outs.
But I was actually doing radio already in '92 on normal FM and I also had my own radio show in Switzerland, like on the biggest national radio station with a full on talk show. So something I've been doing for over twenty-five years. 
You've traveled and played at many clubs, festivals and raves all over the world all these years, how different is it playing back then as compared to now, is the energy the same? Or is there something that you miss from the 90's?
The audience, the kids they just grew into it. They're always, more or less, the same. There are moments when a certain lifestyle is influencing the music in a different way and of course in the early days it was just something you did that was very organic. For me, it's still something that I'm doing organically, but the market is not organic anymore. It's like a very competitive market where a lot of people are trying to achieve certain results and I wouldn't say this is bad because I experienced the whole rave generation, you call it the EDM generation, in Europe when it was very organic, when it was just born and then I was able to experience it twenty years later the same thing in the US, but in a different era. An era where there was social media and digital distribution and a country where the approach was much more professional. So it's kind of a blessing to see everything again in a more professional approach. 
So where do you like playing more, in Europe or in the US?
The US is a huge country, a huge music country and last year I played half rest of the world and half US and this year I'm blessed again to play a lot of shows in the US. It's like an ongoing love story with the US. In general, I play to play music. I love to play music where people like to go out and have a great time and spend time together with their friends in a music surrounding. There are a lot of places in the US that I love to play and I love to play the festivals here. It would be wrong to say that I don't love to play at other places the same, so I wouldn't say there's a decision I could make between the US and the rest of the world. You know the US is great in so many aspects where other countries are great too in other aspects. 
Is it harder to make a set for here or for Europe? I heard today you gotta play different music for different crowds you know?
Luckily, I play mostly my own music and I don't have to tweak my set too much. In general, I'm just kind of still one of these old-fashioned DJ's where there's not really a playlist I follow, I just play with the crowd. I would say I understand when you're playing a festival sometimes you need to be a little more high energy because it's a lot of people and they just kind of rage, compared to a club where people have a completely different approach to it. So in my case, because I play a lot of my own music, I just play maybe in a different order or in a different context, but at the end of the day, I'm not really tweaking too much on the songs. 
So what will EDX be up to next and are there any more new releases this year?
We just released a remix for Janelle Monae for her track, "Make Me Feel," which is like having a good moment. So we will see how it'll grow. Then we still have "Anthem," which was just released and "Jaded" is still growing, so we will take it from there and see when is the right moment to drop another record and of course there's a lot of music in the box. I would say it's always good to look back ten years on your own musical journey and most of the time after ten years you returned to what you were ten years ago, but of course with the fresher and newer kind of approach to the music. 
Special thanks to Maurizio for taking the time to chat with me! It was a pleasure learning more about EDX and your journey through the music industry. We can't wait to see you again on June 16th at the No Xcuses NYC Yacht Cruise!
Follow EDX: