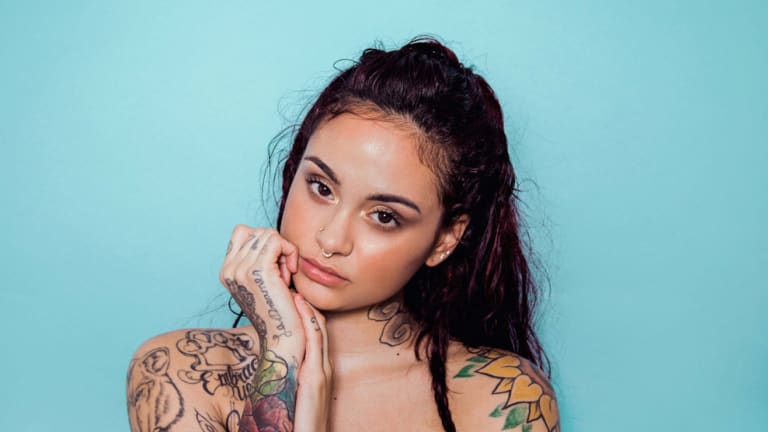 Electric Family: Where Are They Now & Where Are They Going? [Interview]
Kehlani has become the newest member of Electric Family.
Electric Family just had their six-year anniversary as a brand, and they have done a lot in those six years. The organization has collaborated with such dance music mainstays as Skrillex, Zedd, Hardwell, Tiësto, Marshmello, DJ Snake, Kygo, Alison Wonderland and Excision. In addition to doing their signature "artist series" charity bracelet collaborations, they have done multiple clothing collaborations and have emerged as one of the strongest streetwear brands in the music scene today.
Their most recent artist series bracelet collaboration is a major one, and their first ever outside of dance music. They just announced a charity bracelet collaboration with R&B superstar Kehlani. Proceeds from this bracelet will benefit the San Francisco SafeHouse - whose goal is to provide a nurturing and empowering living community for homeless women escaping sexual exploitation, prostitution, and sex trafficking. SF Safe house offers supportive transitional housing and a full array of support services that enable residents to reclaim choice and power over their lives and move toward a goal of living a happy, healthy and independent life. The bracelet is available here.
EDM.com sat down with Steve Brudzewski - one of the founders of Electric Family - to discuss what's new with the brand and what they've got in store for the future.
EDM.com: What does the name "Electric Family" mean?
Steve: The name "Electric Family" actually came from an experience and has nothing to do with electronic music. It is broken down into two parts. "Electric" stood for the feeling you get when you set foot inside of your first major music festival. You get through the line, and you are in awe of how amazing the feeling is to be in such a positive environment, and to best describe that feeling... it felt "Electric." "Family" stood for the people you go with, your crew, your real family that knows everything about you. These friends represent your true "Family." When we started the company, we wanted to capture that positive feeling from the experience and create a brand that portrayed this positive moment and energy. So "Electric Family" was born and founded in March of 2012.
EDM.com: You have built quite an audience and community over the past six years. What are some of the reasons you feel EF has had success in the music scene?
Steve: I think one of the main reasons we are where we are today is because we care about every person that comes in contact with our brand, and we most importantly are always giving back. In addition to the charity donations made by the bracelets totaling $400,000 to date since we started, we also do a special type of event called a "DO GOOD" event. This is where we partner with an artist, and call upon their fans to donate their time and do something together to benefit people in need. For example, we packed food together with Adventure Club, we painted a mural on a music school in L.A. with Krewella, and we donated a lot of toys to kids in need with Marshmello. It is really special for everyone involved. The artists get to give back, the fans get to meet their idols, and together we team up to donate time for a good cause and this is something they will never forget.
EDM.com: Do you have any DO GOOD events coming up soon?
Steve: Yes, in 2019 we are going to be doing a lot more of these events so stay tuned and follow us on our socials to make sure you hear the news on when you can participate.
EDM.com: A lot of people think of you guys as an electronic music brand. What can you tell us about your recent collaboration with Kehlani and what the future of Electric Family looks like?
Steve: That is a great question. This is a huge moment in history for the brand. The Kehlani collaboration symbolizes our future very well. When we started this brand, our goal was to be a brand associated in music, which enabled us to partner with musicians to make a positive impact on the world. We never sought out to be a brand that only worked in one music genre. We started in electronic music because that is what we were passionate about, and that is where we had friends and relationships. I truly believe that our brand was meant to be a worldwide, global brand recognized all over for the positive work that we do in music - and this is the start of that. I see us collaborating with musicians from all over the world in all different genres in the near future, and I am very excited to see where we will be in the next 1, 3, 5 or 10 years.
EDM.com: Are you still going to work in electronic music?
Steve: Yes, of course! This does not mean we are going to alienate the dance music scene; that is our roots. You will always catch me and our team at EDC, Ultra, and all the major festivals. This is our scene, and our family. This just means we are going to start working in other genres so the overall positive impact we make as a company can grow to a larger scale. 
Follow Electric Family:
Facebook: https://www.facebook.com/ElectricFam/
Twitter: https://twitter.com/ElectricFamily
Instagram: https://www.instagram.com/electricfamily/
SoundCloud: https://soundcloud.com/electricfamily